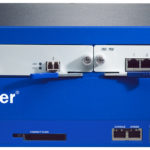 Juniper Networks (NYSE: JNPR) announced the immediate availability of the Juniper Networks® QFX3000-M[1] QFabric™ System, a new model that extends the full benefits of Juniper's first QFabric System, the QFX3000-G, to mid-sized data centers. The new QFX3000-M occupies up to 63 percent less space, uses up to 74 percent fewer cables and consumes up to 57 percent less power than competitive solutions. Also today, Juniper has added enhancements to its EX8200 switches running Virtual Chassis technology, enabling customers for the first time to manage up to four data center cores as a single switch.
These new additions to the Juniper Networks portfolio simplify data center management and improve business agility for enterprises while eliminating the complexity inherent in multi-layered legacy networks. The QFX3000-M is designed for mid-tier data centers, satellite data centers and new 10GbE data center pods as well as space-constrained environments, delivering improvements in scale, simplicity and performance—the key network attributes needed to meet rising storage convergence, big data and virtualization demands.
Core to the QFX3000-M, Juniper is introducing a new fixed form-factor interconnect, the Juniper Networks QFX3600-I, which allows customers to incrementally scale, from 48 10GbE ports and up to 6,144 10GbE ports using the QFX3000-G QFabric System. The company also announced the launch of QFX3600 node, which provides entry into both QFabric Systems. The QFX3600 is scheduled for release as a 40GbE top-of-rack switch in 2H 2012.
New features on the EX8200, Juniper's data center solution for mixed 1GbE and 10GbE environments, include the industry's only inter-site data center connectivity allowing network managers to manage up to four data centers, separated by up to 80 km, as a single location.
"Buildings built to last are constructed on the most solid foundations with the best materials. Data centers are no different. Today Juniper is giving mid-size enterprise CXOs the foundation and building blocks to enable management simplicity, the ability to scale without adding complexity and high application performance in their data centers." said R.K. Anand, executive vice president and general manager, Data Center Business Unit, Juniper Networks
Follow and connect with us on Facebook, Twitter, LinkedIn, Elets video