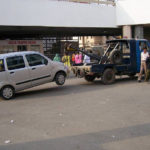 The trouble of finding your car after it has been towed away from a no-parking zone will soon be over. Delhi Traffic Police is all set to launch an SMS service through which you will know exactly where your vehicle is.
The service will start within a month along with the launch of Delhi police's long pending e-challening system.
According to police sources, around 700 vehicles are towed away from no-parking areas in the city every day. Owners/ drivers of about 90 percent of them face the trouble of finding their vehicles, said police.
Satyendra Garg, joint commissioner of police (traffic), said, "This service would be a huge help to hundreds of motorists who face the problem of locating their towed away vehicles every day."
Before it is towed away by policemen, the vehicle will be photographed with the camera attached with an e-challan gadget. After that, the policemen will send the vehicle's details along with photographs of the vehicle to the server.
After this all that the user has to do is text the vehicle's registration number to a mobile number which will be attached to the server. The requisite details would immediately be sent to the vehicle owner through the server.