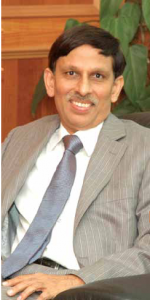 What are the various products and services in which BEL deals.
We are in the  business of defence electronics. Primarily, we supply electronic  systems to Army, Air Force, Navy and para-military. We have a large in-house  R&D set-up; we develop products, manufacture, supply and support them. Our  critical feature is the long-term support that we provide. We provide long-term  support of 15-20 years our products and it is an important requirement in our  business. Communication is one of the main segments in which we operate.  Radars, Sonars, C4I systems, Electronic Warfare systems, and Electro-optics  which includes night vision products are the other main segments of our  product portfolio. The in-house R&D is a major strength of the organisation.  Close to 60 percent of the turnover comes from inhouse R&D and 75-80 per  cent of products are indigenously developed.
How has IT helped a large  organisation such as BEL? What are the IT solutions deployed in your organisation?
An organisation of such a magnitude cannot really function without IT support and we  have been using it for more than 20 years. Five years back, before  2005, different units and locations used to have independent IT solutions and  in some cases functions like Marketing, Finance and Manufacturing also were  not integrated. From 2005 onwards we started working on an integrated ERP  through SAP. A lot of customisation was needed to suit our requirements.  Currently, all our Units and offices including the ones in Singapore and New  York are networked and integrated. Technology has changed the way we work;  it is all the more efficient and easy now. All data is now integrated through ERP.
These deployments have made a huge difference in the productivity and accountability.
How expensive were these new technological solutions and how  has it impacted the efficiency?
It has been a big investment employing these new solutions. We have spent around Rs 40 Crore on the ERP deployment, for hardware, software, integrating  and customising.As a result we have saved around Rs 11-15 crore
per year in terms of manpower reduction. Operational efficiency and the speed  with which a product can be manufactured, our speed and accuracy with which  we can quote, and our ability to take better decisions based on database  availability all has been enhanced with the help of ERP. Customer satisfaction  has improved through better delivery and support; Business acquisition has  improved due to more accurate data based decision making. These things  benefit the organisation in long-term.
How did you train your manpower for the  transition to the new technology so as to maximise the utilisation and  effectiveness?
Wipro partnered for the implementation of SAP in our organisation. Together  they have handled implementation and training. There were workshops held at  the company's premises where the manpower was trained and briefed in  batches on how to use the new systems most efficiently and also how the new  systems and technologies will help them.
Please share your views, advantages and disadvantages of using e-Procurement.
Earlier we have been using e-tendering in civil contracts and e-Procurement  has just been initiated at BEL recently. No doubt it has been a good step as we  will be saving a lot of time on the procurement and the cost of procurement also  will come down. There could be certain reluctance in some of the areas for  different reasons and difficulties in adopting this process. However, we have  started working on it and I am sure that we will derive benefits. Also one major  positive of this system is that it increases transparency between the suppliers and BEL. We handle more than 2-3 lakh components which are sourced from a  large number of suppliers, and a number of them from abroad. For that,  e-Procurement is an advantageous method to maintain a healthy competition  and streamline the process. However, integrating the systems in all units and  divisions could be a challenge.
Please share with us the challenges you faced in your journey and future plans  of BEL.
Looking back we can say that implementing ERP solutions was a big task for the  organisation and indeed an important milestone. It took few years to fully settle  the systems and also implement various modules. But now it is  successfully integrated into the working of the organisation.
A unique  requirement in implementation of ERP in our organisation came up due to a  number of components common to our products in defence, civilian and export segments. There were challenges due to the diversity and complexity of our  products, systems and processes. Then, training of the employees was a big  task. Employees initially found the migration from legacy infrastructure and  methods to the new system, slightly difficult. But now everything is  streamlined. To sum up, it was all a big exercise to transform  our operations based on technology but as we see it now, we have done it with  verve.
Now we are at a stage where we have implemented all major modules related to  Design, Manufacture, Finance and HR. We have also completed setting up of an  integrated data base and a disaster recovery station. Now all major operations are with the ERP system and thus we see it as a time to move to the next level.  On the future road map are Processes like Knowledge Management, Customer  Relations Management and Supplier Relations Management. CRM will include  complaint management systems for our customers. We have an order book of  Rs 23,000 crore and Rs 10,000 crore worth of orders are in the pipeline.
As far as new projects are concerned, in Electronics, new technology comes in  every 5 to 6 years, thus it is important for an organisation like ours to keep  evolving new products constantly. We are looking at a business of  approximately Rs.2 lakh crore in this decade. Before the end of this decade, the bompany can become a Rs.25,000 crore entity.
What are your major IT contributions to the country?
Though we have predominantly contributed to empowering the defence forces  of the nation, we are proud about two products that touch the lives of the  common man. They are the Electronic Voting Machines and the Tablet PC. The  Electronic Voting Machines are a phenomenal success in ensuring speedy and  accurate election results. In the 2009 elections, 71 crore voters in 8 lakh  polling booths, used the Electronic Voting Machines.
The Tablet PC is a touch  screen, 7 inch PC for rural applications and for education centres. The Ministry  of Rural Development and the Ministry of Human Resources Development have  asked us to develop these Tablet PCs at a low cost. We have successfully  developed it and presently we are working on manufacturing 6 lakh Tablet PCs  for the socio-economic census. These cost approximately Rs 3500 per unit.
Follow and connect with us on Facebook, Twitter, LinkedIn, Elets video