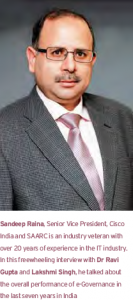 What is your roadmap or vision on how e-Governance should evolve in India.   What are the achievements of e-Governance in these seven years?
Technology when applied appropriately not only improves performance and lowers cost of government operations but also brings a paradigm shift in  relationship between government and the people. Government agencies across  the country have been experimenting with the use of ICT, first to improve their  internal work and thereafter for improving service delivery but with varying  degree of success. However, it is only with National eGovernance Plan (NeGP)  that this area has got the right direction and the requisite focus in terms of  common ICT infrastructure (SWAN/SDC/CSC) and detailed guidelines on e-Gov  application. There have been failures and successes, time overruns, cost  overruns but that is expected in a plan of such large magnitude, especially when  programmes are being taken up for the first time by many states/UTs,  which are at different levels of ICT development.
While infrastructure has  largely been put in place, development of application has been delayed, which  needs to be accelerated. Cisco has always accorded high priority to the  Government and public sector vertical and this will continue in the years to  come. The company has a dedicated team to address the growing business  needs of this sector. Cisco's strategy has been to deliver the highest degree of  operational excellence to governments, enabling them to make timely and  accurate decisions and improve operational efficiency. Governments, world  over, are under pressure to deliver services more efficiently and effectively  that are focused on the needs of their constituents. IT systems are a critical  foundation as governments seek to be more connected to citizens, business,  partner agencies, and other governments.
Cisco solutions allow multiple  departments to securely share infrastructure and services in order to drive  greater service effectiveness and organisational productivity. To address the sector in India, Cisco is working with partners such as IBM, HCL, Wipro, Infosys  to draw synergies in their applications being developed for  governments. Some of the large projects that the company is involved in are  the implementation of State Wide Area Network  (SWAN) and State Data Center (SDC) creation. In addition to the on-going engagements with state and central government organisations in ICT infrastructure creation,  Cisco is also working closely through its strategic consulting arm Internet  Business Solutions Group (IBSG) with Department of Information Technology  (DIT), National Institute of Urban Affairs, National Institute for Smart  Government (NISG), Unique Identification Authority of India (UIDAI) and few  State Governments. The IBSG helps Fortune 500 companies and leading public  organisations across the world, improve the customer experience and increase  revenue growth by transforming the way they do business. Drawing on a unique  combination of industry experience, business acumen and technical  knowledge, IBSG consultants work as trusted advisers to many of the world's  governments and leading organizations on pro-bono basis.
Recently Cisco has  signed a memorandum of understanding (MoU) with CSC e-Governance Services India Ltd.The purpose of the MoU is to make education and healthcare  solutions available to rural India and to promote social inclusion through CSCs.
What is the plan behind introducing legislation on electronic delivery of  services (EDS)? How optimistic are you with this legislative framework, since  achieving the same would have been challenging under NeGP? What has to be the new mission of the NeGPs?
In a broad perspective, the NeGP initiative owing to a vast outreach, with 27  Central Mission Mode Projects over a period of five years has progressed very  well in our country. The most important thing that needs to be implemented is  the review mechanism in the entire process. It is necessary to check if a  particular model is working well in all the 27 departments across 35 States.  With a review mechanism, we can analyze as to how we help them achieve a mission or how many mission modes are to be modified or how do we help them  manage the infrastructure. Secondly, we must undergo a thorough  research to analyze how many state mission modes have been successfully  implemented? One must use cloud to replicate that. If a model works well in  state, it is not necessary that all the 35 states should follow the same but there's  no harm in replicating best practices. A body needs to be constituted to review  whether  a particular model has been implemented successfully and analyze
"The most important thing to be implemented is the review mechanism  in the entire process"
the  feasibility and relevance for another state. Thirdly, accountability has to be  done around all the projects. There is a need to show a substantial cost  difference in terms of what a service would cost. A citizen may be happy to pay  a slightly higher amount for a more efficient delivery of the service through  ICT. However, that price difference cannot be significantly higher. Productivity gains have to be at the core of implementation while keeping customer delivery  in mind. Ultimately it is the quality of service and the cost of implementation  that are important. There is a need to divide the concept of e-Governance into  lot of sub sectors—common functions, utility, use of infrastructure and  productivity.
What is the role of education, healthcare and power in e-governance?
The most important connecting links for e-governance to succeed are  education, healthcare and power. The government should focus on these three  sectors for expansion. What is important to analyze is that how much synergy is  there in all three sectors and what should be the public- private  participation. In healthcare sector, bringing down the cost and accessibility is  the most important consideration. Power and broadband connectivity are the  most important aspects for delivering healthcare services. Not only that, what  really is of concern to technology providers is to see the disjointed effort of  government in the education industry as there is no single programme that  drives ICT in education.Talking of connectivity made more sense at a time when  there were no roads constructed. Therefore, for education and broadband, there needs to be one single policy, one single blueprint in the  country.
The last year has witnessed several landmark projects for Cisco A key  project has been the Restructured Accelerated Power Distribution Reforms  Project (R–APDRP) by the Ministry of  Power (MoP), Government of India, which has
a mandate to reduce power transmission and distribution losses by  strengthening and upgrading transmission and distribution networks. For instance, Railway reservation system, MCA 21, Stock exchange, Income tax and  Customs are some of the success stories under central government. On the  other hand, land records, property registration, driving license, vehicle registration certificate and VAT have been automated by many state  governments.
What are the programmes under e-governance which are promising?
Unique Identification Number (UID) will revolutionise e-governance. It will  improve the service delivery aspect. UIDAI has been given the onerous task of  putting in place a mechanism to issue Indian residents with a unique number  which can be used with ease and con- fidence to establish identity and can be  verified and authenticated in an easy, cost-effective way to eliminate fraud and  duplicate identities and thus enable common man to avail government services  easily. This is also expected to give a big boost to e-government initiatives by  enabling online application for various services. The absence of a reliable  system for such purposes has been an impediment to improve targeting of  developmental schemes. The Unique identi- fication number would be used for  identification of individuals, enabling better delivery of various Government  services and leading to better targeting of poverty alleviation and other social  welfare scheme to beneficiaries. The UID s intended to be used in the first  instance, as the basis for efficient delivery of various social and welfare services  to persons below the poverty line (BPL). Cisco IBSG worked closely with UIDAI on its working paper titled "Creating a unique identity number for  every resident of India" detailing the proposed approach, processes and  architecture for implementing this programme.
Follow and connect with us on Facebook, Twitter, LinkedIn, Elets video