The first eWorld forum envisaged as a major global platform for dialogues, debates and deliberations upon policies, tools and methods for effective e-Governance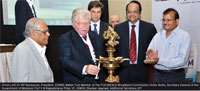 In the current era of globalisation, Information and Communication Technology (ICT) is performing the role of universal equaliser, enabler and integrator. Today, ICT can help achieve the dream of a more just, inclusive and equitable world in a most peaceful way. We can see many examples of ICT-enabled empowerment and social inclusion achieved in the developing world over last decade.
Our country still has poverty, inequality, corruption, and social exclusion everywhere. The most important and revolutionary aspect of ICT is its potential to shift the balance of power in the society, governance and economy towards the common people, the disadvantaged groups, the poor, the women and youth. With this vision and mission, Elets Technomedia and Centre for Science, Development and Media Studies organised the first 'eWorld Forum 2011', from 1st to 3rd August in Delhi. The event was organised in association with Department of Information Technology (DIT), Ministry of Communications and Information Technology, and Department of Science and Technology, Government of India. Acclaimed as one of the largest ICT event in India, it drew participants and visitors from across the country and worldwide. A plethora of activities ranging from keynote speeches, panel discussions, roundtables, workshops and technology showcase made for a great rendezvous at the event.
eWorld Forum hosted policy makers, academicians, researchers, technology vendors as participants and delegates from across India as well as overseas. The three-day long conference threw light on the areas of IT and technology in eGovernance, while providing a successful platform for sharing knowledge and discussing emerging issues in depth. The conference organised sessions on crucial eGovernance issues such as opportunities and challenges on global cooperation;  telecentres: effective approaches and best practices; ICT in agriculture; best practices in eGovernance; public safety, security and disaster management;  ICT mass literacy; UID; urban governance and infrastructure; ICT in financial inclusion and many more.
eWorld 2011 also recognised some of the best projects, initiatives and practitioners of ICT-driven development across government, education, healthcare, agriculture and rural sectors, through the eWorld 2011 Awards. With the purpose of bringing better transparency and fairness in the award process, the awards were given under two categories, namely, the 'jury choice' and the 'public choice' (through online voting). The overwhelming response for the online public poll – a whopping 93, 927 votes was delightful.
ICT being the powerful tool that can help achieve the Millennium Development Goals (MDGs), this forum has provided an essence to effectively integrate or mainstream ICTs at a global level into development strategies and programmes.