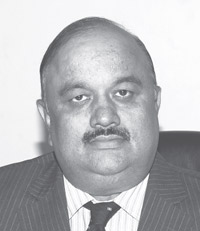 Dr Ranvir P Sharma
Inspector General of Police
Karanataka
There is a need to create an index or grading system of evidences to enable the generation of a score card. This will make the gleaning of evidences and presentation in the courts more scientific and disposal of cases faster and in transparent manner
The perceptible failure of the Criminal Justice System (CJS) in prosecuting the guilty stands to be addressed and that too, immediately. In a quest to find solutions to this problem, investigating agencies, prosecuting agencies and judicial system need to work coherently to address the issue, imbibe new ways and means to improve CJS along with simplifications of procedures.
There have been arguments to give more credence to circumstantial evidence or, sometimes, to scientific evidence, but we have not been able to grade evidences gleaned in variety of cases so the entire system is yet to become 'Preponderant Evidence System'. Rather it remains evidences linked system, which is rather vague.
There is a need to create an index or grading system of evidences to enable the generation of a score card. This will make the gleaning of evidences and presentation in the courts more scientific and disposal of cases faster and in a transparent manner.  In case the prosecutor finds that the score card attached with charge sheet does not show sufficient evidence, it will be open to prosecutor to ask the investigating agency to further investigate the case. Similarly, in cases where the accused finds that impeccable evidences have been produced, may bring 'plead guilty' phenomenon and ask for mitigating the punishment and thus, judicial time spending will be economical and judicious. It is high time we evolve an objective presentation of evidences and their appreciation and bring mandatory changes in procedural laws so as to incorporate the system of grading of evidences gleaned by investigating agencies and presented by the prosecution to make the entire exercise fair, objective and transparent.
Criminal Justice System has failed largely due to poor investigation, prosecution and lack of a system to assess evidences
Crime is a threat to our freedom and democracy. Crime reduction is essential for stability, security and development of the nation. However crime reduction cannot be achieved in isolation without having an effective CJS in place in the country. There is a strong belief that the present CJS has failed to deliver and is likely to collapse if remedial steps are not taken immediately. The present system is exhibiting signs of overload and lack of effective management. There are four essential prerequisites to generate faith in CJS: efficiency, effectiveness, transparency, and fairness.
Efficiency refers to the utilisation of resources in an optimum fashion to achieve the goals set by the Law and the Constitution.
Effectiveness embodies the principle of healthy balance between liberty and security along with observance of the requirements of the law towards the accomplishment of the goals of crime prevention besides punishing the guilty in time effective and cost effective manner.
Transparency is the fulcrum on which the accused, the victim and all other stakeholders exhibit their satisfaction. The satisfaction of all the stakeholders is the bottom line in any transparent system.
Fairness is the attribute of a transparent system.  It should be amply demonstrated in any system so as to build faith in a system.
Problematic areas in present CJS

Even after prolonged and costly procedures, not even one-fourth of cases end in conviction.The rich often get away lightly and the poor are put to suffering and discrimination. Quite offen delays defeat justice and the offenders go unpunished; witnesses are threatened and have no protection.
The victims are ignored in the system and get no relief for the injuries or losses suffered. Even registration of complaints often becomes difficult without money or influence. An unholy nexus is perceived to prevail between criminal syndicates, politicians and law enforcement officials, affecting criminal proceedings and the rule of law. Corruption has taken a heavy toll on the system.
What do citizens seek from criminal justice system?
Citizens want efficiency, accountability and zero tolerance against corruption.
But the question emerges, how can this be achieved? The reforms may include the following: criminal law reforms, both in substantive as well as procedural laws; institutional reforms of police, prosecution, courts and prisons, etc; qualitative improvement of people and material involved in Criminal Justice System.
Criminal Justice System has four stages which are recognised in the Indian Legal System: registration of the case; investigation of the case; trial of the case; rehabilitation and corrective measures, if any.
Criminal Justice System has failed largely due to poor investigation, poor prosecution and lack of a system to assess evidences. There are different standards being used to decide different cases, which pave way for subjectivity in the system.
The aim of this paper is to provide a solution to the problems plaguing the present Criminal Justice System. It also aims to grade different evidences in a numerical grading format based on the type of evidence gathered during the course of investigation and lays emphasis that every charge sheet, which is put up for a trial, carries a sufficient numerical total score.
The existing system has some shortcomings.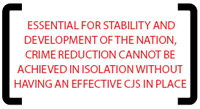 Voluminous documentation in various court trials, which make the system least penetrating to prioritise evidences is one. Another is most of the judicial time is utilised in examining oral testimony by way of various examinations.Lastly, mindset of all the appendages of today's judicial system is tilted toward oral testimony and not towards scientific testimony.
Suggested scoring patterns
To make things more simplistic some explanatory score indexes are suggested below. However, numerical indexing of evidences requires in-depth study of various criminal cases, issues of perception of evidences and admissibility of such evidences.  This may entail a very long exercise with proper deliberations before grading of evidences reach  statutory finality. The score is on a scale of 0-10 with 0 being the least and 10 being the maximum.
Numerical indexing of evidences requires in-depth study of various criminal cases, issues of perception of evidences & admissibility of such evidences which entail proper deliberations
The cross-matching of DNA finger prints with sample collected in ideal conditions score may be – 10 out of 10.

Judicial confession not retracted – 10 out of 10.

Extra Judicial confession – 6 points.

Documentary evidence like  sample matching handwriting, finger prints, –  10 out of 10, if collected in ideal conditions.

Oral testimony non-corroborated – 1

Corroborated oral testimony – 5

Oral testimony of government official –  3

Oral testimony of non-government official – 1
Scorecard drivers
Every chargesheet will be accompanied with score card of the evidence and that shall be cross verified by the prosecutor. In case of any variation, investigating officer will have to explain the discrepancy to the prosecutor. If prosecutor is satisfied with the explanation given by the investigation officer, he will issue a certificate to this effect and chargesheet will be filed in the court of law. If not satisfied, he will be asked to do further investigation and change score with the certificate to this effect.
The rationality of chargesheet and its usage in criminal justice system are issues which have caused more grey areas than addressing these issues. There is a need for a  fair transparent and objective criminal justice system which is not only free from ambiguities but also is least time consuming.
There is a need to bring statutory changes to ensure chargesheets, which do not carry sufficient cumulative score of the evidences, do not get registered by the courts and before taking the cognisance on a charge sheet it shall be the duty of the court to pass a reasoned order satisfying with the score card attached with the chargesheet.
This system will satisfy Police, prosecutor, accused, victim & the courts equally & thus paving way for transparent criminal justice system.  
write back

Your views and feedback matter to us. Tell us what you think of the stories in the magazine or what more you would like us to cover. Write back to the Editor at editorial@elets.in
Follow and connect with us on Facebook, Twitter, LinkedIn, Elets video