| | | |
| --- | --- | --- |
| 8th Meeting of Council of Mission Leaders | Indian National e-Government  Workshop | Conference on Tech Solutions for Rural Service Delivery |
Playing role of knowledge repository in the e-Gov domain, the new section on e-Governance updates in e-Gov magazine would provide the much needed information to all the key stakeholders
By Shankar Aggarwal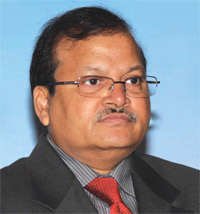 Shankar Aggarwal

Additional Secretary, Department of Information Technology, Ministry of Communication and Information Technology, Government of India 
Department of Information Technology (DIT), through National e-Governance Plan (NeGP) is creating national information infrastructure with an aim to modernise and further empower the public sector to keep pace with the rapid and continuous sophistication in technology, reform the service delivery and simplify the government and business interface.
The National e-Governance Plan (NeGP), takes a holistic view of e-Governance initiatives across the country, integrating them into a collective vision, a shared cause. Around this idea, a massive countrywide infrastructure reaching down to the remotest of villages is evolving, and large-scale digitisation of records is taking place to enable easy, reliable access over the Internet.The ultimate objective is to bring public servicescloser home to citizens, as articulated in the vision statement of NeGP.
The government approved the Nationale-Governance Plan (NeGP), comprising of 27Mission Mode Projects (MMPs) and eight components, on May 18, 2006. The government has accorded approval to the vision, approach, strategy, key components, implementation methodology, and management structure for NeGP. However, the approval of NeGP does not constitute financial approval(s) for all the Mission Mode Projects and components under it. The existing or ongoing projects in the MMP category, being implemented by various Central Ministries and States would be suitably augmented and enhanced to align with the objectives of NeGP.
In the Plan execution, the Department of IT is undertaking several activities each month to ensure proper implementation and monitoring of the respective Mission Mode Projects. The activities vary from regular meetings on projects update, review and monitoring and capacity building through conferencesand workshops across 35 states and Union Territories.
Nevertheless, equally important is the documentation and sharing of these developments to all key stakeholders, across the country. Besides, the documentation has to be done by the domain experts. I am happy to learn that from April onwards, egov magazine will have dedicated section for the coverage of all these essential activities.
egov has been a knowledge repository in the e-Governance domain since last six years. I wish this section would provide the much needed information and updates to all the key stakeholders including citizens, businesses and especially, government officials and the political executives. I thank the egov team for taking this initiative and wish them all success.
Indian National e-Government Workshop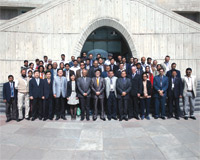 Department of Information Technology, Government of India in collaboration with United Nations Project Office on Governance organised 'Indian National e-Government Workshop' between February 28 and March 1, 2011 in the Capital.
The workshop witnessed participation of high level delegation from South Korea and champions from all Indian states and UT governments' Information Technology departments. From the Central level, senior officials from Department of Information Technology and Director General of Unique Identification Authority of India (UIDAI) participated in the conference.
Speaking at the workshop, Ram Sewak Sharma , DG, Unique Identification Authority of India (UIDAI) informed that the Authority aims at assigning unique identity number to 600 million of population by 2014.
Making a presentation on diverse applications of UID, he said with UID being assigned to all the residents, people would be on the [government] radar and it would  be easy for the authorities to track people related with security concerns.  "We are assuming that in a single identity paradigm, things will move in a better manner," he   said.
UID would enable tracking of end to end service delivery. It would play a role in subscription to new services.
It would simplify and expedite money  transfer and consumer banking as a whole. It would have social security number of type linkage. Besides, UID, technology-enabled banking would result in reduction of per transaction cost which could be from `15 to `2.
Dr M Jae Moon, Professor of Public Administration, Yonsei University  gave a presentation on On-Nara Business Processing System, which is in practice in Korea.
Under this system, all the decision making processes are recorded and managed online and around 55 central government agencies in Korea are currently using On Nara system.
Moon elaborated that with On Nara system being in practice, all the decisions and opinions are recorded in e-Document cards.
It has also resulted in the history management of all the edited documents and online administration of the entire  policy making process.  Averring the fact that the system has resulted in the enhancement of government efficiency, Moon stated that almost 96.6 percent of officers now use On Nara business process system.
Gregory J Pokorny, Principal Manager with the Global Cooperation Division of the National Information Society Agency elaborated on the global adoption of Cloud Computing in government.
He informed that in Australia, the departments of Finance and Census are positive about using cloud-based services in their business operations.  In UK, cloud computing is  part of the digital Britain strategy, as proposed by UK CIO. In US, the country has a Federal Cloud Computing Strategy.  Here, almost 20-25 percent of  IT budget in government goes to the cloud computing technology.
In China, IBM is offering platform as a service to develop applications. In South Korea, there has been a $520million investment in cloud creation.
Contrasting the popular adoption of cloud technology in these countries with India Pokorny said there is no support policy or  legislation or research and development to promote cloud adoption.
Council of Mission Leaders discuss MCA21
The Department of Information Technology, Ministry of Communications and  IT, Government of India conducted the 8th Council of Mission leaders meeting  on March 17, 2011. In this meeting, Ministry of Company Affairs gave  presentation on the MCA 21 – the Mission Mode Project (MMP) under the  National e-Governance Plan (NeGP) and enlightened on the do's and don'ts for  the execution of projects.
MCA 21 is the first national MMP which got executed well before time in the  year 2006. Project's successful implementation and operation has set a bench  mark for other MMPs. Council of Mission Leaders is an initiative of the  Department of Information Technology for sharing of common issues,  challenges and possible solutions coming across in various phases of the MMP  execution, among all key mission leaders and make recommendations to the  Apex Committee chaired by the Cabinet Secretary.
Globally, US has a CIO council, which aims to achieve information resource  management objectives delineated in legislation including the e-Government  Act of 2002, Government Paperwork Elimination Act, Paperwork Reduction Act, Government Performance and Results Act, and the Information  Technology Management Reform Act of 1996.
The Chair of the CIO Council in  US is the Deputy Director for Management for the Office of Management and  Budget (OMB) and the Vice Chair is elected by the CIO Council from its  membership. Membership on the Council comprises CIOs and Deputy CIOs  from 28 Federal executive Agencies.
In Australia, under the direction of the Secretary's ICT Governance Board (SIGB), the Chief Information Officer  Committee (CIOC) investigates, identifies and endorses ICT issues and solutions  and emerging trends to be applied at a whole-of-government level. The CIOC is  chaired by Finance and comprises Chief Information Officers (CIOs)  representative of central bodies, portfolio departments and service delivery  agencies.
Governments in UK and Estonia, too, have constituted CIO Council for  intensifying the deliberations on improving and up scaling of ICT projects in  the public sector
National Conference and Exhibition on Technology Solutions for Rural Service Delivery
To promote innovations in technologies for service delivery in rural areas, National Informatics Centre organised National Conference and Exhibition on  Technology Solutions for Rural Service Delivery between March 24 ad March 25 in the Capital.
In his inaugural address, Kapil Sibal, Union Minister of Communications and  Information Technology pointed out to the significance of uniformity and  standardisation in e-Governance projects. The minister said the rural areas  have their own specific requirements. The solutions working in the developed world, may not be suited best to the interest and requirement of the Indian  rural region.
He cited the example of making available ` 1500 laptop to every child in rural  India, which if otherwise procured, could cost government a sizable chunk of  the Budget. The minister also apprised about the recent decision taken by the  Cabinet to enable online repository and management of academic certificates. He reasoned, "If share certificates can be in demat format, why can't degrees be  demat format."
It would be a data repository with the government, from which pupil can obtain  certificates by paying small fee. Besides, he emphasised on the need for  innovation in service delivery, technology solutions, devices, and highways of information. Giving the welcome address, Dr B K Gairola said NIC has been in  the field of eGovernance for the past 30 years. He stated that the dynamics of  application of ICT in government has changed rapidly over the years. Initially,  eGovernment was confined to MIS and decision support systems in to the  government. However, now the focus has shifted to government to citizen  interface.
R Chandrashekhar, Secretary, Department of Telecom said even with the  technology infrastructure in place, it is too hard to obtain information. For  achieving true e-Government at the local level, "It is very important that data  entry doesn't happen in manual format but in digital," he said. Connectivity has  been an issue in bridging the digital divide. However, with advent of broadband  plan, connectivity may not remain an issue. After complete connectivity and  integration, the leakages into the social sector schemes could be fixed. In his  concluding remarks, Chandrashekhar stressed upon the need for solutions particularly suited to the rural areas.