---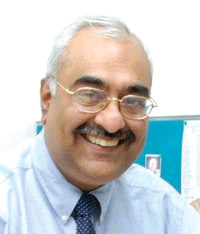 Manoj Chugh
President (India & SAARC)
Achievements
EMC Recognised with the CIO 100 Award: CIO.com included EMC on its list of 100 companies, creatingpbusiness value through the innovative use of technology for EMC's IT Proven project.

APEX Awards for Publication Excellence: EMC publications 'EMC Now' and 'ON Magazine' won a total of four APEX awards including a coveted Grand Award.

Corporate Responsibility Magazine's 100 Best Corporate Citizens List: EMC was ranked 19th on the list of the best corporate citizens for its achievements in categories such as governance, philanthropy, and human rights.

Fortune 500: EMC climbed six spots to #166 on FORTUNE's list of America's 500 largest corporations.
---

EMC Corporation (NYSE: EMC) is the world's leading developer and provider of information infrastructure technology and solutions that enable organisations of all sizes to transform the way they compete and create value from their information.
EMC commenced its Indian operations in 2000. Today, it has a wholly owned subsidiary which has business and sales offices in Delhi, Mumbai, Bangalore, Kolkata, Chennai, Hyderabad and Pune. EMC has its India Center of Excellence (CoE) in Bangalore in addition to two other development centres in Bangalore and Hyderabad. EMC also has seven Logistics and Support facilities across India. EMC, through its partners, has a strong customer base in India, spanning the Telecom, BFSI, Manufacturing and the Technology sectors.
Product and Services
Unified Storage
EMC Unified Storage makes complex administrative tasks simple. And it's 20% more efficient, Guaranteed. That's why, in virtual environments, customers choose EMC storage twice as often as anyone else.
Backup, Recovery and Archiving

EMC Backup and Recovery solutions enables to strengthen customer's data protection, streamline backup and recovery, and meet a wide range of service levels, even for the largest data volumes. It also reduces the amount of data to be backed up while optimising environment with a full range of platform, software, and subscription-based service solutions.
Information Security
Access Control

Authentication

Credential Management

Data Loss Prevention

Encryption and Key Management

Fraud Prevention
Virtualising Information Infrastructure
Block Storage Virtualisation

File Virtualisation Solutions

Information Infrastructure Solutions for Microsoft Virtualisation

Virtual Infrastructure Data Protection Solutions
Governance, Risk, and Compliance

EMC Governance, Risk, and Compliance (GRC) solutions help organisations to achieve unprecedented agility in managing risk and demonstrating compliance. Its GRC solutions raise confidence in GRC intelligence by monitoring and managing controls in storage, information, security, change, configuration, and performance management systems across both physical and virtual environments.
Contact
Vikram Singh
Marketing Specialist
EMC Data Storage
#9 B Lotus Tower, Community Center,
New Firiends Colony, New Delhi
Phone No (Office): 011-45673800
Website: www.emc.com