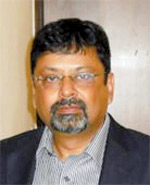 Hi-tech building blocks are being used to enable diverse micro transaction needs of the citizens
"We are working on pilots FOCUSED AT end customers"
Ajay Singh, CEO, Forbes Technosys Limited
How is Forbes different from other Kiosk companies?



Forbes is a systems integrator and maunfacturer of Kiosks. Our differentiators are that we have a control over every aspect of the Kiosk, from design of Kiosk – hardware & software to operations in the field.  We have an ISO 9001:2000 plant and software development centre at Thane.  These products are supported in the field by 500+ personnel at 100+ locations across the country. We have set up an integrated National Network Operations Control Centre to manage the large network of Kiosks across the country. This centre continuously monitors each Kiosk up to the component level (24x7x365 days) and helps allocate and manage breakdowns.
Is Financial Inclusion an important area for Forbes?
Financial Inclusion, both urban and rural, is crucial to India's growth and is the future of inclusive banking. India's huge telecom reach has to be replicated by the banking industry to take banking to the masses. While there are several challenges to accomplish this, Government initiatives like UID can be a catalyst in the financial inclusion process. FTL has launched a series of products for finanical inclusion which include Bio-metrric enabled & solar powered ATMs as well as Portable MICRO ATMs for Banking Correspondents.
Transaction growth is the natural outcome of economic growth. Major sectors across the board are faced with tremendous challenges in dealing with this growth while catering to the consumers' demand for greater convenience and efficiency in handling their transactions.
Forbes Technosys Ltd. (FTL) is a pioneer in transaction processing solutions, services and networks that help organisations handle large transaction volumes effectively and efficiently, while improving quality of their services and reducing costs.
FTL's portfolio includes e-Governance solutions such as G2C transaction kiosks, bill payment kiosks, PoS terminals, electronic cash registers, portable biometric enabled platforms for UID registration and authentication, franking machines for postal services, stamp duty collections and judicial franking.
FTL provides integrated solutions and services and has a pan-India support network, which is at present supporting over 15,000 installations. It has a comprehensive offering that includes supply of hardware, software and support services spanning over 125 service locations all over the country. FTL has established a state-of-the-art national network operations-and-control centre at Thane where it provides managed services support to its clients in banking and ATM services, power and utilities companies for bill payment processing, cheque truncation systems and financial inclusion.
Driven by innovation

FTL is driven by the need to provide innovative products, services and solutions to customers. In addition to selling solutions, FTL is working with government departments and public utilities on a public-private partnership model basis (BOO, BOOT) in order to enable automation in several areas including ticketing, bill payment services and G2C transactions. Through partnerships with Department of Posts, FTL is providing next generation franking and stamping solutions in different states of the country. FTL has been responsible for the first implementation of judicial franking systems in the country in the state of Bihar. FTL has launched a series of products for financial inclusion which include biometric-enabled and solar powered ATMs as well as portable micro ATMs for banking correspondents.
FTL is engaged in the roll-out of India's first multi-city, multi-channel, multi-modal network that will enable anytime bill payments, mobile recharges, ticket bookings and a host of other services.
FTL's goal is to use high-technology building blocks to provide products and services to satisfy the diverse and special needs of the Indian consumers and make their life easier.
FACT FILE
Forbes Technosys Limited, a wholly owned subsidiary of Forbes and Company, is a pioneer in self service automation with a strong focus on banking, telecom, power, government and retail.

Forbes and Company (F&CL) founded in 1767 by John Forbes from Aberdeenshire in Scotland. Forbes has diversified business interests in shipping, engineering, water purification systems and technology.

Forbes is a part of the Shapoorji Pallonji Group which has revenues of around USD 2.8 billion (FY10 est.) and an asset base valued at USD 1 billion. The Group is a conglomerate with diverse business interests in construction, shipping, healthcare, energy, engineering and technology. Other subsidiaries of F&CL include Eureka Forbes, SCI Forbes, Nypro Forbes and Forbes Bumi Armada. Shapoorji Pallonji is the largest private shareholder (18.5%) of Tata Sons Limited, the holding company of the Tata Group.