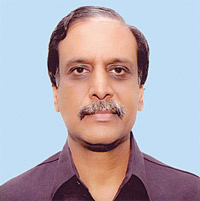 JK Dadoo
Administrator, Union Territory of Lakshadweep
Tell us about the unique features of Lakshadweep? Being a group of islands what are some of the challenges in administration in Lakshadweep?
The Union Territory of Lakshadweep is a group of 36 Coral islands of which 11 are inhabited. Islands are scattered randomly in Arabian sea about 220 kms to 420 kms away from Malabar Coast and therefore, are geographically isolated. The percentage of unemployed persons registered in employment exchange is around 19.5 percent of the total population. Some of the challenges In Lakshadweep are its geographical isolation and remoteness, inadequate sea/air transport facility, lack of proper data communication facilities, lack of Internet facilities in all the islands, lack of employment opportunities in private sector and very strong and competitive desire to be recruited in government departments.
What are the e-Governance initiatives undertaken in your Union Territory in the last three years?

During the past 3 year, some of the major e-Governance initiatives undertaken here are:
1. Total Digitisation of Employment Services. Winner of Manthan Award-2007 for the Best Citizen Centric Project
2. Integrated e-Governance Solution in Department of Electricity. Winner of CSI –Nihilent 2007 Best e-Governed Department Award
3. Web-enabled Ship ticket advance reservation system – PORTNET. Recipient of Microsoft Best Innovative Project 2006
4. Web-enabled Medical Inventory Management System – 'Ever Alert'. Has received the CSI- Nihilent Award in the year 2008
5. Web-enabled Entry Permit Management System-'e-Permit' Telemedicine
6. Total Digitisation of Employment Services. The required e- Governance Hardware installed in the employment exchange, Kavaratti
7. User friendly Employment portal launched. Eight 'Virtual Employment Exchanges' opened and decentralisation done at the Subdivisional Offi cers level
8. Data relating to all the registrants updated, re-codifi ed under National Classifi cation of Occupation (NCO), 2004
Lakshadweep has developed Integrated e-Governance Solution in the Department of Electricity. Tell us more about this initiative.
Under the Integrated e-Governed Solution in the Electricity department, the following web-enabled applications developed and implemented:
1. Consumer Management and Energy Billing
2. Complaints Management System
3. Inventory/Cargo Management System
4. Integrated e-Personnel Management System
5. Intranet for the Department
Some of Achievements of this solution are: on-line submission of application for service connection; execution of service connection through work fl ows; acceptance of energy bill at any counter in any island; consumer bill, payment history etc. available online; centralised stock management system; an  integrated system for personnel and pay roll; web-enabled ship ticket advance reservation system – 'Portnet'; all the 14 Port offi ces are interconnected using VSAT as an extension of NICNET; webenabled  ship ticketing system developed and introduced; Anywhere-to-Anywhere ship ticket available from any counter in any island as per the printed ship schedule of 7 months – Nov to May; ticket can be booked one month in advance; centralised control of the counters; ship schedules, ticket availability; ticket status etc. available through Internet; and issuance of freight tickets through this system.
Please tell us about the status of implementation of NeGP.
The total allocated fund for NeGP is INR 2,374 million over a period of 5 years, with capital expenditure of INR 6,97 million, and operational expenditure for the next 5 years as INR 1,677 million. The fund received till now out of the allocated amount, is INR 4,72 million. The request for proposal has been submitted to the Department of Information Technology (Government of India) for the fi nal approval. A 2000 Sq.ft space has been allotted for implementing the State Wide Area Network (SWAN) and State Data Centre (SDC)and Pricewaterhouse Coopers Ltd. has been appointed as a consultant. 10 Common Service Centres (CSCs) in 10 islands have been proposed. For the State Service Delivery Gateway the detailed planning report has been submitted to DIT (GoI) for the fi nal approval. For NeGP to achieve its goals, capacity gaps are to be removed . DIT, has prepared Capacity Building Guidelines for developing institutional mechanisms, in consultation with Planning Commission. This involves engaging experts for developing skills and imparting training. Here in Lakshadweep, the total funds allocated for capacity building is INR 42,860 million. Wipro has been selected for the State e-Governance Mission Team. The works for the same began from November 2009 in all the 10 Islands. \\