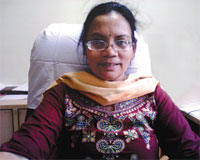 www.rd.ap.gov.in
Dr. Padma
Joint Director, Rural Development, Andhra Pradesh
---
"With all records in place and a click away, the system has become transparent and it is easy to rectify any problem. Earlier, identifying a problem itself was a time consuming task."
"When the National Rural Employment Guarantee Act was passed in 2005, Andhra Pradesh was chosen for a pilot test by the Tata Consultancy Services."
---
How did the ICT-supported National Rural Employment Guarantee (NREG) programme begin in Andhra Pradesh?

When the National Rural Employment Guarantee Act was passed in 2005, Andhra Pradesh was chosen for a pilot test by the Tata Consultancy Services (TCS). From the beginning, we wanted Information and Communication Technology (ICT) to be the backbone of this scheme.
In the first phase, we shortlisted a group of 13 districts where this scheme was to be implemented. To operationalise the scheme on ICT mode in each district was a difficult proposition in a short span of time. But we took it as a major challenge and all our subject specialists were roped in to work along with TCS consultants.
In April 2006, we distributed job cards for the first time in Ranga Reddy district after the estimates and job card modules were set up. Work started in the month of April and pay orders were generated in the last week of the same month. Initially we ran the project in Ranga Reddy itself for 20 days and then slowly scaled it up to other districts as well.
How you ensure proper functioning of the whole programme at the ground level?
The establishment of 'mandal' (or block) centers was not an easy task. Directors of each centre had to individually set up everything. Even for buying computers, they had to personally run around and also take prior approval from the Collector's office.
But with IT systems now in place, we are sure that the wages of the workers are reaching them directly. With all records in place and a click away, the system has become transparent and it is easy to rectify any problem. Earlier, identifying a problem itself was a time consuming task.
How is monitoring done at the micro level?

Once the concerned department finalises the type and place of work, technical and administrative approval is undertaken. Subsequently, work order is given and as per the estimate, our technical officers go to the field for marking the work area. Labourers work for six days a week and at the end of it our officers again conduct field visit to measure the work undertaken by the groups. Finally attendance is conducted and entered into the system and wages are then calculated.
Wages are calculated on the basis of a particular task and the amount of work done. Once the pay order is generated, payment is deposited in the individual's savings account. While bulk payments are done for the whole group, money is deposited in the individual accounts to ensure equal earnings to female workers.
What has been your experience in implementing ICT in two other key programmes – CLDP and watershed?
Following the successful implementation of ICT in the NREGS, we extended it to another rural  development programme called Comprehensive Land Development Programme (CLDP).  Under this programme, land which has been lying idle for many years is developed by  digging borewells and ploughing. CLDP is a complete grant scheme carried out with assistance  from NABARD. With the success of ICT integration in NREGS, we have adopted ICT  in this programme too under transaction based model. So pay orders are generated and  payment is done through the same channel, with estimations and sanctions.
One of our oldest programme is the water shed development programme, which is about  capacity building and productivity enhancement mechanisms for agriculture and animal  husbandry. We will be putting it on ICT mode this year. To begin with the transactions done  at the mandal level is uploaded on three different websites of AP NREGA, watersheds and  CLDP. We have also stored the history of the watershed project, that was started in 1995, in  digital format, and the information can now be easily accessed online.
In the past one year, we observed duplication in lot of works under these three programmes.  As a measure, we have segregated common works under the three programmes. For example,  all earthen related works are dealt with NREG funds, while bore wells, machines, and bolder  removal through machines and other heavy works are funded by the CLDP. With these  segregations we have been able to optimally divide funds between the three programmes and  plan in a better manner.