CGSWAN is the largest WiMAX 802.16d deployment in Asia connecting 3,000 Government offices of the state government"

http//:www.chips.gov.in/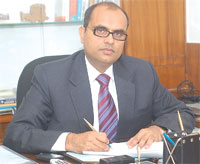 ---
"CGSWAN is the largest WiMAX 802.16d deployment in Asia connecting 3,000 Government offices of the state government"
---
You informed egov last year that CHhattisgarh Online information system for Citizen Empowerment (CHOiCE) will be replicated in rural areas under the Common Service Centres scheme. How far has this been successful in catering to the different needs of urban and rural areas?
CHOiCE state wide rollout is going on as per schedule. Chhattisgarh has already completed selection process through transparent process and selected its two Build, Own, Operate and Transfer (BOOT) operators – AISECT for Durg & Korba Zones and Zoom Developers for Raipur and Raigarh Zones. The Government to Citizen (G2C) services are already under final stages of testing / fine tuning in five districts for workflow, roles, responsibility of authority and other technical issues such as connectivity master data population. It is expected that entire 3000 rural CHOiCE Centres as part of CSC will be fully operational for G2C services by August 2009 as per the revised schedule.
Regarding catering to the different needs of urban and rural areas the issues in Chhattisgarh are three fold namely technological infrastructure, capacity and service requirements. The technology infrastructure work in terms of strengthening backend support including upgradation of server farm, redundant lease lines, multiple instances for application server, and other performance and security infrastructure are already complete or are in advance stages of completion. Significant success has already been made in capacity building for handholding support required for such a vast rural deployment roll out. The formal support structure and units are already in place and continuous training / retraining programme of stake holders is underway in big way.
In terms of specific rural centric services requirements, state is in advance stages of completion / integration of these services. These services are mostly related to land records and welfare related information / delivery mechanisms required in rural area in the state, most of which are ready to be made functional after undergoing rigorous testing.
Our priority also includes intersecting or cross departmental / organisational rural application from different base / platforms. CHOiCE will transform the e-Governance for rural citizen, once the State Services Delivery Gateway (SSDG) is made functional with help of state partner Centre for Development and Advanced Computing (CDAC).
Give us an update on the State Data Centre (SDC) in Chhattisgarh?

State of Chhattisgarh based on its requirements has been considered and sanctioned funds along with large state category. The 'Pre Draft' document for selection of Centre Operator submitted by State Consultant is already being scrutinised and shall be submitted, after approval from the State Project Committee, to Department of Information Technology, GoI, in a short span of time. Taking into account, the growing trend of miscreant attacking economic nerve centres, the state is creating a world class secured civil structure. Our State Data Centre (SDC) Consultant is helping in selection of technology infrastructure which is sufficiently future proof, support state responsibility towards citizen, can embraces change faster and at less expense with lower ongoing operating cost. We as part of strategy cautiously spend more time on planning then in execution. We are hopeful to bring this infrastructure at the same time along with other core infrastructure and utilise the fund within the right time frame.
The implementation of State Wide Area Network (SWAN) in Chhattisgarh is expected to be completed by March 2009. What is the progress so far and will it achieve its expected time line?
Chhattisgarh State Wide Area Network (CGSWAN) is a hybrid backbone connecting all districts and eventually Blocks using Lease lines, VSAT and Wi-MAX. It is also the largest WiMAX 802.16d deployment in Asia connecting 3000 Government offices of the state government. Chhattisgarh is the only state which has cared to include all its offices as part of horizontal connectivity. After following a transparent bid process TCS has been selected as BOOT Operator for the state and agreement in this regard has already been inked on October 8, 2008. The roll out work has already started in full swing though the state is witnessing assembly election but this has not deterred the ongoing CGSWAN rollout work. Entire dispatch, intermediate task and milestones are strictly adhered to. The vertical connectivity for  all districts and blocks shall be completed in the next four month, which is well ahead of the set deadlines. The completion date of project for all horizontal offices is August 2009.
Your state has several firsts to its credit in regard to e-Governance. Could you highlight the key lessons to be learned from such achievements, especially by those states that are still lagging behind?
Chhattisgarh's approach is rather simplistic which other states may also evaluate for their own state requirements. Our entire focus was on requirements for citizen services delivery and citizen empowerment, and never on selection of a particular technology. One of the most important part of this entire e-Governance projects for us is the full spectrum thinking to include all component, functions and coopt all stake holders. We could ensure projects to be successful by institutionilisation of all the factors stated earlier. We have constituted an empowered committee under the chairmanship of Chief Secretary with proper process in place to take right decisions backed by required notifications from cabinet of the state. This in turn gives direction and guidance to the project execution committee constituted with proper representation from the stake holding departments and organisations.
In our selections of technology part in any project, we always preferred open standards, system and protocols on wider / multiple delivery channels including Internet, XML to describe data, no limitation on usage by multiple citizen – clients from the outset, virtualisation of resources and their capabilities,  and lastly maximum level of automation possible with it. For us secure, reliable system is a sine quanon. Our state has pragmatic approach for open standards rather than having a 'Jehadi' argumentative approach for open, free or proprietary codes. At the same time, for every project by us measurement matrix on how and what to improve is a mandatory. These matrixes are ensured to match with service-level agreement elements and ensured allocation of appropriate resources. We proactively create a feedback mechanism along with the system to ensure citizen and user needs are being addressed in a timely way.
What are the key outcomes of the state Mission Mode Projects (MMPs) in Chhattisgarh?

Our state has taken a proactive approach on e-Governance and now we are rightly placed for being supported by the National e-Governance Plan (NeGP). One of the most welcome outcomes is that the state is already through with pilot phase and poised for statewide roll out of all such projects with necessary infrastructure pieces in place. The immense learning we have from being an early starter is giving us clear understanding on change management, state citizen specific requirements and department readiness and capacity building within the state. However, in some of the projects such as e-Procurement and other state specific initiative we may have to wait for some time before DIT provides central assistance.
We have observed that negative bidding is becoming a trend in acquiring government tenders. What are your comments?

We have always preferred leveraging strengths of private organisations in its e-Governance initiative and has benefited from such collaborative partnerships. Negative bids received in projects are an indication that business entities view the state as being a good investment destination. Perfect execution of technology initiative and creation of corresponding business value propositions associated with the execution are the two most important goals for such collaboration. However, the state shall be extremely careful that it is not a monopolistic trap by any greedy corporate.
What are the other e-Governance projects in the pipeline for the year 2009?

During the coming year our major e-Governance initiative for the state shall include creation of 'State GIS Application Centre' which shall be a state of art facility for the utilisation of special GIS data set already created by the state. Digital Secretariat and Citizen Call Centre are the other two major initiatives that the state is undertaking. The citizen call centre will be a one stop personalised help desk of the government to connect directly to its citizen. The state is also working on its Transport Management System and Integrated Check Post on its borders with other state. These state of the art facilities shall do away the multiple check post of different departments and also regulate vehicle playing within or 'out to out' the state. Another ambitious initiation includes agriculture information network for the state farmers. Apart from this, other central assisted Mission Mode Projects will also be taken up.


egov Team
Follow and connect with us on Facebook, Twitter, LinkedIn, Elets video