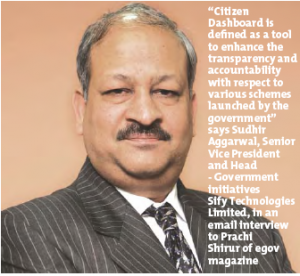 "Citizen Dashboard is defined as a tool to enhance the transparency and accountability with respect to various schemes launched by the government" says Sudhir Aggarwal, Senior Vice President and Head – Government initiatives Sify Technologies Limited, in an email interview to Prachi Shirur of egov magazine

What is Sify's road map for e-Governance in India?
e-Governance is expected to deliver and facilitate natural benefits of Information and Communication Technology (ICT) like efficiency, effectiveness, transparency, integrity, agility, flexibility, integration, concurrency, secured transactions, high availability, redundancy and scalability.
Sify is a leader in providing core infrastructure end-to-end services like Multi Protocol Label Switching (MPLS) / Virtual Private Network (VPN), connectivity for built on vendor agnostic back-end, data centres, security and e-Learning services. Sify will continue to build on and maintain this leadership position and we will further enhance the services portfolio in Document Management Solution (DMS), Software as a Service (SaaS) and web development.
What is the Citizen Dashboard? How does it facilitate e-Governance?

There are different views and perspective to Citizen Dashboard. Currently, Citizen Dashboard, is more of a Government to Citizen (G2C) website/portal with the objective for (1) government to disseminate whole lot of information and/or (2) Stakeholders to interact with the government.
Citizen Dashboard is defined as a tool to enhance the transparency and accountability with respect to various schemes launched by the government, measure the implementation progress of these schemes in terms of financial outlay and benefits to end-beneficiary, and impact analysis on the society.
It is about creating a basic framework for national level scheme conceptualisation, building/ development, implementation/ rollout, and monitoring mechanism. There have been many initiatives/ projects kicked-off in the country. Funds have been allocated and spent, but projects have never seen the light.
What are Sify's initiatives in Citizen Dashboards? What are its competitive advantages over such initiatives by other companies in this field?
Sify has rich, comprehensive experience and expertise in creating, deploying, and managing commercial portal with various Business to Business (B2B) and Business to Citizen (B2C) services. Sify has a dedicated team in place to run Citizen Dashboard as a successful line of business. Sify has also deployed more than 3500 iWays across the Country. Sify can definitely extend its vast experience in conceptualising and developing such a framework in partnership with the Government of India.
What in your opinion should be the agencies which should implement Citizen Dashboard and what are the benefits of the same?

Many state and department portal have implemented various e-Governance initiatives. Nodal agencies such as Planning Commission should implement such initiatives. It might be interesting thought to conceive this as a Mission Mode Project (MMP) under Department of Information Technology (DIT), Government of India. Citizen Dashboard as a system can minimise the need for people to seek information under Right to Information Act (RTI). The Chief Information Commissioner (CIC) may wish to undertake such an initiative.
This will help ensuring timeliness, enhanced transparency and accountability, and overall efficient and effectiveness in implementation, proper utilisation of funds, and flexibility in managing the allocation/ re-allocation of funds.
One as a Citizen/ business/ stakeholder, should be able to look for at one's entitlements and dues. One should be able to know, what all has been paid/ disbursed/ issued under one's name. One should be able to demand one's dues and raise  issues/ concerns based on the facts.
What challenges do you foresee in the implementation of Citizen Dashboards in India?

The implementation of Citizen Dashboards in India can be faced with various challenges. There could be many perceived challenges to such an initiative, but not real challenges in the true sense. The availability of back-end systems by line department and integration with Citizen Dashboard could be perceived as a major challenge, but this should be one of the key requirements of the framework itself. In terms of acceptance, all stakeholders in my opinion would welcome Citizen Dashboard. In other words, it may be right to call it 'Stakeholder Dashboard' in a larger perspective.
Follow and connect with us on Facebook, Twitter, LinkedIn, Elets video