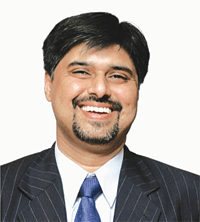 Rajeev Karwal is the founder and CEO of Milagrow Business and Knowledge Solutions. In a career spanning over 25 years, Rajeev Karwal has spearheaded business change, restructuring and corporate revival plans across a spectrum of organisations
Can you please share with our readers the philosophy and motivation of  Milagrow Business and Knowledge Solutions  for MSMEs?
During my career spanning over 25 years I have worked with some of the largest corporates and the largest successes in India including Onida, LG and Reliance Retail. I have also worked with Philips and Electrolux. Each of these companies are in their own right extremely big and successful. But there comes a time when, you have to listen to your inner voice. I was a firm believer in India and its growth potential, I felt that the Small and Medium Enterprises (SMEs) in the Indian marketplace have a huge potential but no one is really providing more than lip-service to their cause. They get exploited by larger organisations, Indian as well as International, they are unable to retain manpower, they are not able to conceive good advertising or go-to-market strategies etc. The Government's role is also limited. In 1991-92 when I was in Spain, I decided that once I return to India I will work for development of this sector. I was very clear that if we engage to help this sector, then obviously social good is at the heart of our business but we will be a for-profit organisation, not a 'for-profiteering' one, and that we will engage with the sector from strategy to execution.
So, Milagrow as a firm is a very unique firm in India which has 'from strategy to execution mindset' and we act as a 'Venture Catalyst.' All our relationships are long term, a minimum of 1 year, and we have various business verticals, including Startup, Scale-up, Turnaround, CEO Mentoring and Operational Excellence or business process re-engineering for the SMEs.
You mentioned a phrase, 'Venture Catalyst', I am presuming that this is different from Venture Capitalist. Could you elaborate on the phrase?

Venture Capitalist is someone who provides the Financial Capital, and to maybe extend the logic, a consultant is an Idea Capital provider. Milagrow, by acting as a Venture Catalyst, not only provides the Idea Capital that facilitate the Financial Capital, but  also the Management Capital. It is the most important determinant of success or failure of a small or medium enterprise. Management Capital is the capital which guides how an Idea and Financial Capital can be put to best use and execution and that is what Milagrow does. We do not just do it on a small scale with limited number of people or one office. We have 4 offices in the country. We have 90 consultants and subject matter experts spread across the country, across functions and industries.
To elaborate further on this, what Milagrow does, is it takes the business of a SME to the next level be it a startup or a scale-up or at times it can be a turnaround situation also for the SME. Currently, nobody in India focusses on the turnaround of a SME, it can at times involve reinventing the entrepreneur himself or herself by changing the way the SME functions and then comes Business Processes Re-engineering which is very important for them in order to compete with the best in class in their industry.
How do you assist MSMEs reach their true potential?
What we do is, we engage with an enterprise to assess their Strengths, Weaknesses, Opportunities and Threats (SWOT) in the initial stage. We bring in the external perspective, match it with the internal perspective and develop a shared view of the SWOT. Thereafter, we identify the processes essential for lasting success of the organisation. We create an enabling environment in an organisation from a 360 degree perspective. If required, we work on Product Development and Manufacturing too. We have a unique MPartnering model details of which is available on our website (www.milagrow.in) After the initial stages, more focused initiatives are rolled out and our senior management works on various functional or geographical initiatives with the in-house management of the organisation. Its not just about giving advice or creating a strategy but making sure that all initiatives are conceived well, executed, audited and institutionalised. Only then you can say that the project taken up is a success.
Please share a few success stories of your interventions.
If you look at our website where we have testimonials, you will see that most of our clients are happy with us. As for case-specific examples, there is a company in the lighting sector where a new product entry was big mover in the marketplace but it was not generating much revenue for the company. Today, within 7-8 months of our association, for the last 3-4 months they have been recording the highest sales ever with this new product category. There's an international client who actually saved almost US$ 26 millions in terms of working capital and almost US$ 22 millions in terms of product costing. We engage on a 360 degree basis, there is a client who completely reinvented himself on the branding perspective. There is another small client, who within one year of our association has tripled his turnover.
What happens is that sometimes SMEs do not know what world's best is or what world scale is. They sometimes don't even have the basic contacts or networking which is very essential for giving a push to their creative products or services and they struggle. An organisation like ours gets them into the right zone for them to take full advantage of their ideas, products or services.
In an increasingly globalising world, and one that benchmarks quality of products and services, how do your interventions make a difference?

We have experts who have seen what world class and world scale is. If you look at the Mentors and Partners engaged with us, right from PS Pai, who was on the Wipro board, and also took the Murugappa Group from 4,200 to 7,300 Crores, to Dr Jagdish Sheth who is the inspiration for Milagrow, who nurtured CK Prahalad and has had tremendous amount of success consulting with very large organisations. From Professor Anil Gupta who is the Vice-Chairman of National Innovation Foundation to my own self. Dr Kinnera Murthy who was the Dean of Administrative Staff College of India, to Sunil Gupta who was the Senior Vice President at JWT. Pradeep Chanda who was instrumental in turning around HMV and has also written a book on this. To Maureen Johnson who is based out of London and was the Managing Director of 'The Store' which was the WPP Group's retail brain and  Liyan Zhang who is an SME expert based out of Tianjin, China. We have deployed very good people in the organisation who know what the world's best benchmarks are, V Azhakeson for example who is based out of Bangalore, knows, what is the best quality and product procedure for a the Consumer Electronics or Home Appliances industry.
He is the person who helped us deliver product cost-savings and the working capital savings which I was mentioning earlier. He is the R&D specialist of Home Appliances as well as Electronics and Telecom. You have to bring in the right people and this is what SMEs don't get anywhere else in India or from any other organisation.
What are some of the key constraints that MSMEs face that have to be addressed immediately?

I think there are two or three problems that MSMEs face today. One is Finance, which comes at a very high cost for them because a lot of banks find this sector lucrative, they lend money to this sector at a much higher rate and sometimes when they lend it with a collateral the cost is almost 18-20%. As it is, the SMEs have uncompetitive sourcing sometimes. These conditions make it difficult for SMEs to scale up. The private equity venture capitalist organisations also put up terms that are unhealthy to this sector. As a result of these circumstances, the sector is forced to go out of the tax network and raise finances from the market, then they do not maintain proper balance sheets etc.
The second issue is the go-to-market strategy. Most of the organisations don't know how to build a sales and marketing network across the country or abroad or build brands.
The third biggest challenge is to attract, develop and retain good talent with them. Its something that makes a huge difference between a successful and unsuccessful organisation.The sector is unable to provide an ecosystem that would attract and retain branded employees. The moment an enterprise brings a specialised person or  an employee learns specialised skills on the job he is poached by a bigger organisation. Thus, it becomes a situation where you move two steps forward and three steps back.
When you talk about attracting and retaining good talent, does it mean that Milagrow also helps MSMEs in issues relating to Human Capital?

Right now we are not providing manpower but we definitely have a free service for SMEs where we list their vacancies. We have seen good traffic coming to our website where we put potential employees directly in touch with these organisations.
What policy changes are required to create a conducive environment for MSMEs to function effectively?

I think, it is very important for these organisations to be given some sort of a protection from the financial sharks that exist. Their tax rates should be brought down drastically, instead of putting a fixed percentage, maybe some sort of a slab system can be introduced. I read somewhere that every year almost 5 to 10 thousand enterprises go 'sick'. Its not documented but people in the unorganised, micro and small sector also go through similar kind of problems that farmers in India go through. The Government is doing a lot now, but its probably too late for the generation that is in the employable age. So I think the Government should bring in some policies which support the current crop of entrepreneurs who may not be employable by large organisations but can do something to earn their own living.
Are the problems faced by MSMEs in India the same as faced by enterprises in other parts of the developing world?

Yes, similar problems are being faced in other parts of the world too. But there are certain differences, let's take China for example, I think China is much more ahead in terms of understanding these issues of executing strategies to eliminate some of the problems. They are developing all parts of China now, they are providing access to inland waterways at subsidised rates. The Yellow River which runs through major parts of the country supports transportation and shipping. What happens that way is that enterprises can exist in the interiors of the country where the cost of running an enterprise from the land perspective or the salaries perspective is more economical. Whereas in India, suppose someone in Nagpur wants to sell something in Kolkata, its very hard for him to do so with the current road conditions and fuel costs. The problems are the same everywhere, but some countries are doing better.
What about Brazil, which is quite different from China?

Yes, Brazil is quite different from China but they have developed the Alternative Energy route which is ethanol, and I think because of that they have fuel cost efficiency or energy efficiency which is one of the best in the world. But still, I think the industry has a long way to go in terms of developing. Even today, tourism is one of the best industries for Brazil but as they move forward, I think Brazil will face tougher times than it has in the past
In what ways does Milagrow help a startup micro enterprise?

On a macro level, the issues pertaining to micro enterprises are the same as that of SMEs. The thing is a Micro-enterprise may or may not have fee-paying ability but if an idea has potential then we don't mind taking our returns on a longterm basis where we can end up taking stakes in the company and still become an incubator where we can make an organisation sit in our premises across our 4 offices. Our people can build, operate and transfer, help with their sales and distribution network. So, there are various methods which we have in order to engage with them, including revenue sharing. People feel very happy because there is no organisation like ours, saying that okay fine, come, sit and our people will help you go to the market and develop products which are ready to go to the market.
What is the role of Information and Communication Technologies in enabling MSMEs to function successfully?
It is a very important question that you have asked, most of the hardware, software and telecom majors are hardly doing anything to serve this huge sector. Just by reducing the slabs or de-specing an equipment you can't say that you're catering to the sector. If someone has to buy an ERP of Oracle or SAP, it is a huge cost and if you buy Microsoft's proprietary technology then you have to pay for each user license etc. It becomes very complicated and scares people away. There should be a large initiative on Open Source and Shared Hardware which needs to be taken for this sector. Milagrow has invested in a company called, 'deeprootlinux' based out of Bangalore which is the only Open Source Software organisation which is developing products for Indian needs. We are also lobbying with the Government that they should come out with a Hardware Strategy to help organisations in this sphere.
Can a cluster approach make a difference to the productivity and marketability of MSMEs?

Yes, of course, it can. What should be done is, there are lots of initiatives of the Government which are being taken in the right direction but they are not interlinked, for example, there is an ITI public private partnership mode which the Government of India has adopted. Why not link it to the cluster that is nearby and develop people for that cluster? Initiatives like the National Manufacturing Competitiveness Council (NMCC) and India Brand Equity Fund (IBEF) are taken but they are far and few between. India is a very large country and this sector is spread across industries, so I think, identifying clusters and then giving them 360 degree help to make them competitive is the best way to assist them. I think, China has done it very successfully. We are on that path but still a lot needs to be done. I do agree that a 360 degree cluster approach is the best way of making industries in a geographical area or a sector globally competitive.
Can rural India's micro enterprises benefit from Milagrow, and how do you expect to reach over 640,000 villages across the country?
Its a big challenge, we have just 4 offices right now. We are in the private domain, we do not want funding from anyone because if you take funding then financial returns start to guide your objective. For the next 2 years, I've set a target of about 25 offices. This figure will make us the largest in this space, where we will be at least close to the State-level MSMEs. Through the network of government and educational institutions , we want to reach out to every nook and corner of the country but it will take some time. I am also the National Incubation Chair for the National Innovation Foundation where we have about 65,000-66,000 innovations but not every innovator can be turned into an entrepreneur and this is another challenge which needs to be tackled. Let's see if, at a latter stage we can tie up with some of the micro-credit firms who are reaching out to every corner of the country and funding enterprises. If there are some possible scale-up models, then we might take them up in the next couple of years or Milagrow can tie up with these initiatives.
Please share with us the kinds of services rendered and how entrepreneurs can directly contact you for availing your services.

First on the business solutions, we have Startup, Scale-up, Turnaround, CEO Mentoring and Operational Excellence as five industry practices. We also do weekly mentoring clinics free of cost for enterprises which cannot afford our fee and services otherwise. And also reach out through the TIE Conference (Together In Excellence), to the entrepreneurs.
Apart from this, we are also studying various sectors, in our knowledge vertical, we have completed 3000 SME, 11 clusters, 5 State-wide studies which is the largest of its kind and the Ministry had called us to give a presentation of the same. We are now starting a capacity building initiative, led by Dr Kinnera Murthy, through which we will reach out across the country with programmes specially suited for MSMEs for example, Access to China, Access to Germany etc., to compete and collaborate with companies there. So, as explained, we are taking initiatives to reach every part of the country. Of course, a portal will also come up but since access to the Internet is limited in the country, we are tackling the problem with the capacity building programmes. Furthermore, the studies that we conduct take us to every nook and corner of the country. We plan to reach out to them and slowly expand our services and our ability to service this sector.
Follow and connect with us on Facebook, Twitter, LinkedIn, Elets video