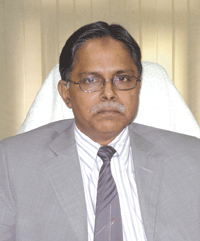 Prof. Mohammad Akhtar Siddiqui took over as the new chairperson of the National Council for Teacher Education (NCTE) in June this year. As the Dean and Professor at the Faculty of Education, Jamia Millia Islamia, he was instrumental in integrating Information and Communication Technology (ICT) practices in teacher education programmes. He acquired his academic qualification in Education and Commerce from JMI, University of Delhi, Himachal Pradesh University and University of Leeds (UK). Prof. Siddiqui has 30 years experience in teaching and research in the field of Education and specialises in education of minorities and marginalised groups and educational administration. With the new role at NCTE, he now brings his expertise in addressing the gap areas and issues of integrating ICTs in teachers' capacity building. Digital Learning finds more…

What role does the National Council for Teacher Education (NCTE) play and how do you align your role with it?

Before NCTE was formally set up in 1995 by an act of Parliament, NCERT played the role of imparting teacher education for over 20 years. There had been a long pending demand for a separate regulatory body by educationists who wanted teacher education to be accorded a professional status. So the Council was set up.
The idea was to help raise the standards of teacher education and through this to improve the quality of education at the school level. So by way of improving the level of teachers through various tools, norms, standards and regulations, etc, the idea was to improve the standard of education and also provide a kind of leadership to researchers by granting recognition to innovations carried out in the field.
With the government focusing on the Sarva Shikhsha Abhiyan programme for the universalisation of elementary education, there was a huge demand for trained teachers. This led to mushrooming of teacher training institutes all over the country. So NCTE was primarily engaged with the task of granting recognition to these institutes, provided they fulfilled certain norms and standards.
Once this was effectively done, the professional and academic dimensions started receiving attention. We have a massive set-up of administrative staff in every region across the country, but we have a constraints of academic staff. We need to have professors, readers in our team who will be engaged in some goal oriented research activity. However, the Planning Commission has asked us to prepare a proposal where they can provide us some academic support.
What more perspective do you see with the kind of priority given to teacher education in the 11th Five Year Plan?

The 11th Five year Plan is need based and comes with an understanding of the emerging global, economic and educational perspectives. It is very conscious of the fact that if we as a country, want to engage our people in these perspectives, there is no other way except to strengthen our education supply, provisions and most of all the quality, not only at the school level but also the higher education. And in pursuance of this understanding, the 11th Plan attempts to very consciously devote lot of resources at all levels of education.
Besides this, way back in 1987, the Government of India had launched a very important scheme called Strengthening and Reorganisation of Teacher Education (SRTE), a centrally funded scheme. The government is thinking of strengthening and upgrading this scheme in the 11th Plan.

Please elaborate on this SRTE scheme.

Through this scheme, which came up in 1987, the government was to provide the teacher education institutes (of course identified institutions for elementary and senior secondary teachers training) with central support to strengthen their human and infrastructure resources. It was also decided that one elementary teacher training institution will be opened in every district to cater to the primary teachers demand of the district
Follow and connect with us on Facebook, Twitter, LinkedIn, Elets video