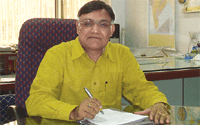 Established in 1961, Central Bureau of Health Intelligence (CBHI) is the National Nodal Institute of the Directorate General of Health Services (Dte.GHS), Ministry of Health and Family Welfare (MoHFW), Government of India. Its objectives include providing ready information on the National Health Profile of India, as well as undertaking need-based operational research besides various capacity building & trained manpower development programs in the country. Dr. Ashok Kumar MD, Deputy Director General & Director, CBHI, shares with eHEALTH the role of this body and its current activities.
Q. What are the roles and responsibilities of the Central Bureau of Health Intelligence (CBHI) in supporting national health programs of the Ministry of Health and Family Welfare (MoHFW)?

A. Based on the recommendations of various high level Committees, the MoHFW / GoI established the Central Bureau of Health Intelligence (CBHI) in 1961 under the Dte.GHS, to serve as the National Nodal Institution for Health Intelligence in the country. This premier organisation efficiently functions with the broad objectives of maintaining and disseminating the National Health Profile of India (NHP), the Health Sector Policy Reform Options Database (HS-PROD), and the Inventory (and GIS mapping) of government health infrastructure in India. It facilitates capacity building and human resource development and undertakes need-based operational research for efficient Health Information System (HIS) and Family of International Classification (ICD-10, ICF & ICHI). Besides discharging its national responsibilities, CBHI accomplishes its international role as the designate WHO Collaborating Centre on Family of International Classifications (FIC) for the South East Asia Region.
The CBHI is well organised and equipped with modern infrastructure and is headed by a Deputy Director General as its Director and has four divisions at its headquarters viz. Policy and Infrastructure (P&I), Training, Research and Collaboration (TR&C), Information and Evaluation (I&E) and Administration. Each headed by a Joint Director and also supported by Deputy / Assistant Directors as well as statistical and ministerial staff. The six health information Field Survey Units (FSUs) of CBHI are located in regional offices of the Ministry of Health and Family Welfare / GOI at Bangalore, Bhopal, Bhubaneswar, Jaipur, Lucknow and Patna. All these six FSUs along with Regional Health Statistics Training Centre (RHSTC) of CBHI at Mohali (Punjab) and two Medical Record Department and Training Centers (MRDT&C) at Safdarjung Hospital, New Delhi and JIPMER Puducherry, conduct well designed CBHI in-service national training programs for eligible candidates sponsored by various states and Union Territories.
These trained manpower development programs of CBHI include certificate courses for Medical Record Officers (MRO) and Technicians (MRT), Orientation Training Courses on Health Statistics for Non-medical Personnel and Medical Officers, as well as Orientation Training Courses on ICD-10 for Non-medical Personnel and National Workshops of State Coordinators for Training on Morbidity and Mortality Coding using ICD-10.
The CBHI functions in close linkages with many national and international organisations, such as National Health Programs, all 19 Regional Offices of Health and FW of GoI, all 35 States / UTs, the Planning Commission, the Census Commission and Registrar General of India, the Ministry of Statistics and Program Implementation, Medical / Nursing / Para-Medical Councils and Institutions, the Union Ministries of Railways, Defence, Labour, HRD, Rural Development etc., Public Health / Medical Care and Research Institutions (including ICMR) under government / non-government / private sectors, WHO and other UN agencies concerned with health and socio-economic development, etc.
Q. How significant a role do you think information and communication technologies (ICTs) can play in improving access, delivery and management of public healthcare in India? What are the measures being considered by the government towards improving healthcare through ICTs?
A. ICTs surely play a very significant role in (a) widely reaching the people even in the most peripheral and difficult terrain to effectively communicate and create health related awareness, attitude and behavior change, and (b) efficient health information management for better health planning, programs implementation with improved access, efficient delivery, management and timely corrective measures to achieve their objectives. The National Rural Health Mission (NRHM) of the MoHFW / GoI aims to accomplish the national challenge of strengthening the health infrastructure, services outreach and utilising them to the fullest by the beneficiaries up to the most peripheral levels, while optimally utilising the available ICTs.
The government of India through its dedicated Ministry of Information Technology has accorded a very high national priority for promoting and ensuring the best use of ICTs with mandatory allocation / utilisation of  3% of the allocated budgets on ICTs in each of the Ministries, including HFW.
Quite a few good ICT based efforts have already been made by the MoHFW / GoI in this direction and include computerised and satellite based health information and surveillance systems (viz. IDSP) in the country, web based on-line health data inputs and reports generation, video-conference, reviews, training, education and telemedicine linking tertiary with secondary and peripheral hospitals.
Considering the very large population base of our vast country with socio-cultural and geographic diversities and complexities, India is surely and successfully moving ahead with ICTs in spite of constraints and challenges. Nevertheless, the further strengthened, inter-sectoral co-ordination with determined public private partnership, as prioritised by GoI, warrants sustained commitments on part of all concerned with our country's development.
Q. Kindly tell us more about the role of CBHI in the help-line project undertaken by National Population Stabilisation Fund/Jansankhya Sthirata Kosh (JSK). Are there other such collaborative efforts that are leveraging ICTs for public health and welfare?

A. CBHI recently extended its technical expertise and support to JSK in designing and launching its helpline project, which I think is of great national importance. Through it, people can seek help and guidance about appropriate medical / health institution(s) and the facilities related to reproductive health. JSK will surely succeed in extending this project in the larger areas of our country, in the near future, wherein the CBHI's inventory and GIS mapping of government health facilities with the help of NIC can further assist this community based project of JSK, utilising ICTs, etc.
Some of our many other such collaborative efforts using ICT for public health and welfare include (a) electronic health information flow from the periphery upwards under primary healthcare delivery system in India, (b) road safety profile of India as prepared by CBHI / Dte.GHS in collaboration with various stakeholders in the country, (c) road traffic injury surveillance while linking more than 140 Trauma Centers being developed in the Dte.GHS / MoHFW, (d) the disaster management and related surveillance mechanism requiring multi-departmental collaboration and (e) recent launch of national program for prevention and management of diabetes and cardio-vascular diseases by the MoHFW.
Another excellent example of collaborative efforts that are leveraging ICTs for public health and welfare is eHEALTH and its monthly publication.
Q. Currently, India lacks a robust national health information strategy. What measures can be adopted to overcome the lack of standardisation in the capture and usage of health-related data and improving accessibility of information across public and private stakeholders of the healthcare ecosystem?
A. It may not be correct to say that India lacks a robust national health information strategy. Rather, our country is one of the few countries in the world which have a well-established primary healthcare delivery and health information system from most peripheral (sub centre/village) / primary health centre (PHC), community health center (CHC), district / state and national levels. However, the health information system by and large is paper based and the MoHFW had already launched the Integrated Disease Surveillance Project (IDSP) in the country, with weekly health information flow through computerised and satellite-based system from each district up to the national level. Efforts are in progress under NRHM to also computerise the HIS at PHC levels in due course.
Considering the vastness of our country, large quantum of requisite health and related information and ICT advancements, MoHFW has further moved to standardise the health information system i.e. health indicators, information needs, recording and quick reporting mechanism for timely corrective measures under NRHM. The Public Health Standards of services at PHC, Community Health Centers (CHC) and District levels have been prepared and are in force to ensure the quality of health infrastructure and services in the country. Efforts are vigorously in progress for effective public-private partnership focusing on health information sharing as well as the delivery of healthcare services in the country.
Q. In 2006, CBHI recommended that all government and private medical institutions in India should use ICD-10 in their records and reports. How far has this been implemented as of today? What are the constraints faced in the implementation of ICD 10?

A.The International Statistical Classification of Diseases and related Health problems, 10th version (ICD-10) is the international standard prescribed by World Health Organisation. All member countries need to adopt and implement this classification so that the morbidity and mortality databases are comparable within the various region / states of the country and between countries of region / world. Such reliable information is essential for meaningful conclusion on the health status of the population and for planning the development of facilities for medical and healthcare and their efficient functioning.
ICD-10 coding was introduced by WHO in the year 1993 and India adopted the same in the year 2000. India is to move along with other countries of the world. CBHI's continuing efforts have definitely promoted the use of this standard in the country. CBHI / Dte. General of Health Services had recommended to the medical and health authorities of all the 35 states and union territories in India to ensure steps towards the use of ICD 10 by all government and private medical institutions. The feedback indicates that most of the secondary and tertiary medical care institutions are using it with respect to the mortality as well as morbidity amongst inpatients and wherever hospital management system is being computerised, the ICD-10 codes are inbuilt.
In order to address one of the major constraints for use of this standard, CBHI from the year 2005 has taken initiatives of conducting the short-term national orientation training course on ICD-10 wherein, the non-medical personnel handling the medical/health records, especially from district and lower hospitals, are oriented. CBHI has also developed the module and work book for such orientation training on it, which serves as self learning material for concerned medical, nursing, para-medical personnel and the same is shared free of cost with all the trainees as well. It is also available on the CBHI website (www.cbhidghs.nic.in) for wide viewing / downloading. In order to help the states/UTs to undertake such continued orientation training programs, CBHI has already conducted four national workshops for state coordinators for training on morbidity and mortality coding using ICD 10 and a team of three such officers per state from 30 states and UTs of India have already been oriented.  Likewise, all the Government medical colleges and their governing councils, including nursing and para-medicals, have also been requested to ensure due emphasis on teaching the under- graduates / post graduate students on the use of ICD-10. Such measures, along with cooperation and support from all concerned will further facilitate better use of ICD 10 in our country.
CBHI as designate WHO Collaborating Centre on Family of International Classification (ICD 10, ICF and ICHI) will continue further steps in this direction, while soliciting the support from all concerned.
Q. Please tell us about HS-PROD, developed in collaboration with the European Commission. Is HS-PROD limited to archiving Indian best practices and innovations? How does it aid healthcare policy reforms?

A. Though states and UTs of India have undertaken reforms in the health sector, a lot of this goes unnoticed and is hence not documented. Thus, MoHFW under its Sector Investment Program (SIP) funded by the European Commission, entrusted CBHI to develop and maintain HS-PROD. It is a web-enabled database that documents and further creates a platform for sharing the information on good practices and innovations in health services management in India while also highlighting their failures, which are very important for the success of NRHM. These initiatives have been taken from a varied range of fields and stakeholders like the state and UT governments, development partners and non-government organisations, and categorised under 16 major management subject areas. CBHI solicits information on such reforms from State/UT governments, health program managers, researchers, teachers, and institutions in order to regularly update this national database (www.hsprodindia.nic.in).
Follow and connect with us on Facebook, Twitter, LinkedIn, Elets video