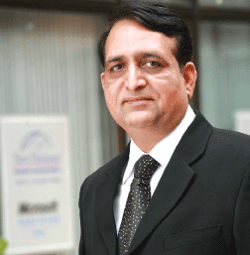 As the President and CEO of New Horizons India Ltd, Ajay Sharma is responsible for managing the company's India operations and establishing it as a leading IT Training company in the region. With over 25 years of experience in the industry, Sharma has held senior managerial positions and been part of the Shriram Group of companies since 1979.
In an interview with Digital Learning, Sharma sheds light on the educational scenario in India and the constructive role that New Horizons India is playing to enhance the educational experience.
Please share with us the growth trajectory of New Horizons India Ltd.

As the name suggests, New Horizons India is a joint venture of the Shriram Group with New Horizons Worldwide. Operational since 2002, it is engaged in the business of knowledge delivery through acquiring, creating, developing, managing, and licensing knowledge in the areas of IT, applied learning, technology services and supplementary education. The company has 15 offices all over the country and employs over 700 people. We continue to report 100% growth in our business chart for the fifth year, ending March 2009. I am very confident of meeting the target rate. As the paid figure goes up, I do not see any tiredness coming in the system. We are now 750 people compared to some 300 people when we met last. There is growth in revenue, number of cities and in terms of offering. The external environment is very conducive. Addressing the need, executing the plans well and doing what you see is coming your way is the key to larger size and larger contribution.
What do you mean by external environment?

External environment means the macro economic situation of the country. Here I am specifically refering to the education sector. The demography of the country is very unique compared to the West. About 70% of our population is below 35 years of age and 20% is below 15 in contrast to the United States and Europe where 70% of their population is on the wrong side of the age. In the next 3-5 years the world will face a shortage among the working class.
India, on the other hand, faces a piquant situation. The education system is producing educated people but there is significant difference between a metro educated person and a city or rural educated person in terms of their personality, communication abilities and level of knowledge. There is lack of skilled human capital and industries need skills, be it core skills, multi skills, hard or soft skills. New Horizons is in the right business at the right time and with the right vision.
Tell us about 'New Horizons Computer Learning Centre'.

New Horizons Computer Learning Centre is the global brand under which all training centres of New Horizons across the globe function. It has franchises in 60 countries, 250 locations, 2,400 instructors, three million students and revenue of US$400 million. It goes far beyond IT training and concentrates on an entire gamut of soft skills like leadership to supply chain management and customisation management. We are currently working on two domains
Follow and connect with us on Facebook, Twitter, LinkedIn, Elets video