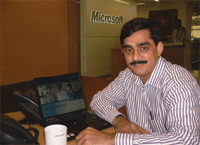 Microsoft's focus on the healthcare sector has grown tremendously in recent times and it now has some exciting plans for its healthcare vertical. Dr. Hemant Kumar, Director, Health Solutions Group, Microsoft India, shares with eHEALTH the vision and plans for the new markets.
Q. What is the vision for Health Solutions Group of Microsoft?
A. For more than a decade, Microsoft has invested significant time and resources into understanding the needs of healthcare organisations with one clear vision – to improve health around the world through software innovation. To achieve this vision, we are developing solutions that encompass both the provider and the consumer to help them achieve their goals – from wellness to patient care and towards improving the overall efficiency of healthcare organisations.
Q. How do you plan to bring a distinct value proposition for the healthcare industry?
A. The Microsoft Health Solutions Group is focused on addressing the entire 'continuum-of-care' i.e. helping consumers in wellness and putting them at the centre of managing their personal (and their family's) health information. On the provider side, Microsoft is enabling organisations with solutions to improve patient care, patient safety and overall efficiency of their operations.
Q. Microsoft Amalga HIS is quite successful in countries like Thailand, Malaysia and Philippines. When do you plan to roll out the same in the Indian market?
A. In all the new markets (including India) that we are entering, we are looking carefully for what we call the 'Early Adopter Partners' (EAP). These are organisations that share our vision of transforming healthcare experience for patients; those who put a huge premium on patient safety and improved outcomes; and those who are willing to take the necessary steps to realise this vision. We are in discussion with some prominent healthcare providers and hopefully we will have our first EAP soon.
Q. Kindly elucidate the characteristic features of Amalga HIS. How do you think it bring a differential advantage to the healthcare providers?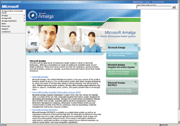 A. If I were to summarise the single most important distinguishing feature of Amalga HIS, it would be that – it's an integrated solution, which combines cutting edge functionalities of an ERP, EMR and RIS/PACS all based on a single database. Unlike some other HIS products that have grown inorganically through a 'patch-quilt' approach of putting together a number of different sub systems, Amalga HIS has been built ground upwards to support operations in a complex hospital environment.

When one looks at details, the value proposition to organisations is huge
Follow and connect with us on Facebook, Twitter, LinkedIn, Elets video