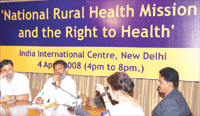 Wada Na Todo Abhiyan (Keep Your Promises Campaign) and India International Centre, Delhi, jointly organised three conferences between the month of April and May 2008 as a part of their review of the three flagship programmes of the UPA (United Progressive Alliance). The conferences were hosted on the 4th of April, 22nd of April and 5th-6th May respectively. The conferences aimed to review and reassess the status of National Common Minimum Programme (2004) in terms of health, education and employment. The first conference tried to review the status of National Rural Health Mission (NRHM), the second conference dealt with the operating status of Sarva Siksha Abhiyan (SSA) and the last event attempted to explore the hidden possibilities of National Rural Employment Guarantee Act (NREGA).
Reviewing the mission

The conference on 'National Rural Health Mission (NRHM) and the Right to Health', the first part of the flagship event was hosted on 4th April 2008. The first of the three-part event tried to evaluate and measure the functional success of National Rural Health Mission (NRHM) in terms of creating better public health infrastructure and in terms of mitigating the spread of contagious and infectious diseases. The conference also tried to underscore and outline the future agenda for strengthening the investment, quality and outreach of the public health system. Key people from the health ministry, health experts, senior government officials, personnel from NGOs and concerned journalists attended the conference. The event was organised in collaboration with Indian Medical Parliamentarian's Forum (IMPF).
Investing in public health

The first session focused on public investments in rural health missions. The session started with a  brief note from the chairperson R. Senthil, Member of Parliament and Member
Follow and connect with us on Facebook, Twitter, LinkedIn, Elets video