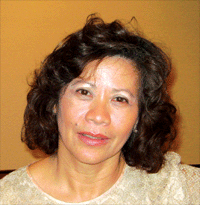 On the occasion of the Government Leaders Forum, held at Jakarta Indonesia between 8th and 9th of May 2008, the telecentre team of Centre for Science Development and Media Studies (CSDMS) met with Noeleen Heyzer, Under Secretary General, United Nations and Executive Secretary of the Economic and Social Commission for Asia and the Pacific (ESCAP). Noeleen has been working as the Executive Secretary of ESCAP since 2007. She is the first woman to occupy this leadership position. Before joining ESCAP, Noeleen worked as the Executive Director of the United Nations Development Fund for Women (UNIFEM). She is the first woman from the South to hold such post. Under her leadership, UNIFEM assisted over 100 countries to formulate and implement legislation and policies to realise women's security and rights. She also played a critical role in addressing violence against women and in the Security Council's adoption of the landmark resolution 1325 (in the year 2000) on women's peace and security. Noeleen served numerous boards and advisory committees of international organisations, including the United Nations Development Programme's (UNDP's) Human Development Report, the UNDP Eminent Persons Group on Trade and Sustainable Development. In 2007, Noeleen joined as the Executive Secretary of the Economic and Social Commission for Asia and the Pacific at the level of Under Secretary General. In the course of discussion with i4d, Noeleen highlighted the role of technology, actions of UNESCAP in achieving Millennium Development Goals (MDGs) and role of ICT in bridging gender equity. Here, her perspectives on the effective use and application of ICT tools in strategic areas of development are discussed.
How do you envision the use of technology in the betterment of society especially in the rural economy?

I believe that technology has an important role in building e-quality and developing a strong networked society. The benefits of technological advancement and the technological devices should be made available in rural areas to reduce disparities within region and nations. Hence, it is time to probe into questions pertaining to rural connectivity. How does one connect rural communities to the new emerging markets? How does one ensure that rural voices are added to global conversations, making content relevant to rural communities? How does one mobilise the rural communities to even audit some of the basic services that are delivered to them through government and other agencies? How does one make sure that their voices are involved in the on-going process of decision-making?
What role do you foresee for ICTs in achieving Millennium Development Goals (MDGs) by 2015?

Information and Communication Tools (ICTs) are effective in spreading information and awareness. I think in the Asia-Pacific region and more specifically in Asia there is an impressive amount of progress. But this progress is uneven. Some countries are on track and achieving many of these goals. Some countries are yet to achieve the same. Many least developed countries and small island nations are still lagging behind.

Within many of the countries that are on track, there are intra-country differences. Within them, we find marginal groups like the tribal communities being neglected. Phenomena like maternal mortality and child mortality have not been reversed in many countries and the mortality rates have not gone down. In addition, there are other problem areas like environment. Some of these unsolved issues can be addressed through the medium of ICTs by accelerating the achievement of the MDG by 2015. For example, ICT can support distance learning or make telemedicine available to remote communities.

As an Executive Secretary of UNESCAP, how do you catalyse these Least Developed Countries in achieving the MDGs?

UNESCAP is trying to bring together developing countries and high-growth countries into a common platform of regional cooperation. I talk about regional cooperation for inclusiveness and sustainable development. It means that I try to make sure that these countries share good practices and policy options, provide technical support and solutions, are accessible to each other by means of social networking. At the same time, we also focus on infrastructure development, opening up of markets, trade issues etc. to ensure that the developing nations need not depend on aid alone but are able to develop viability and sustainability to make a difference in their economies.
How is India placed with respect to e-Readiness index as compared to the other developing countries in the Asian countries?

I think India is doing extremely well. In many of the offshore work like in the areas of IT and data processing, India is making a very big difference. I am impressed that India has developed not only its education but also many enlightened government policies including in social protection, and making investments in these areas.
You are also working on issues like ICT and Gender and especially on gender equity for the last 15-20 years. How ICTs can bridge the gender equity gap?

Every small step and action taken on behalf of women in the poorest strata of rural society can eventually add up to become the foundation on which more basic changes can be built. The development process, whether we like it or not, has already released many forces of change in society.

It is crucial now to influence and intervene in the process to ensure that these forces create more opportunities than barriers for the poorest women to gain more control over their lives and to have more choices. This includes training women in ICT skills, which are in demand and which would allow them to be employed more productively, rather than concentrating on skills associated with home-based informal work. I feel at the present moment, it is extremely important to bring older women in. Younger women are fast to adapt to information and technology. The ones left behind are rural women. So, we have now to concentrate on elderly women as well as rural areas.
How do we go about the implementation of a multilateral treaty? How to steer government to action?

A multilateral treaty has several parties, and establishes rights and obligations between each party. Multilateral treaties are often (but not always) open to any state; others are regional. Treaties may be seen as 'self-executing', in that merely becoming a party puts the treaty and all of its obligations in action. Other treaties may be non-self-executing and may require 'implementing legislation'
Follow and connect with us on Facebook, Twitter, LinkedIn, Elets video