Greycells18 Media Pvt. Ltd. has launched India's first curriculum based education TV channel 'Topper' which is part of the Topper Integrated Learning System (www.topperlearning.com). Topper initially caters to classes IX to XII, and provides validated curriculum based content. Greycells18 Media Pvt. Ltd. is a joint venture created by Sunil Khanna (former head DTH, Reliance & CEO, DishTV), and Sricharan Iyengar (former, VP and Business Head ESPN Star Sports). Digital Learning team talks to them to find more…
? Toppers is televised currently only on Tata Sky, any particular reason?
The Tata Sky footprint is about four and a half million subscribers and they are adding two lakh per month. Reliance is starting March end and hopefully we shall be on it too. There are actually two reasons; one is that the channel has to be interactive. The second is that we are not looking at an ad-driven model but at a purely subscriber base driven model. The channel has to be interactive and analogue cable simply does not have those features.

Once you target a specific user group, you find that advertising simply cannot support that. Niche channels are always supported by the subscription model.
? How do you differ from other channels such as 24×7?
We have taken feedback from students and the shows have really been helping students. The USP of our channel is that it is the content is based on CBSE curriculum.
? What measures do you take to ensure the delivery of the quality content to student?
We have timetables, and we use interactivity to build that direct relevance. Repeats are available; lessons are also available on the website. As of now the content is in English, but from next year on we shall add Hindi as an audio option that one can choose.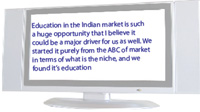 We have analysed the entire curriculum of NCERT and we keep pace with the way schools deliver that. We have an in-house team that creates a module of the course. The professors go through it and add their inputs. Educomp validates the content, then our production team takes over and puts it into TV language, in terms of what would be engaging for viewers. Then content is scheduled according to the curriculum so that repeats as per the students academic sechedule.
? Tell us a bit about the scheduling side of things, what are the guiding principles for scheduling?
Different school timings exist for different students, some might have early morning school timings, and others might have afternoon school timings; so we have to have a late night slot as well. Everyday we put in half an hour of original programming and during exam times this might go up to one hour every day. There are these three prime times so the student can choose the timing that they are comfortable with and every two and a half hours, it moves to the next class. It's like having a timetable that says ninth class students will be on Toppers at 3 p.m. everyday. Timings do not change but content length does. For example right now we have half an hour of additional content some are nearing examinations.
? Could you explain the concept of niche channels on television?
Very clearly what we are seeing is that in times to come the TV industry would get split into two categories or genres. One would be mass kind which would attract eyeballs. There will always be completion in that segment. The other segments of the industry that will evolve and come more and more into focus are niche channels. Niche channel means you have to find some reasonable size of audience.

? What is the connection between TV and education?
There has to be a viable business model. Now if you put this channel on free to air mode, there is a large part of the market which will not like this channel. Education is the starting point, it is extremely relevant and people are willing to pay extra since adds value to your career. Education in the Indian market is such a huge opportunity that I believe it could be a major driver for us as well. We started it purely from the ABC of market in terms of the niche, and we found its education.

? Your content is aligned with CBSE and State boards. How do you handle the delivery of this content and updating it as well?
We have not felt the need for any coordination with the point of origin of the content. We have taken the guidelines and moved forward with that. We update content keeping in mind the changes in the syllabus.


Follow and connect with us on Facebook, Twitter, LinkedIn, Elets video