Kenichi-Tanaka, Managing Director, FUJIFILM India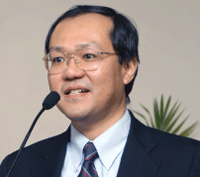 To celebrate the spirit of International Women's Day, FUJIFILM Corporation organised a seminar to spread awareness about breast cancer in India. Dr. S.K Ramani, MD, Additional Professor and Assistant Radiologist, Department of Radio Diagnosis, Tata Memorial Hospital chaired the Seminar. Mr.Kenichi Tanaka, Managing Director, FUJIFILM India and Ms.Miyuki Iizuka, Mammography Specialist from FUJIFILM Tokyo, also participated in the seminar.
Dr. Ramani highlighted the significance of mammography in his presentation and focused on the merits of Digital Mammography for detecting breast cancer at an early stage.
Mammography is a special type of X -ray Imaging used to create a detailed image of the breast. Mammography plays a vital role in the early diagnosis of breast cancer, on which chances of detecting breast cancer and cure depend. It is reported that, each year 80,000 women in India are diagnosed as having breast cancer, and that 35,000 die of it. 1 in 60 rural women and 1 in 30 urban women are likely to develop breast cancer in her lifetime. It is the second most common cancer after cervical cancer.
According to Dr. S.S. Doda, former president of the Indian Radiological and Imaging Association (IRIA), "With the change in our lifestyles and the increase in urbanisation, there may soon be a need for widespread mammography screening programme in our country so as to save our women from breast cancer by early detection and cure."
There is unequivocal evidence from randomly controlled trials that screening of women between the ages of 50 and 65 years by mammography alone can, by early detection, reduce mortality from breast cancer by about 20 – 30%. It is the most practical, cost effective breast cancer detection method available. Mammography is the only scientifically validated screening test for early detection of breast cancer.
According to Dr. Ramani, "Digital mammography has taken its place in radiology. It has operational advantages of diagnostic ability. Digital storage and transmission, eliminates the risk of lost films and eventually does away with the need for a film library. It reduces the variability in contrast, dose, and exposure time associated with film emulsion and processing.
From the patient's perspective, the biggest advantage of Digital Mammography is speed. They do not have to wait long for films to develop to make results available faster. Wire localizations are affected more dramatically
Follow and connect with us on Facebook, Twitter, LinkedIn, Elets video