Navodaya Vidyalaya Samiti is an autonomous body that was set up to establish and manage fully residential co-educational schools (one in each district in the country) known as Jawahar Navodaya Vidyalayas (JNV). Education in JNVs is free for all enrolled students, including lodging, boarding, textbooks, uniforms, etc.
One of the first to integrate technology, NVS has actual grassroots experience in the integration of technology in education. In 1999, NVS and Intel started a joint initiative launched by the Department of Education, Ministry of HRD, Government of India. Since then, Intel has three ongoing programmes running, the Intel Teach curriculum, the Intel Initiative for Research and Innovation in Science (IRIS) and the Intel Learn curriculum. Digital Learning spoke to Mamta Sharma, the Vice Principal of JNV, Mungeshpur, who talks above the Intel-NVS collaboration and the digital opportunities in the school.
How do you view the changes in the integration of ICT in school education?

Officers came, the entire vision changed, the priorities change. Every person has their own vision and mission. ICT, once meant just the procurement of computers, now changed to not just the presense of computers, but also how much you are able to use these computers – 'usage' model. NVS believes that ICT integration means how you can most effectively use computers, how to effectively utilise the resources that we have, and how to benefit the community around! NVS has changed the definition of ICT integration with changes in the overall scenario. Writing a speech or presentation is not an end. Delivering it is an end, reaching out to the needy ones is another end to which the presentation itself is just
a 'means.'
We also have project-based learning, where we have moved out of the textbooks, towards inquiry and how to search for solutions to a problem, making connections to real life. Real life connections would really mean, design activities in such a manner that meet the learning needs of the students, connect to the world outside of the classroom, and include meaningful tasks or projects that in
How do you integrate the given curriculum with ICT?

The steps to integrate technology into the curriculum starts right from the day our teachers get training on professional development curriculum of Intel. They learn to use technology into their curriculum, practice student-centric approaches. These teachers then train other colleagues on the same curriculum. The teachers then plan multi-disciplinary lesson plans that not only promote judicious use of teachnology but also engae students into meaningful and authentic real life activities.
How the scope of ICT in education changed?

Earlier the teachers who would go for training on ICT integration were usually Maths or Science teachers. Now the perspective has become larger with Art teachers and Language teachers. So there is a lot of scaling-up that has happened since. I'll give you an example, earlier when it came to teaching the science curricula, topics such as 'the universe' and 'pollution' were always there. Today, there are more sensitive issues that have been included. 'Women empowerment' using examples of women in different careers, etc, was a nice project that was done earlier. So teachers are also looking beyond the textbook.
How do you evaluate teacher training?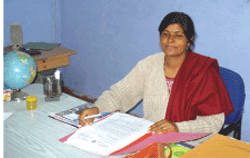 We don't really evaluate teachers, but it is the programme that is evaluated in terms of how far we have reached? The issues faced by teachers are usually similar, just their proficiency levels in terms of ICT varies and they usually need brushing up of their technical skills. Regarding pedagogy, most teachers are good in NVS and now thankfully, most of them are also on par with technology. The training has components to gauge teacher ability in a peer-based evaluative environment, called 'Showcasing.'
After Showcasing, teachers get time to revisit their projects and make changes and that is the necessary feedback in terms of evaluation. After all, it is difficult to teach a teacher. But we still have to evaluate the teachers, which we do through showcasing and areas of improvement are suggested. So there are two aspects to teachers' training. Firstly, as a teacher, they plan the lesson involving project based learning and integrating technology judiciously. Secondly, as student, they make student samples that highlight the higher order thinking skills imbibed by students while doing projects.
What is the community involvement of your school?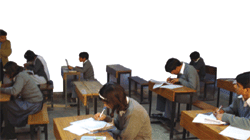 The Intel Learn programme has a component called 'Pacesetting' of MHRD under which we provide opportunity to children of neighbouring schools that might not have computers or infrastructure. In addition to developing IT skills in the laerners, the Intel Learn Programme inculcates necessary skills for the 21st century like collaboration skills and problem solving abilities. The curriculum is especially designed to also develop presentation and communication skills, basic skills which repair students for the workplaces of tomorrow.
These students come to the Vidyalaya for a 15-day programme as they learn a curriculum called Technology. Using a project based approach, the curriculum activities and projects, demonstrate to learners how technology can contribute to and help improve their communities and variety of jobs respectively.
Learners not only develop new technology skills and learn about their communities and various professions, the develop critical thinking skills as they collaborate to collect information, analyse that information, and finally, present it to their fellow students, teachers and other special guest from or outside their schools.
How is the ICT component built into the syllabus?

About 20% of the CBSE syllabus has to be taught through ICT wherein they have to bring projects connecting to real-life scenarios, catering to problem-solving skills, developing critical thinking and how to take typical topics and explain those which are difficult to explain in class, such as photosynthesis (Biology), chemical-bonding (Chemistry), etc, these can be easily explained using computers. The students are also motivated by the audio-visual aspect of the lesson. The student can actually see things that would not be possible to be observed otherwise. Using a computer-made presentation, such abstract concepts can be easily taught.
What other challenges did you face in integrating ICT?

Like I mentioned earlier, 20% of the syllabus in all subjects and all classes has to be taught using ICT, except for third language. According to the demand from students and their teachers, I feel we need more periods.
I also feel that we need to have computers in every classroom. Currently we do loose a little time when students move to the Smart classrooms or the computer room. We also need to increase our infrastructure in terms of adding more computer rooms, projectors. Thankfully there is very little preparation time that is required from teachers, and they can simply teach from the CD and intervene where ever they feel they need to influence the course of the class. However, the integration of the ICT component of the syllabus and the rest of the standard curriculum needs some work in terms of updating the content.
What changes have you seen since ICT first entered the scene?

We have started maintaining all our schools records on computers. All teacher records like marks, report cards, etc. In this each teacher enters their data into an Excel sheet. Say, if we want to take a comparative look at any student's marks in the month of August, July and December, then these can be displayed together for analysis. Earlier we had to shuffle through sheets of paper to see the same information. Now the information has been fed into the computer and can be called up in a matter of mouse-clicks, plus the fact that I can view any student's performance on the computer in my office itself. School administration records are also maintained on the computers itself .
Follow and connect with us on Facebook, Twitter, LinkedIn, Elets video