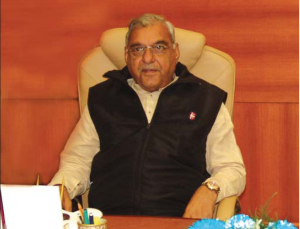 What are some of your major priorities for the year 2008 for making the State of Haryana into an IT driven economy?

Haryana government has a grand vision of transforming Haryana into an IT driven economy and state. Through this vision the state is to usher an IT revolution to transform the economy of the state by giving impetus to all areas of development. Information Technology has been identified as a key thrust area in the State Policy. The state government has made earnest efforts to attract investment in the IT sector. These include setting up of IT parks, cyber cities and Special Economic Zones (SEZ). The state has a target of attracting INR. 20,00,000 million of investment in different sectors, out of which substantial investment is likely to be in the IT sector alone. Software and IT enabled services constitute a major part of the exports from Haryana. Out of the total exports of INR 300,000 million from the state of Haryana in year 2006-07, INR 140,000 million is from software and IT enabled services alone. This amount was a meager INR. 8,900 million only in year 1999-2000. To promote e-Governance and improve delivery of citizen services using ICT state government has taken several initiatives, such as setting up of the State Wide Area Network and establishing Citizen Service Centers at more than 1100 villages. Besides this, government has directed all departments to prepare their IT plans with particular emphasis on automation of citizen services. State government has also attached very high importance to the development of Human resources with varying degree of IT skills to meet the projected requirements of Industry. This will help citizens of Haryana to get better employment opportunities. To summarise, the major priorities of the state government for the year 2008 are e-Governance at all levels, extensive percolation of IT literacy, to attract massive investment in IT sector to generate substantial employment opportunities and improvement of delivery  public services through IT.
How do you rate the current public service delivery in the State of Haryana? Where do you think IT can play a role to help improve this scenario?
Even though Haryana has always had an efficient system of delivery of public services, there is room for improvement. We are striving hard to make it more efficient and transparent with an over all objective of delivery of public services to the citizen at any time anywhere.  In my opinion IT has to play a crucial role in realising this objective. To take advantage of IT in the delivery of public services, all government departments, boards and corporations have been asked to carry out necessary process re-engineering in order to simplify government procedures to make them suitable for delivery of public services through IT.
Your State aims at an extensive percolation of IT literacy and education to realise its IT Vision. What are the steps being taken to achieve this goal?
State government attaches very high importance to percolation of IT literacy and IT education. It will not be possible to achieve our IT vision without IT educated manpower, both technical and non-technical. Government has initiated several steps in this direction:
a) IT has been made part of the curriculum at school and college level. All schools and colleges have been provided necessary infrastructure for IT education. IT courses have been introduced in all polytechnics, colleges, ITIs and vocational education.
b) EDUSAT (the first Indian satellite built exclusively for serving the educational sector) is being used comprehensively to provide expert lectures to the students across the state.
c) State government has launched the Free Computer Education Programme in all the Government Senior Secondary Schools of the state. With effect from academic session 2008-09, the government is launching a comprehensive computer education programme in 205 selected Government Senior Secondary Schools where focused IT education will be imparted to the students so as to provide them with a skill set, which will enable them to obtain employment at basic level in the ITES/BPO industries.
d) Every selected school will be provided with a computer lab with at least 25 computers under the scheme.
e) A proposal for imparting IT training to women and Schedule Casts/Schedule Tribes (SC/STs) has been sent to Government of India for approval.
f) The state government is creating conducive environment for setting up of new engineering colleges in both public and private sector. Due to this policy the number of engineering colleges in the state have increased by more than 50%  by the year 2007.
g) We are also organising various seminars for the government employees to create awareness in the IT sector.
h) The state government is implementing an IT Literacy Plan for government employees to achieve 100% IT literacy in the state. IT literacy programme has a minimum level of defined proficiency, which includes word processing, e-mail, data entry and Internet access etc. Suitable incentive/disincentives have be designed to achieve the desired level of proficiency.
i) Under IT Literacy Programme, 25 IT Training Labs have been set up. Accordingly, the IT department is conducting regular basic IT Training for all government employees at the above said IT Training Labs. This training is meant for improving the skills of government employees so that they can make use of services implemented using computers for smooth functioning of their organisation. More than 23,000 government employees have been trained in the state.
What are the different initiatives being taken to promote IT investments  in the state? What are the business opportunities for the private sector to join hands with the government departments in Haryana in fulfilling its goal of becoming public-centered, efficient and cost-effective government.
To promote IT investment in the State of Haryana, the government has taken several initiatives:
(a)  Haryana Government has formulated an investor friendly IT Policy. This policy provides considerable flexibility for setting up Technology Parks and IT Corridors. The objective of the policy is also to promote the convergence of Information Technology with frontier technology like nano technology, mobile computing and robotics. For capturing the new investment and for facilitating the Industry, an IT Park as SEZ has is being set up at Panchkula. The state government is issuing licenses for setting up of Technology Parks. Thirty seven such projects have been approved in principle, which would provide employment opportunities for nearly 160,000 professionals.
(b)  Today, Gurgaon has become the hub of the corporate world in India. The state government is setting Hi-Tech Habitat Centre/IIT complex for IT, ITES and BPO companies in the electronic city, Gurgaon in which world-class facilities will be provided.
(c) Besides Gurgaon, there is also a proposal to develop other areas in the National Capital Regions, like Kundli-Manesar-Palwal Express Highway, Gurgaon Manesar and Faridabad as satellites of Mega-IT Hub.
(d)  Government has also launched an industry portal as a single window to facilitate prospective investors and industrialist for setting up their units in Haryana.
Haryana's village, Hansdehar, is the fi rst in the country to have its own website for people to get all information about this village. The government of Haryana is committed to enabling Internet based transaction services at the Common Services Centres or e-Disha centres. How positive are you regarding this initiative of the government reaching at the door-steps of its citizens in the rural areas.
I am confi dent that through the e-Disha Ekal Seva Kendras that are being set up under Public Private Partnership at more than 1100 villages, we shall be able to provide multiple government services to the citizens in the rural areas by the end of the current year. We are working on G2C service enablement for maximum number of various government departments. These departments have been asked to simplify their processes and carry out required administrative reengineering and back-end computerisation so that the citizen can avail their services through e-Disha Ekal Seva Kendras in rural areas.
Business to Citizens (B2C) services like computer training, e-Ticketing, mobile recharges, job placement services, Internet surfi ng, DTP etc. are already being provided run through these centres. G2C services like bus passes, electricity bill collection, issuance of Nakal (land record), issuance of certifi cates like scheduled castes/backward castes/income/ domicile/birth/death and issuance of new ration card are being delivered through these centres.

Your State Government has decided to create a miniknowledge city at Hissar   district, and has set up four State Level Technical Institutes to help youth fi nd  ample job opportunities within Haryana. What is being done towards encouraging girls students to take up technical training to equal their male counterparts? Do you think reserving seats for girls students in technical institutes and in government jobs will be one of the ways to resolve the issue of gender imbalance in your state since with women becoming economically independent, this would lead to a drop in female infanticide?
The State Government's action plan is not limited to reserving seats for providing fi nancial  incentives to women. Reserving seats for girls in Technical Institutions and government jobs may help women in improving their lot to some extent but it will not altogether improve  gender imbalance. We are determined to remove gender imbalance. One such step is to create  a positive atmosphere for over all increase in female employment with equal wages at all levels.
Training of women for self-employment as well as for employment in industries has been  taken up on a priority basis by the government. Out of total 82 government institutes, 31  institutes are running exclusively for women, while there is a facility of co-education in the  remaining institutes. 25% of seats have been reserved for women candidates in all Industrial  Training Institutes in the state. No tuition fee is charged from the women trainees in all these  government institutes. As a result girls are coming into newer areas such as engineering  trades. The Government of Haryana had celebrated the year of the girl child by providing  computers to 222 Goverment Girls Senior Secondary Schools for IT education and Computer  Enabled Education. This refl ects this spirit of my Government.

What are some of your major plans in the coming years to provide good governance to all citizens of Haryana.
The state has ambitious plans to provide good governance of citizens in Haryana. We have   prepared an e-Governance road map for the State of Haryana. We are earnestly working to implement this road map. We are also working on creations of citizen's services delivery databases for all departments/ boards and corporations. All departments have been directed to create their websites and provide Right to Information Act related information through their   websites. This will bring transparency in government functioning under the watchful eyes of its alert citizens. For better management of the law and order situation in the state, the state   government has already established Police Wide Area Network and applications are being developed for better public-police interaction.
To bring transparency in its procurement and purchases the state government is implementing an e-Procurement system. The government is also working on the concept of e-Districts where all activities of district administrations shall be computerised. Pilots of e-District project are planned at Rohtak and Jind districts.
Follow and connect with us on Facebook, Twitter, LinkedIn, Elets video