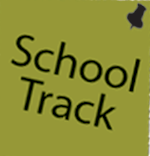 Kothari international School, a GEMS affiliated school situated in Noida, India catering to students from Playschool to Grade 10 follows the National Curriculum for England and the Central Board of Secondary Education (CBSE). As one of the world's largest providers of private K-12 education, GEMS Schools caters to nearly 65,000 students from 124 countries. KIS benefits from the sharing of best practice across the GEMS and other global network, aimed primarily at enhancing the standards of learning and teaching. The principal Madhuri Parti shares her experiences of integrating technology into the school curriculum.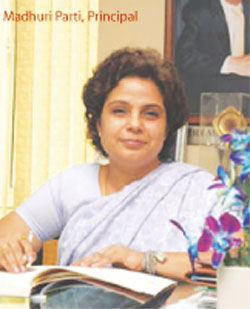 How do you see the usages of ICTs in teaching and learning processes?

Until and unless we as schools and as teachers have our role clear in ICTs, it may seem like we are just the facilitators, guides, and the outsiders. It is very important to understand how do we watch and how much we see from outside! Instead of becoming an informational tool, it has become a communication tool. We go on the Orkut, we go on Google, Yahoo…, we just talk. The idea is not that. Communication is one of the things that we want children to do, but that is not the only thing that we want them to do. So here comes the role of schools, teachers, parents, and leaders, to take it beyond communications, to facilitate for further knowledge.
We did a website for school- Vasudhaiva kutumbakam (All the world is but one) – www.effortsunited.com. Here we brought in everybody together, parents, teachers, students, govt., and the community at large. We had captured right from Kashmiri Shawlwala, what is the impact of terrorism in his life, up to the government, people who have been on their peace force, to every strata and segment of life. So we get the students technology, but at the same time we facilitate.
Even when a child is a couple of months and we give him his first toy, a rattle, we actually make him to imitate by acting in front of him. Hundreds of generations have used the toy, but still before giving the toy, a tool to enjoy, we tell the child how to go about it.
But when we are giving something as powerful as ICT, we as teachers, parents, do not take our role of telling them how to go about it. Unless and until we, like a rattle, tell them how to use it before actually handing it over, we cant succeed. So, integrating that into our system and not as a subject to be taught, but as one of the tools of learning, that will be the best of options we have.
Has the classroom(s) gone beyond computers, when we talk about technology?

Of course! Technology has taken classrooms to collaboration at global level. We are participating in various contests, we are doing a lot of web conference in different parts of the world. We have lot of e-pals…
What is the participation level of the students in all these activities?

Most of these activities are carried out by students only, where teachers only facilitate. There are partner schools we have in different parts of the world, which are again not necessarily only the GEMS managed school, but others also. We are going through Mondiaigo, UNESCO; we are going through Think Quest. We have done lot of collaborative learning and thinking, and bring the concept of I, You to WE. There are lot of projects happening in collaborative learning and thinking in different parts of the world. That is how we have to bring the globe together. That's how we have to make the children feel that we are all a part of the same earth, where there are no boundaries.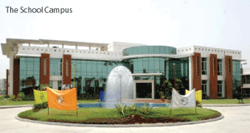 Any kind of difference do you notice with children in such collaborative learning process?

See, these include a lot of team work. There is lot of analytical thinking and collaborative thinking that is happening. We are all plus-minus as teenagers, facing the same difficulties in our lives. We go through the same cycles.There is nothing different in other parts of the world also. It is plus-minus of few cultural differences, but then we are all part of the same world.
Would you like to discuss more about these global collaboration projects?

We are collaborating with the iEARN (International Education and Research Network) in India; with Mondialgo, UNESCO in Czeck; Think Quest with Oracle, 'Doors to diplomacy' with Global SchoolNet. We are also doing 'CyberFair' with Global SchoolNet.
From computer education to global collaborations…where are we moving with technology?

Computer is just a tool of learning. This tool should now enhance the other components of education- the content, methodology… We had the simplest of the pen earlier, that we used to dip in ink and write. Today, it has developed into Luxor. Has that changed learning? It has only enhanced learning. These are tools to enhance learning and we learn to handle them to enhance our learning. The ultimate goal is to enhance learning, and not to sound hi-tech, whether it is a smart board, computer, video conferencing….
The other important aspect is- we spend lot of time with children. But then we forget to tell them to use their time constructively. If we are giving something like this to children, then there is time-management to be taught to them. How to handle the spare time that you are left with is important, if you are enhancing the time Vs achievements.
How do you build teachers' capacities in rendering technology mediated education?

There are lot of in-house teachers' training. We call lot of people from out side, who add to our capacity building programmes. Last week, we had a team from Australia, who shared with our teachers as to how technology is being used there. A team from UK again talking on how multiple intelligence along with the ICTs is being included in the school curriculum.
What are the challenges you come across while integrating technology to the teaching learning process?

Teacher's training was a big challenge. Our teachers, of course, are trained to handle technology very well. But certainly, how to integrate it into education is one thing we are still struggling with. We have much better plans for next year. Curriculum for 2008-09 is going to be technology driven. But as I shared earlier, before handing it over to children, we will tell them how to use it.

How do you evaluate the plentiful content or teaching learning material provided by the solution providers today?

We are also negotiating with lot of the solution providers for such materials, basically for the content. But we do not want couch potatoes. I am not looking for somebody who would give a ready made information to my teachers and students. Rather, I would want somebody who can just guide them to go for research, and make them inquisitive. I want my students to be think tanks. I want somebody who will take them through the path, give them a helping hand to carry out the research and show them what kind of research to go for. Because, every time it is not possible to come from Principal's office or Coordinator's office. It has to come from within the system. That is what we are looking for.

Is there any success story of the school which you would like to share with us?

We just went for a quality circle forum international convention to Lucknow. It was more on problem solving, and how students can
find solutions through their own think tank with the help of analysis tools like YY tools, fish bone diagrams, etc. We had taken 52 students from Kothari International.
What are your plans for the future?

I would love to prepare children more as global citizens. I think we need to teach them to forget all differences. Just be great human beings! To add with, positive thinking is very important. They should know how to analyse things critically. We are doing a lot on this.

In terms of technology, we plan to do a lot of our chapters with podcasting next year, specifically for higher classes.
Since it is an up-coming school, there is a lot that we can do before we actually set the ball rolling.

CBSE to introduce 'HOTS based question papers'

The Central Board of Secondary Education (CBSE) is all set to introduce High Order Thinking Skills (HOTS) question paper for class X and XII examinations commencing from March 1, this year.
About 10 per cent of questions will be very short answer type and about 20 per cent of questions will be designed to assess HOTS. While for 7.65 lakhs students, appearing for the class 10 examinations, the HOTS pattern will be implemented in all subjects, question papers for 10 chosen subjects for XII standard students, comprising of more than 5.4 lakhs will be based on the new design. These ten subjects include Physics, Chemistry, Biology, Mathematics, Business Studies, Accountancy, Economics, Political Science and History.


Centre to open model schools in every block

The central government has decided to open 2,500 model schools on the lines of Kendriya Vidyalayas (KVs) with private partnership across the country. These schools are part of the 6,000 model higher secondary schools, one to be opened in each block of the country in the next four years.
The model schools will be set up under the Public Private Partnership (PPP) scheme where non-profit trusts and societies would be called for opening the schools. The government will provide some resources. The Ministry is also planning more Public Private Partnership in higher education. It will very soon formulate a broad policy for universities, IITs and IIMs to have tie-ups with private sector companies to improve the quality of education and bring in additional resources.
CBSE to start counselling for students prior to Board Exams

In an effort to help students overcome exam related stress prior to Class-X Board exams, the Central Board of Secondary Education (CBSE) has scheduled counselling dates for students and their parents. The board will hold counselling session from February 1 to March 31, to help students and parents deal with exam related stress.
The CBSE has appointed counsellors and school principals in various states to listen to students' stress related problems. Students can call their nearest counseling centre for help. The counsellors will provide guidance and suggestions to students and their parents. The counsellors will be available on these numbers during the mentioned timings only.
Bharti Sharma (principal): 8am-12noon (29561606); Geentanjali Kumar (counsellor): 8am-12noon (9810435544); Anita Sharma (principal): 12oon-4pm (9899017867); B Singh (principal education officer): 12noon-4pm & 4pm-8pm (9873173122, 9927736600); Sunita Roy (counsellor): 4pm-8pm (26948025); Vithika Rahul (counsellor): 4pm-8pm (9871057666); Vinita Kaul (counsellor): 4pm-8pm (9810937187); PC Bose (Retd. deputy director): 4pm-8pm & 8pm-12am (25281663, 9899105129); Sarita Manuja (principal): 8pm-12am (9910343348); Vijay Sehgal (counsellor): 8pm-12am (9891057775); Deepa Saini (guidance counsellor): 8pm-12am (24621630); Sangeeta Bhatia (principal): 8pm-12am (9811689898); Deepti Singh (counsellor): 4pm-8pm (9911104050, 9927736600).

NCERT to implement 'reading cell'

In an effort to increase the reading habits of school children, the National Council of Educational Research and Training (NCERT) has decided to introduce the Reading Cell Project in over 500 schools in five blocks of Mathura district by the end of March this year.
The project, funded under the Sarva Shiksha Abhiyaan, aims at focusing attention on the reading skills of students of Classes I and II. In the first phase of the pilot project about 500 schools of Mathura district would be equipped with a reading rooms and small libraries. The libraries will be meant for small children where they can engage in reading activities and explore different storybooks other than the regular text books.
Follow and connect with us on Facebook, Twitter, LinkedIn, Elets video