What is the approach adopted in implementing the state Mission Mode Projects (MMP)? What is the progress of their implementation?
The State Government has adopted a very pro-active approach in implementing the state Mission Mode Projects under NeGP. The Line Departments and various stakeholders are intimately involved during Detailed Project Report preparation exercise so that there is a sense of ownership for the project. It will help avoid a situation of – "It's their system, they designed it, let them run it"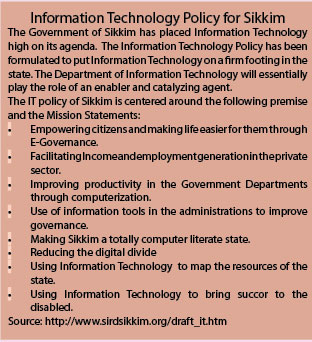 The Computerisation of the Land records which constitutes one of the Mission Mode Projects has already been completed. Work on property registration is under way. The capacity building Road Map and its Detailed Project Report have been submitted to the Government of India for funding. Meanwhile the Detailed Project Report for Tourism, Health and Family Welfare, Food and Civil Supplies, Social Welfare have been submitted to the Government of India for funding. There is an indication that the Food and Civil Supplies Project will be funded by World Bank. Detailed Project Reports for Animal Husbandry, Transport and Urban Development are under preparation and will be soon sent to Ministry of IT, Government of India for funding.
How would you rate your state's progress towards making it an e-Ready state?
Sikkim has been ranked first amongst the North Eastern States in the e-Readiness assessment report of the  Government of India for taking various IT initiatives. For the best use of IT in the State we have been conferred with various awards.
The IT Policy of Sikkim focuses on empowering citizens and making life easier for them by harnessing e-Governance. It also aims at facilitating income and employment generation in private sector and improving productivity in government departments through computerisation.
What are the business opportunities for the private sector in implementing the various e-Governance project running in your state?
e-Governance in the state offers immense opportunity for the private IT sector. Once we start delivery of various e-Governance services in the state, kiosk owner can charge the users for providing these citizen centric services. For instance, the kiosk owner can charge users for downloading various forms.
What are some of the best PPP practices in your state?
Registration of vehicles and driving licenses have been computerised under a PPP model. A local entrepreneur has established his set up in the Regional Transport Offices (RTOs) and levies a charge for issuing a driving license and vehicle registration certificates. A fraction of this revenue generated ploughs back into the state exchequer.
We strongly believe that the government should steer and more PPP models need to be implemented in the state. All the projects that we have prepared under  the MMP have a component of PPP in them. Once these are implemented we will have more PPP success stories.
What are the services that are being delivered/planned to be delivered through Common Service Centres (CSCs)? What are the steps being taken for a better user experience (e.g. localisation, etc.)?
Through the Common Service Centres, we plan to offer a bouquet of services. These would include issue of various certificates like income, employment etc. All content on the portals would be bi-lingual: English and the local language. We are developing audio-visual software so that the illiterate can also reap the benefits of e-Governance. Speech recognition and synthesis technologies need to be introduced at the centres where the public would be accessing various government services. Icon based software would enable the user to click on a representative picture and get an audio commentary.
Please share with us on the capacity building programmes being planned / implemented in your state.
The Department of Information Technology is running a wide spectrum of capacity building programmes. These range from computer familiarisation courses to career oriented courses in call center and specialisated courses in Information Technology Security, Autocad and Multimedia. Since 2001, the department of Information of Technology has trained 12,000 persons in the use of computers. However, the main focus of our training programmes are government employees as it is felt that without their knowing how to handle computers all e-Governance projects would come to a naught. Computer familiarisation courses each of 10 days duration (Full Time) are held for government employees throughout the year in our training centers at Gangtok
and Namchi.
What are the evaluation and monitoring techniques you are adopting to monitor the progress and to assess whether the proposed benefits are being delivered to the citizens?
State e-Governance Mission Team (SeMT) will be set up very soon which will take care and monitor all the different e-Governance projects in the state. It will look after the development of the various projects in terms of project management, financial aspects, capacity building and  change management altogether.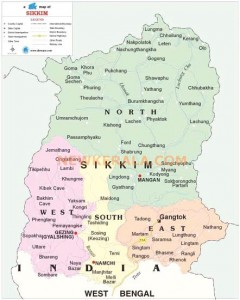 What are your state's key achievements in implementing e-Governance projects?
e-Governance has no meaning if it does not touch the lives of the citizens. As mentioned earlier we have successfully implemented the computerisation of land records, driving licences and property registration.
The official portal of the Government of Sikkim, www.sikkim.gov.in is a rich repository of citizen centric information like employment news, tender notices and downloadable forms and has helped to reduce the digital divide. Through the 45 Community Information Centres (CICs), the citizens in the remotest parts of Sikkim are able to access useful information.
What are some of  the challenges that you are facing in implementing the e-Governance projects? How are they being overcome?
Lack of funding for implementing our e-Governance project is a major stumbling block. However, we are vigorously pursuing with various donor agencies to fund our DPRs. The non-availability of broadband connectivity is another sticking point but the State Wide Area Network which is slated to be completed by a few months time will resolve this problem. Then there are attitudinal issues like "it has always been done this way– why change?" These are being addressed by organising workshops of the various stakeholders of the e-Governance  projects. The idea is to change various government processes so that they become amenable to computerisation and e-Governance.

What is going to be your main focus for the next few years?
The Mission Mode Projects that would be under implementation would have to be monitored closely. A concerted effort would be made to provide more citizen centric services through  web-portal, single windows and information kiosks.
Follow and connect with us on Facebook, Twitter, LinkedIn, Elets video