India along with other nations is a signatory to the resolutions made at Dakar and is committed to 'Education for All' Goals. According to estimates on the Internet the e-Learning segment in India would be one of the major determinants of providing access to quality education and training to all in an equitous manner.
IL&FS Education and Technology Services Limited (IETS) was established in 1997 as the social infrastructure initiative of IL&FS, one of India's leading infrastructure development and finance companies. IETS, works in the field of education and technology using appropriate delivery mechanisms including robust public-private partnership modalities to develop effectively, social infrastructure initiatives in education, technology and training.
IL&FS Education and Technology Services Limited (IETS) is dedicated to the 'Education for All' goals. IETS works towards providing educational infrastructure and educational technology across India. IETS partners various state governments of India and other national and international organisations to catalyse the outreach of education and is committed to the creation of sustainable social infrastructure.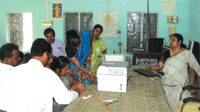 A progressive group, IETS integrates the latest in technology with learning and training needs and offers holistic and comprehensive solutions in the fields of pre-primary, elementary, secondary and higher education, adult education, vocational training, entrepreneurial training, continued professional development including ICT materials for community groups like Village Education Committee (VEC) members under SSA, IT training, communication skills, foundational soft skills training, and teacher training.
IETS understands that  technology makes a perceptible difference in learning and the organization works extensively in the field of ICT.
School Transformation and Quality Improvement
IETS in public-private partnership with Pimpri-Chinchwad  Municipal Corporation and Science and Technology Park will be upgrading and transforming 156 schools run by the Pimpri-Chinchwad  Municipal Corporation. The transformation project includes  providing integrated solutions for enhancement of the quality of school education through effective up gradation of IT infrastructure. This includes setting up of web-enabled MIS systems that will increase efficacy of administrative functions and enhancement of classroom processes through the use of ICT tools. The major input comprises of providing Marathi Computer Aided Learning (CAL) materials to supplement syllabi and competencies that pose as hard spots for students.
Interactive Learning with K-Yan
Learning through use of technology has several benefits and to this end IETS has in collaboration with IIT (Mumbai) created the K-Yan, a compact media centre that enables interactive learning. The K-Yan is being used by the Governments of Bengal and Tripura extensively to introduce ICT tools in education and to increase retention rates in rural schools. The K-Yan can be used to teach using multimedia lessons in English as well as regional languages like Urdu, Hindi, Marathi, Telegu, Tamil, and Kannada for classes K-X.
The Common Services Centers ( CSC) Scheme is a part of The National e-Governance Plan (NeGP). The plan is to provide access to government services at the doorstep of citizens through setting up of  1,00,000 CSCs in rural areas and 10,000 CSCs in urban areas across the country with equitable geographical spread, on a Public-Private Partnership (PPP) basis. The objective of the CSC Scheme is to integrate the commercial goals of the private sector with the larger developmental goals of the states as well as the nation. The Common Services Centers are unarguably  the largest IT-enabled distribution networks in the world. IL&FS has been appointed as the Programme Management Agency to assist the Department of IT, Government of India  and the State Governments to carry out the CSC project. The CSC centers also enable adult literacy programmes, eye care facilities, women empowerment through innovative employment schemes, and agri-procurement.
Content for School Education
IETS has also created interactive multimedia lessons that are syllabus based and pertain to the ICSE, CBSE, State Board, and NCERT (2005) Curriculum Framework. The lessons take hard to comprehend topics and make learning a delight using puzzles, quizzes, and hands on learning methods. The approach is highly interactive and learner centric.
Content for EDUSAT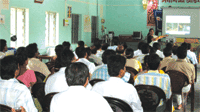 The Government of India has launched a dedicated education satellite