Please tell us about Juniper Networks and its growth and operations in India?

Juniper Networks is the leader in enabling secure and assured communications over a single IP network. The company's purpose-built, high performance IP platforms enable customers to support many different services and applications at scale.
Service providers, enterprises, governments and research and education institutions worldwide rely on Juniper Networks to deliver products for building networks that are tailored to the specific needs of their users, services and applications.
Juniper Networks' portfolio of proven networking and security solutions supports the complex scale, security and performance requirements of the world's most demanding networks.
Juniper's plans in India
Juniper's India operations saw 100% revenue growth and doubled head count in 2006/07. Juniper Networks today is serving every tier one Telco in India and the top five Indian companies. Juniper believes they have the building blocks in place to maintain this growth this year.

Last year, Juniper saw 90 percent revenue growth in the service provider segment, and as per IDC Juniper is number two in the Indian BRAS and high-end gigabit/terabit routing markets.

This growth will come from the adoption of the Internet as a strategic business tool, which is driving the rapid growth of IP as the foundation of multi-service networks and IP-based Virtual Private Networks (VPNs).
What are some of Juniper's networking and security solutions? What edge does it have over other market  players in this field?

Networking Trends: With convergence in the network becoming a worldwide reality, we are seeing a shift in the architecture of the network. Unlike earlier time where there was separate network built for separate applications or services, the convergence or NGN as it is popularly known talks about having one single infrastructure for various applications and services. We are talking about reduced Capex and Reduced Opex and Lesser time to market thus increasing the bottom line.Today's platforms being built for convergence are mostly back compatible. The year 2008 can expect to see continued consolidation of network equipment– meaning more capabilities being included in fewer platforms, so that we can continue to help customers meet their goals from an operating and capital expense point of view, while at the  same time leaving them a room to innovate on our platforms.
The Drivers for These Trends: IT departments are tasked to fi nd cost-effective ways to   better serve the existing needs of their internal customers, while at the same time being mindful of budgeting time and money for innovation. This pulls IT departments in two directions and makes budgets tight and planning diffi cult. Making the most out of what you have, and enhancing the existing experience, is the key driver for this. But it is important to recognise that the importantthing is still the application – so we don't simply speak of 'WAN Acceleration' for example, but rather 'Application Enhancement'.
Security Trends: The year 2007 witnessed more interest in integrated security solutions. While there is still demand for more comprehensive solutions, customers are seeing the benefi ts of a Unifi ed Threat Management (UTM) approach to streamline their security stance. Unifi ed Access Control (UAC) is also another major highlight.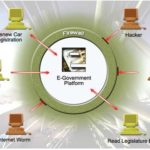 Drivers for these trends include: Unifi ed Threat Management has been in demand, the distributed branches of regional companies want a simplifi ed, one-stop solution to thwart multiple threat types without the complexities of many point products. UTM reduces IT administrative overhead, allowing the IT department to focus on a single management interface. This optimises training and troubleshooting.
Unifi ed access control is one of the major applications which will take off in 2008, because the Internet has become the de facto access method for both internal and external resources. Access now requires a central control point to better manage security and deployment for different user groups and types.
How does your company help governments communicate more effectively within and outside their organisation?
Juniper Networks is noticing a shift in many government networking organisations. They are moving towards a dual vendor approach. This shift is being seen in India signifi cantly, and is driven by the need for guaranteed communication and security both externally and internally.
Juniper benefi ts both the managers and the end-users of government networks because it provides redundancy in the communications arena. It is also a trend that Juniper intends to capitalise on in India, by providing the best of breed equipment.
Juniper Networks is a mature company which has been in the communications space for over 10 years. Juniper helps governments communicate more effectively within and outside their organisation with a diverse set of solutions to secure and assure interconnected IP networks.
What is your opinion regarding the National e-Governance Plan and the role of Public-Private Partnerships?
e-Governance is a transparent way to govern. It is good that the government, industry and citizens are showing interest in enhancing the reach of e-Governance. IT applications have the potential for strengthening India's vision for 2020. Areas like R&D and manufacturing need to be equipped with IT applications as they have the potential to drive the success story of India towards 2020.
IT departments must champion innovation and help educate the business on the art of the possible benefi ts of technology. There has to be a market leadership in security and networking innovation from a team with the government expertise who understands your environment.

Please tell us about some of the government projects in India where Juniper Network is a technology partner to the government.
Juniper's enterprise revenues in India have doubled year on year, led by wins in the  government, banking and IT segments. The proposed State Wide Area Networks (SWANs) is  becoming a focus area for the company. Five government departments and fi ve major Indian  banks now use Juniper's solutions which includes recently won multi-million dollar tender of Himachal State-Wide Area Network with HP, an e-Government initiative which amounted to a total project cost of USD10 million.
Juniper is also focusing on eastern region of the country and hopes for more SWAN deals to be  closed in the near future. India as a country also holds signifi cant position as our company is  focusing on the countries with large population and is also leading in Information  Communication Technology.

RailTel Corporation of India has recently selected Juniper Networks M-Serves   multiservice edge routing platform to help transform Railtel's network in India. Please elaborate a bit about this project.
RailTel Corporation of India had selected Juniper's M-series multiservice edge routing  platform to help transform RailTel's nation-wide Time-Division Multiplexing (TDM) based  railway network into a next generation IP/MPLS network. The deployment will create one of  India's largest IP/MPLS Virtual Private Network (VPN) infrastructures, enabling RailTel to  offer a wide variety of value added services including Layer 3 IP VPNs, Layer 2 virtual leased  line services, Virtual Private LAN services (VPLS) and Managed IP VPN Services with  associated Quality of Service (QoS)
"e-Governance is a transparent way to govern. It is good that the government,   industry and citizens are showing interest in enhancing the reach of e-Governance. IT applications have the potential for strengthening India's vision for 2020. Areas like R&D and manufacturing need to be equipped with IT applications as they have the potential to drive the success story of India towards 2020"
Juniper Networks next generation core network has been adopted in a number of countries globally, like Brazil, Japan and Korea. What are some of its competitive advantages?
Many Service Providers across the globe have chosen to use Juniper Networks Routers in their  Next Generation Core Network. Some of their considerations are given below; 1.Value  Added Services : Integration with Session Resources Controller (SRC) allows value added  services to be rolled out, such as:
i. Bandwidth on demand
ii. Application aware resource allocation
iii. Optimised delivery of Multicast services such as IPTV

2.High Availability/Reliability : Production proven Modular Operating System JUNOS   that runs across the complete range of Core routers, M/T Series. Most comprehensive high availability features such as Non-Stop Routing, Graceful Restart, MPLS FRR, SONET/SDH APS, Link Bundling, Hitless Control Module failover and In-Service Software Upgrade
3.Investment Protection : Common interface modules across both the M/T series routers – assist migration of modules from one router to other.. Seamless and In Service upgrade from T640 to T1600 – Increasing the capacity of the router by 2.5 times (640Gig to 1.6 Terabit) Seamless upgarde to a Multi-chassis platform (T640), protects investment in the revenue generating interface modules.

4.Reduced Capex : Single binary JUNOS image that runs on all M and T series routers, this ensures that all routers have consistent features, which means consistent services delivery to the customers.
The above also ensures that time spent on validating the OS for deployment is reduced. Since  the Interface modules are common, it reduces investment in spares.
Line rate performance  improves the capability of the network to use the available bandwidth in the most effi cient way.
What are some of your future plans to expand your market in the Indian market in the coming years?
Government and defence are the two fastest growing segments for Juniper within the enterprise business. Juniper expects to catch up with service providers over the next one and the half years as government and defense are signifi cantly in IT.
Juniper Networks in India is extremely focused on R&D. Juniper's R&D center at Bangalore,  which can match up to and in some cases, beat the features of similar top grade development facilities world wide, reinforcres their focus on the India market
Currently, almost all Juniper product lines have some portion of their software development,  test, hardware development, documentation and/or specialised technical support performed out of Bangalore.
Follow and connect with us on Facebook, Twitter, LinkedIn, Elets video