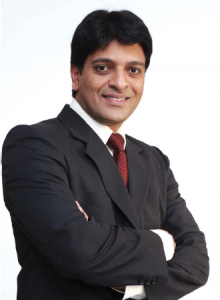 "Today governments-central, state and local-across the country are aware and convinced of the benefits of e-Governance. They are finding ways and means to procure and deploy systems to enable e-Governance. The funding is being done by internal accruals and funding agencies. The IT industry is playing its due role in increasing awareness and deploying top of the line systems in India", says A.M. Sheshagiri, Director, Government, Education and Health, Oracle India, in an exclusive interview with egov magazine
What is Oracle's vision and goal of e-Governance in the municipalities? How important is IT in improving the service delivery at the municipal level?

The majority of citizens' interaction with the government happens with the local authorities, i.e., at the municipal level. The challenges faced by municipal authorities to provide reliable access to services are mainly due to the non-integrated nature  of manual procedures of information management followed by these bodies. Thus, application of IT is critical for municipal authorities to improve service delivery to their constituents.
Oracle's vision of e-Governance in municipalities encompasses deployment of IT to improve internal efficiencies and to improve service delivery.
Deployment of Oracle's proven packaged solutions for improving internal efficiencies will lead to better access to information, better revenue collection, enhanced transparency and accountability and reduced operational overheads. These lead to a more efficient utilisation of taxpayer's money.
Also, deployment of Oracle's packaged solutions and partner solutions for improved service delivery will lead to a quicker, cheaper and more transparent access to municipal services for citizens and businesses. This leads to a higher level of satisfaction amongst all the stakeholders.
Please tell us about some of your solutions for municipal e-Governance?

Oracle's solutions for e-Governance leverages a library of documented best practice processes and business models. In the municipal area these solutions can be classified into:
1. Solutions for improving internal efficiencies: Some examples of these are
Oracle Public Sector Financials to enable movement from a cash based accounting system to a double entry accrual based system including proven process for budgeting and reconciliation and monitoring of income and expenditure.

Oracle Procurement Solutions to enable effective purchasing and payment cycles.

Oracle Tax Management solutions to enable more transparent revenue collection.

Oracle Human Resource system to enable employee empowerment and increased levels of satisfaction in career management.

Oracle Asset Management Solution to enable more efficient usage of the internal assets and inventory of a municipal authority.

Oracle Project Management to monitor municipal projects from budget to execution.
2. Solutions for improving service delivery: Some examples of these are:
Oracle e-Government Solutions for Social Services to enable improved transactional services with citizens and businesses (services for birth/death certificates, issuance of trade licenses, etc).

Oracle e-Government Contact Centre Solution to enable real time multichannel (ie walk-in, telephone call center, web etc) access to constituents.

Oracle e-Government Solutions for Education to ensure more efficient student grant management and public school services (eg free school meals programme, etc)

Oracle e-Government Solutions for Environment to enable better road maintenance, environmental health management, etc.
What are the applications in municipalities where Oracle's IT solutions are being deployed in India and beyond?

In India, Oracle's solutions are being used at Municipal Corporation of Hyderabad, Kolkata Municipal Corporation and at urban local bodies in the state of Uttarakhand. Oracle partner solutions are deployed at a majority of the municipal corporations using IT, including Kalyan Dombivli, Ahmedabad, urban and rural e-Seva in Andhra Pradesh etc.
Outside India, our solutions are being used in almost every country. Some examples are the city of New York, Leeds City Council, Catalana in Spain, London Boroughs, Government of Hong Kong, etc.
Having deployed your solutions in the Jharkhand municipality, Kalyan Dombivli Municipal Corporation in Mumbai, e-Seva in Andhra Pradesh, Ahmedabad Municipal Corporation, Gujarat, what are some of  its benefits to the municipalities and the citizens at large?

The key benefits to citizens can be classified into:
Improved informational services.

Directories of all services are available with easier access to all citizens.

Information on procedures are easier to obtain (e.g., information on obtaining trade licenses, obtaining building plans, etc.)

Information on property tax paid and payment dues.

Grievance Redressal system helps citizens lodge and track complaints.

Improved transactional services.

Automation of services that require processing at the back end has made the system more responsive and transparent.

Issue of birth / death certificates and trade licenses made more efficient.

Improved  collection of property tax and advertisement tax.

Automation of complex transactional services leading to greater satisfaction of citizens. Eg: Building plan approval system.
What is the global trend with regard to municipal e-Governance? How is government and industry in India moving ahead to catch up with the west?
Just as in the West, in India too, local governments have lagged behind businesses in adopting IT. This trend has, in a manner, proved useful because local governments can now benefit from proven technologies– technologies perfected after years of improvement and fi ne tuning  by the private sector. Today governments – central, state and local – across the  country are aware and convinced of the benefi ts of e-Governance. They are fi nding ways and  means to procure and deploy systems to enable e-Governance. The funding is being done  by internal accruals and funding agencies (like the World Bank, DFID, ADB etc.), and the  insistence by funding agencies to ensure transparency, is fueling deployment of IT systems,  which can transact, monitor and control processes. The IT industry is playing its due role in  increasing awareness and deploying top of the line systems in India. These companies are  transferring their international and India specifi c experiences to sales to engagments with  municipal authorities across the country.
For example, Oracle's experience in deploying the call center for non-emergency services in    the City of New York has made a large number of municipalities in India aware of the usefulness of integrating back end information and allowing a One-Stop access of this information to citizens.
What is the current market of municipal e-Governance in India? How does Oracle plan to cater to this market?
The market for municipal e-Governance is opening up in India with some of the large  metropolitan municipalities having engaged IT organisations in deploying solutions. A few  years ago many municipalities followed the process of automating individual functions  creating silos of information and creating obstacles for a single window access to services.  These municipalities are in discussion with IT companies to integrate the solutions or freshly  deploy integrated solutions.
Oracle has a dedicated sales team to work with the government bodies in India. Oracle also has  a team of domain experts with long governemnt experience for collaborating with  government leaders in strategic concept development. This is a much valued team for  prospective clients of Oracle as they act as a sounding board and provide consultation on issues relating to e-Governance.
Follow and connect with us on Facebook, Twitter, LinkedIn, Elets video