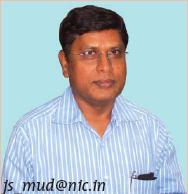 M. Rajamani,  Joint Secretary, Ministry of Urban Development and Mission Director, Jawaharlal Nehru National Urban Renewal Mission, in interview with egov magazine
What role, in your opinion, can  Information and Communication Technologies (ICT) play in bringing about efficient, integrated and transparent government in the cities?

ICT has a very important role in bringing about an efficient, integrated and transparent government. Realising that we have made it one of the mandatory reforms at urban local body  level. Urban local bodies need to put some of the important functions in e-Governance mode, within the mission period, so that the services are taken to the door-step of the citizens. That is the major idea. And ICT can play this role very effectively. Cities have already started implementing this reform in a major way. Our review shows that cities have started hiring consultancy organisations for hand-holding them, doing business process re-engineering for some of the functions and creating facilitation centres and Internet kiosks. So, they are doing a very good job of e-Governance in municipalities and putting some of these major functions in electronic mode is very much underway. The difficult functions, like e-Procurement, going for a complete ERP (enterprise resource planning) solution, are somewhat back-ended in the mission period itself.
What is the role of Jawaharlal Nehru National Urban Renewal Mission (JNNURM) in chenging the government-citizen interface in the urban local bodies (ULBs) and in fulfilling the Millennium Development Goals?

Jawaharlal Nehru National Urban Renewal Mission is going to improve the government-citizen interface, particularly, ULB citizen interface many-fold. In fact, we, at the Ministry of Urban Development (MoUD), are insisting that in the ULBs, at least every ward should have, facilitation centre or the citizen service centre, so that people need not have to traverse long distances and need not queue up at ULB offices. So we are insisting that it should be very well spread and citizens should be able to easily access these services.  Disclosure of service levels will generate demand for adequate quality and quantity of services which will help attain millennium development goals.
Please tell us about the plan of  introducing IT applications such as Geographical Information System (GIS) in the various services provided by ULBs?

Under the e-Governance reform, we do insist on the cities to use GIS as the major tool to deliver almost all services. This is coupled with our scheme on National Urban Information System (NUIS) that we rolled out in the year 2006, in which satellite imageries and aerial photography of a certain scale will help prepare GIS maps. Besides, utility mapping is also carried out on pilot scale. So a well developed GIS map in a city can cater to all the requirements of the citizens, the line departments, and all stakeholders. Thus, GIS, as it is learnt from Honolulu, can deliver almost all services. It can bring down your transaction cost significantly and you need not have to incur a lot of expenditure on establishment. So GIS is going to really revolutionise urban governance.
How in your opinion is NUIS fulfilling its role of urban planning and decision support?

The NUIS launched by this ministry, as a pilot is really now getting off the ground. Survey of India is  now very much on board to prepare satellite imageries and areal photographs. We are planning to complete this particular pilot by the April 2008, so that it will be further expanded in the 11th Five Year Plan to cover more number of cities and towns. Presently the Scheme covers only 137 cities. NUIS is very crucial for urban planning because the satellite imageries (maps of higher scale) are used for   comprehensive development plans or perspective plans. Similarly, the areal photographs can be used for master planning and for zonal development plan.
What are the challenges in fulfilling the vision of urban development mission? How are they being overcome?

There are challenges. Capacity building of ULBs is a big challenge. Implementation of projects and reforms is a challenge. We are trying to overcome through various initiatives. We have started rapid training programme. Personnel in the ULBs will be trained and their skills will be augmented. Where ever professional manpower is available for doing the job, new hands will be inducted to fill the gap. So capacity constraint is getting addressed.Secondly, in case of inadequate internal capacity, there are ways of doing it by way of outsourcing and private-public partnership (PPP). And e-Governance lends itself eminently to this kind of PPP option. This has been done in Jaipur and Indore cities, for instance. This way, certain disadvantages in ULBs can be overcome by bringing people from outside and getting the work done for the ULBs.
Follow and connect with us on Facebook, Twitter, LinkedIn, Elets video