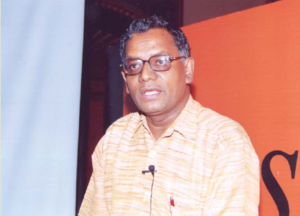 "e-Forms may be made available through:  Intranet portal,  Email, Document Management System, Internet Portal and Extranet Portal.  It must be ensured that XML interoperability between multiple vendors' products and Output data – irrespective of capture mechanism – should comply with XML/eGovernance Standards to ensure interoperability between systems and avoidance of vendor lock-in", says M. Moni (moni@nic.in), Deputy Director General, National Informatics Centre, Government of India in conversation with egov magazine.
What is the role of e-Forms in how government operates its business and communicates with its citizens?
e-Forms has a major role to capture data, to serve as an interface to business processes and to bridge the paper-digital divide. The Indian governments (both central and states) have an inventory of more than a million different types of forms used for various transactions meant for improved efficiency and improved citizen services. In India, e-Form technology is still in an infancy stage. All the e-Governance / e-Government Applications (G2G, G2B, G2C, G2E, and G2X) likely utilise e-Form technology, through 100 per cent pixel perfect with localization, which will result in achieving "profound ROI Impact" in due course of time. As a technocrat, I am optimistic. This is achievable and should be achieved to make the G2C component of e-Governance programme successful.
What are the benefits of e-Forms as compared to paper forms?
Paper Forms
Limited availability

High cost

Manual processing of business process

Static behavior

Poor security

Rigidity

Time delays

Data inaccuracies

Duplicate work

Difficulty in handling

Higher level acceptance by common man

Bio-degradable in nature

e-Forms

Low cost

Dynamic behaviour

Range of capabilities for security and digital signature

Easy integration with business process for further automation

 Offline usable ess scripting required

Sophisticated user interfaces  (UI)

Document centric

I am of the firm view that more than 50% of the e-Governance complexities can be overcome through the adoption of e-Form technology in India, and we can also achieve a profound Return on Investment (ROI) impact. This requires a complete process re-engineering of government departments and ministries. When the government of India announced the District Information System of National Informatics Centre (DISNIC) programme with the establishment of NIC network (NICNET)  during 1985-87 in about 520+ districts, NIC took an earnest effort to computerise first the "information reporting" from districts administrations to state governments, which were about in more than 1000 paper formats. A detailed analysis was undertaken in the state of Kerala and was presented in the five district collectors conference held in 1986-87. This happened when there was no e-Form technology in 1980s.

What are the advantages of Meta-data driven e-Forms?

e-Form incurs a few disadvantages such as "restrictiveness", which must be recognised. A custom-coded application can do literally anything that the host programming language allows. This provides maximum flexibility. The declarative "Metadata driven approach of e-Form" means that the capabilities and features of the form are constrained by the Metadata Standard used to define the form, and the extent to which generic software components correctly and completely implement that standard (ref. http://www.fenestra.com/eforms). "Metadata and data standards" and underlying "Digital Library Science" concepts will promote utilisation of Internet resources in an organised and contextual manner.In e-Governance parlance, "metadata-driven e-Forms" will provide an opportunity to reorganise the government's data collection activities eliminating redundancy, promoting data sharing, facilitating component sharing architecture, promoting reuse and harmonisation, high degree of inherent consistency across forms, reducing reporting burden and reducing cost.

This will lead to "data interoperability" between information systems, which have to be achieved at any cost in government. With this, it is easy to achieve "e-Office" (i.e. "paper-no" office and not "paper-less" office).

Please tell us regarding the return on investment (ROI) / financial benefits of e-Forms to the government?

Bio-degradable paper is the currency for any form of transactions among governments, business and the people. e-Governance / e-Government programme, as pronounced by Federal as well as provincial governments, aim to promote "delivery of services" at local, regional, national and global levels through the state-of-the-art ICT infrastructure (networks, data centres, capacity building, telecentres) and databases / information systems. e-Forms are increasingly being  used as a tool to capture data, serve as an interface to business processes and to bridge the paper-digital divide.

I wish to quote the research findings of CAP Ventures Research Study Report. Findings of this Report suggest that e-Form technology provides a profound ROI impact. e-Forms implementation focused on mission-critical transaction documents can lead to the advantages in the form of streamlined processes, increased productivity, citizen satisfaction, tangible cost reductions, reduction in labor costs involved with locating, filling out, archiving, and routing forms for review or approval. ROI can be found in areas of business efficiency, employee productivity, citizen satisfaction, and improved decision making.

In your opinion, what is the citizen response to the use, by government, of the electronic forms such as income tax, passport, online registration, etc.?

Paper forms are the integral part of modern life and exist in every stage of our life cycle: birth, schooling, examination, college, university, job search, purchasing property and, finally death.  Every sector has business processes with usage of forms: whether it is administration, education, census and survey, passport, banking, insurance, health, tourism, export, import, manufacturing or transport. The complete workflow is form-based.
During initial stages, citizens may be reluctant and wary of using e-Forms, because of lack of confidence, skill and means to use, security and privacy concerns, and so on. But gradually the ease of use, speed of delivery of services, availability and accessibility will certainly draw them to use e-Form technology based services.  In G2G and G2B services category, e-Form shall be used mandatory. Charity shall start from home. Let these two service component of e-Governance perfect the use of e-Form technology in a time target manner.
e-Forms may be made available through:  Intranet portal,  Email, Document Management System, Internet Portal and Extranet Portal.  It must be ensured that XML interoperability between multiple vendors' products and output data – irrespective of capture mechanism – should comply with XML/e-Governance standards to ensure interoperability between systems and avoidance of vendor lock-in.
As the deputy director general (e-Governance standards) in NIC, I felt the need for "policy guidelines" for implementation of e-Form technology in e-Governance Programme. I conducted a national summit on e-Forms technology in June 2006, which was attended by many vendors and e-Governance programme administrators. As a follow up of this summit, a National Task Force was set up under the chairmanship of Dr. S. C. Gupta, senior technical director, NIC. The Report of the Committee is long overdue.
How important is the Integration of e-Forms with other technologies (work flow/ portal / content management)?
In one of my articles (co-authored with my colleague, Pratibha Lokhande) published in e-Gov Magazine issue November 2006), I have defined  "business process as e-Form + e-Document + workflow + database + web services". It is very important to integrate e-Forms with other technologies such as workflow, portal, and content management etc., so as to bring in profound ROI impact. Hybrid models may be introduced for seamless switching between modes using paper-based and electronic based forms to increase the comfort level of user. Awareness programs may be carried out to educate the user on e-form technology.
How do we deal with data privacy and security issues?
Paper forms are perhaps the most common "front-end" for any business process. Banking and other regulated industries "must comply" with a variety of government regulations, and must be able to produce "reliable audit trails" to demonstrate their "compliance", and hence records must be "maintained for many years" and those records must be "secure". Sometimes, these forms cannot be viewed by other people, due to privacy laws or other legal requirements. Now the situation is changing. The  Right to Information (RTI) Act 2005 is operational in the country, which facilitates the citizens to demand from the government agencies, the "information from files". With metadata driven e-Form technology, it will be possible for even government agencies to make "demanded data" in time, online.
"Privacy" and "security" issues are very important in case of e-Forms. The country has witnessed some related cases from the "outsourced job" companies in India. It can be made secure through encryption and be authenticated using digital certificates. It will become very difficult to issue digital signatures to all possible users of G2C. But the National e-Governance Plan (NeGP) may facilitate to issue "digital signatures" to approved notaries (e-Notary) at Tehsil / Taluka and other intermeditaries with appropriate authority so as to facilitate to those who do not have digital signatures, especially for G2C domain applications.
In this regard, I wish to mention that there is a need for a national policy on "identity access and management (IAM)" for NeGP programme. I conducted a national summit on "Identity Access and Management (IAM)" during 2006 and as a follow up, a National Task Force was set up under the chairmanship of Professor Syed Ismail Ahson, department of computer science, Jamia Milia Islamia (A Central University). This Task Force, after having a lot of deliberations with all relevant stakeholders, has submitted its report to the e-Governance standards division of NIC.  This IAM Policy will take care of "privacy and security" issues. Details are available at the website http://egovstandards.gov.in.
Both the proposed e-Form Policy Guidelines and the IAM policy guidelines shall facilitate the integrity of e-Form, attachment and workflow; and also security and privacy issue (role based access).  The Pondicherry University (A central university) is contemplating to establish a Centre for Rural Computing with a aim to facilitate "digital inclusion for rural prosperity" at grassroots level, wherein the research, development and education component of IAM and e-Form technology is likely to be given important role.
What are the expected issues (IT / non-IT) around e-Forms implementation in Government?
a.IT Issues
While giving my views with respect to the Question on advantages of Meta-data driven e-Forms, I talked about "restrictiveness". This must be recognied. I also expressed my views with respect to  "privacy and security issues". In addition to this, the current "e-Form landscape" faces some technical challenges, as given below:
Incomplete integration with Web browsers resulting in development vendor based "e-Form user agents" and high deployment cost;

Lack of standards-based component stack that pulls together all the individual standards to define how the components should work together: There are many different standards that cover different segments of the e-Form problem domain (e.g. XML, XSL-T, XML Schema, XML Web services, Xpath, WebDav, ISO 11179, UBL, SVG, HTML, WSDL, UDDI, XSD, XHTML, SOAP, BPEL, WML, Voice XML, OASIS Open Document, Open XML Document, XFDL, etc) resulting different e-forms solutions providing "only-marginal" interoperability; But there is no mechanism to tell how these individual components of e-Forms should work together.

Security and privacy issues: Lack of an inexpensive and easy-to-manage Security Infrastructure (e.g. PKIs) hampering adoptions of e-Forms that capture sensitive information. Security issues like identity, confidentiality, integrity, non-repudiation, accountability need to be addressed;

Legal status of e-Forms : Citizen adoption – Apprehensions of general public to accept  this technology without proof of any receipt needs to be addressed;

Business process re-engineering: Manual processes of G2G, G2B, G2C, G2E and G2X  need to be re-engineered, in order to  leverage maximum benefit of e-Form technology;

Digital signature – It becomes very difficult to issue digital signatures to all possible users of G2C. Digital signatures to approved Notaries (e-Notary) at Tehsil / Taluka and other intermediaries with appropriate authority may facilitate to those who do not have digital signatures, especially for G2C domain applications;

Accessibility and localisation – To support all level of society, e-Forms should be made   available through multiple channels like post offi ces, common services centres (CSCs), information kiosks, internet cafes and also on multiple devices like mobile phone, computer, hand held devices, laptops, in all possible local languages;

Integration with legacy systems – Applications developed using e-Forms should work cohesively with all existing applications;

Archival and future accessibility – As information technology fi eld is very dynamic in which only constant is change, the technology tools become obsolete very soon. Road map from technology providers is a must for providing mechanism and support for accessibility of archived documents in future;b.Non-IT Issues

Like any induction of computer based application, introduction of e-Form technology will require organizational structural changes due to process redefi nitions, change in public interfaces, workfl ow automation, etc;

Any change in the system is prone to resistance by its people;

Capacity building and capability building through human resource development programme for all levels of government employees;

Development of quality training materials with e-Form technology solutions and that too with localisation;

Well-documented impact studies on e-Form technology in terms of "people", "process", and "knowledge".

What are the legal acceptance of e-Forms in the Indian scenario?

In India, so far, "ICT enablement of judiciary delivery system" has taken place.  However, "legal enablement of ICT system" is yet to take pace. "Consumer protection" under the G2C component of e-Governance programme is very essential. IT Act 2000  does not cover this aspect. As the Deputy Director General (e-Governance Standards) in  NIC, I have conducted many state level workshops during 2005-06 to formulate views  on e-Governance standards for strengthening implementation of NeGP and raised the  aspect of "Legal enablement of ICT Systems" in such workshops. Afterwards, I had  discussions on this issue with some Hon'ble Judges of High Courts. They have also  endorsed the issue. Finally, the Additional Secretary (e-Governance & NeGP),  Department of Information Technology supported the idea of having a separate Working Group on this aspect. NIC has set up a Working Group on "Legal Enablement of  ICT Systems" under the e-Governance Standards, with Hon'ble Justice Somasekhara (Former Judge of Karnataka and Andhra High Courts) as its Chairman  (http:/egovstandrds.gov.in). I agree that legal acceptance of ICT System from-end- to-end, is essential for successful implementation of NeGP.

Now Filing Income Tax Return Gets Easy

The citizens in India can now to use new IT return forms that are downloadable from the  Income Tax Department web site (http:/incometaxindia.gov.in/download_all.asp  ). This has come to effect from assessment Year 2007-08 and for tax fi ling for year  2006-07.The forms are numbered ITR1 to ITR8 and if one chooses to fi le electronically  one can use ITR V. This is an e-Governance initiative of the Income Tax Department,  Ministry of Finance, Government of India. Its website (http:/incometaxindiaefi  ling.gov.in/portal/index. jsp) describes the e-Filing procedure in 10 simple steps, which  are as follows:

e-Filing Process -At a glanc e

Select appropriate type of Return Form
Download Return Preparation Software for selected Return Form.
Fill your return offl ine and generate a XML fi le.
Register and create a user id/password
Login and click on relevant form on left panel and select "Submit Return"
Browse to select XML fi le and click on "Upload" button
On successful upload acknowledgement details would be displayed. Click on "Print" to generate printout of acknowledgement/ITR-V Form.
Incase the return is digitally signed, on generation of "Acknowledgement" the Return  Filing process gets completed. You may take a printout of the Acknowledgement for your record.
Incase the return is not digitally signed, on successful uploading of e-Return, the ITR-V  Form would be generated which needs to be printed by the tax payers. This is an acknowledgement cum verifi cation form.  The tax payer has to fi ll-up the verifi cation part and verify the same. A duly verifi ed ITR-V form should be submitted with the local Income Tax Offi ce withing 15 days of fi ling electronically. This completes the Return fi ling process for non-digitally signed Returns.
For any assistance in fi ling the paper copy of the return Public Relations Offi cer of the  local Income Tax Offi ce may be contacted.