Considering the global position enjoyed by India when it comes to progress in the field of Information Technology, the Indian Government has been amongst the frontrunners in its initiatives towards adoption of best practices and integrated delivery of information and services to achieve ICT led development in the Country. And a giant leap in this direction has been the launch of 'india.gov.in', the National Portal of India.

Gone are the days when one had to browse through several independent websites to reach the desired bit of information one was looking for. It is the age of 'single entry' portals and they have brought with them, a paradigm shift in the way online information is being accessed today. We hear of a new portal being launched every other day, and most of them are doing a good job of providing a gateway to multiple websites on a certain subject or area, of culling out useful information buried deep into these sites and in turn making life so simpler for an online visitor.
The realm of Government or public sector is not untouched by this concept whose time has come and these days a large number of countries provide easy access to government information and services for their citizens, businesses, diaspora, as well as international community through their National Portals. Such portals, acting as gateways to information and services from the government, are now emerging as the standard single point platform to interface the e-Government initiatives with their intended beneficiaries. Besides, considering the popularity and credibility the national portal enjoys, it becomes defacto choice of  the government departments/organisations for launching their new e-Governance initiatives so as to maximise the  reach as well as impact. Multi-tier infrastructure set up for the national portal could also be leveraged by different departments to optimise their investments on technology, content and management. Thus a national portal assumes an important role in the e-Government programme of any country.
Considering the global position enjoyed by India when it comes to progress in the field of Information Technology, the Indian Government has been amongst the frontrunners in its initiatives towards adoption of best practices and integrated delivery of information and services to achieve ICT led development in the country. And a giant leap in this direction has been the launch of 'india.gov.in', the National Portal of India. The earnestness of the Government in taking up this initiative is evident from the fact that the development and running of this portal has been accorded high priority 'Mission Mode' status in the much publicised National e-Governance Plan (NeGP) through which, our government has made its intention clear of executing a comprehensive agenda to make e-Governance effective at all spheres to ensure efficiency, transparency, and accountability at the government-citizen interface.
By providing a unified interface and acting as a logical front-end to the e-Government initiatives, the National Portal facilitates the foundation of a strong relationship between the Government and its citizens through the collaborative efforts of various ministries and departments. 'india.gov.in' has been developed by national informatics centre, as an extensive repository enumerating significant information about the country, concomitantly introducing citizens with all the services available for them at every level and relating to every department of the government.
The first version of the Portal was launched around a year back and ever since, it has come a long way in firmly establishing its presence in the Web space as well as in the minds of millions of Indians who visit it regularly for their interactions with the government.
How does the National Portal Help ?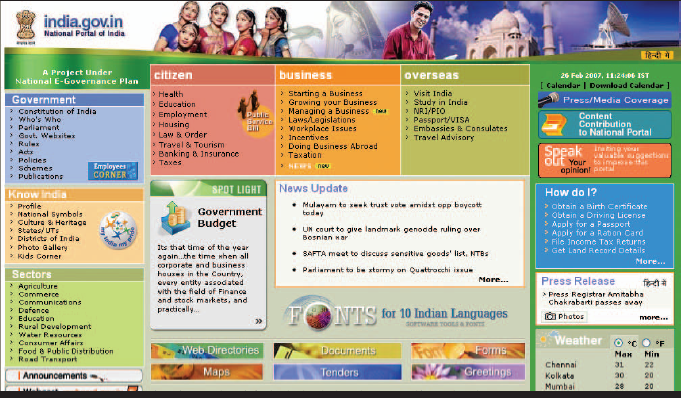 Already, over 5000 websites of the various Indian Government entities including Ministries, Departments, state/UT governments, district administrations and organisations exist in the Internet Space. All these websites provide a variety of information and services which are beneficial to the common citizens and other stake holders. However, this implied that citizens had to visit a large number of websites for different services, with different websites following different technology standards, design lay-outs, navigation architecture etc. Accordingly, it resulted in a lot of inconvenience at the citizens' end and requires a lot of learning on their part to even access these services. With the national portal now in place as a unified gateway, a one-stop source for all these services and information has been established.
Besides providing in-depth information about the country and its various facets for a wide range of target audience including the urban/rural citizens of varied demography as well as business and overseas community, the national portal acts as a gateway to a variety of information and services being provided by different government departments. Whether a citizen has to pay utility bills or needs an access to the information on welfare schemes in different sectors, obtain licenses/certificates, apply for some business permits or even file tax returns online, the national portal is the answer. Beside this primary objective, of course, of making life easy for the common man, the national portal envisages establishment of the much needed standards for government websites and also provides a significant platform for public participation in governance, one of the very basic tenets of good governance.
Main Features

National portal comes with unique features geared up to facilitate improved access, enhanced quality of services and convenient single window access for a variety of Government Information and Services:
Comprehensive Content: The National Portal presents comprehensive information on all aspects and constituents of the government whether central, state or local bodies. Any information on an individual department's website or any on-line services for citizens available anywhere in the country is accessible through the national portal. In other words, the portal does not belong to just one group or sector of government, its mandate includes complete and comprehensive information from the various entities including legislature, judiciary, Executive, apex institutions, local government bodies, public sector undertakings, government institutions, organisations, etc.
Citizen Orientation: The National Portal has been built from the  'users' or 'citizens' perspective, rather than from the perspective of the government. In other words, instead of presenting and categorising the information and services on the basis of government departments, information is presented in a manner citizens would like.
Distributed Content Management System: Since the nationalportal is the repository of a huge amount of content being sourced from / maintained by multiple sources and different teams at multiple geographic locations, a comprehensive Content Management System (CMS) to effectively manage the content has been developed for the portal which is useful for not only carrying out future modifications and updations of the portal content but also allows a convenient change in the content architecture of the Portal. The CMS also provides the facility for searching across the entire content base, presenting content in multiple formats and facilitating delivery of information through multiple channels.
Further, an innovative feature of the portal is that a single point content repository with XML interface where the content shall be entered just once by any department and the same could be shared at a number of places, including the national Portal, as well as the respective website(s) of the department without having to duplicate the data, thus avoiding any redundancy.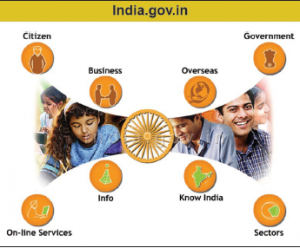 Directory of Services: A central repository of services under the 'How do I' module of the national portal has over 1000 services being provided by various Government entities at the central, state and district level. Services have been well classified based on their nature (applying for certificates and licenses, registration of land and property, online booking of travel tickets, filing tax returns, contributing towards relief funds etc), regional location, target users (G2C, G2B, G2E, G2G), audience profile and sector to which the service belongs.
State-of-Art Hosting Infrastructure: The portal is hosted on multi-tier, scalable, fully redundant state-of-the-art infrastructure  at NIC's Data Centre. Besides being accessible across a large number of browsers, software, devices, portal infrastructure and connectivity options, the portal is highly scalable. It caters to the peak traffic loads during announcement of budget, exam results etc with the same  high quality of service.
Bi-lingual Version: To reach out to a wider cross section of audiences in the interiors of the country, the portal has also been made in Hindi language, apart from English. Multilingual versions in regional languages of India is on the cards.
Platform for Public Participation: The portal has also turned out to be an effective medium for the participation of common citizens in the process of governance since they are encouraged to voice their opinion on a number of national issues, participate in online discussion forums and provide feedback on important matters. Recently, the Portal was used as a medium by the sixth central pay commission to invite suggestions from public through a specially designed online questionnaire. The exercise proved to be a great success as the commission was able to generate a huge database of constructive suggestions from those who mattermatter – the citizens of the Country.
The tremendous popularity of the portal can also be gauged from the fact that it receives a  large number of hits from all over the globe. Ever since its launch, millions of hits have  poured in from all corners of the world and the number seems to be growing manifolds with  each passing day. A carefully worked out mechanism is also in place for receiving and  analysis the feedback of the visitors which regularly comes in the form of a large number of emails.
Content Highlights
Citizens: Useful information for Indian Citizens residing within the Country on issues vital to  their day to day living such as health, education, employment, housing, travel and tourism, law and order, banking and insurance and taxes. Exclusive sections cater to special interest  groups such as students, tax payers etc.
Business: Meant for those wishing to start a business or currently involved in business and wanting to make it grow further in the country or abroad. Information is provided on topics such as how to set up a business, incentives offered by the government, doing business abroad, taxation, workplace issues, laws and legislations etc. Latest business news is also available at any time through this section.

Overseas: A section meant both for Indian Diaspora living abroad and foreigners visiting/living in India. Here one can find information on Non-Resident Indians/People of Indian Origin, those visiting India, studying in India, regarding Embassies and Consulates and Travel Advisory.

Government: This module provides information about the Indian Constitution, the Parliament, Who's Who in Indian Government, Government Policies and Schemes. There is also a special section on Government Employees focusing on their information needs.

Know India: This is a section to visit if one wishes to know about India's profile, its unique    culture and heritage, national identity symbols, states/union Territories (UTs) / districts. There is also a special section exclusively for the children to enrich their minds with the various facets of the country. A special section called 'My India My Pride' gives information about the National Days and their celebration (including live webcast of events), gallantry and other awards and on National Identity Symbols such as National Anthem and National Flag which can be downloaded in various formats.
How do I?: This provides access to a variety of citizen services across sectors being provided by the government- right from obtaining a birth certificate to applying for a Passport. In addition, the services, which are being provided online either partially or completely, are prominently highlighted.

Forms: A repository of important application forms required for availing various services and facilities provided by the government. There is an easy search facility to locate the desired forms.
Spotlight: Periodically, a subject/theme of national prominence is taken and focused upon in this section so that citizens can understand its various facets. Attempt is made to provide a holistic view on the theme in this section.

Government Tenders: This section provides comprehensive access to government tenders and their accompanying documents issued by various government ministries/ departments, states and UT Governments.

India-Greetings: A facility to send personalised greetings featuring photographs on the     myriad, colourful aspects of India. Greetings on various major festivals are also available which can be sent by visitors to their near and dear ones on festive occasions.
Beside these, other useful information on the Portal includes access to the web directories of  the government, facility to search for STD/ISD/PIN codes, documents and reports published  by the government, latest national/international news and government press releases, web  casts of national/ international events etc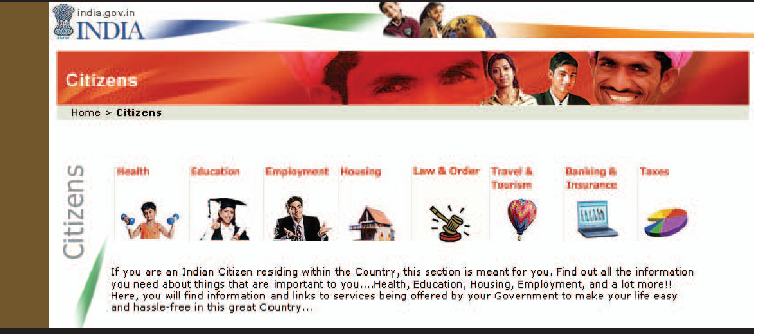 Summary
'india.gov.in' is the quintessential national portal which presents a kaleidoscopic view into the  country's myriad affairs, including all governmental operations, citizen information and  services, Indian culture & heritage, and a host of other activities, within a state-of-the art  technology framework. national portal is in fact, a one-stop center for information on any and  every constituent of the Government of India. Simply put, the strength of the national portal  lies in the assimilation of rich and comprehensive content amassed through meticulous study  and investigation and a unique user-friendly way of presenting that information. From academic information and services for Indian and foreign students, recruitment and  employment services, travel and business related information, to information on the cultural extravaganza in the country, the national portal has it all – thus fulfilling the mission of  'making life easy for the common citizen'!
Follow and connect with us on Facebook, Twitter, LinkedIn, Elets video