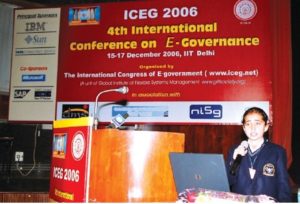 An Inter-School ODF (Open Document Format) competition was held by the ODF Alliance, as part of the ICEG-2006 held during 15-17 December 2006, New Delhi. The conference aimed to provide a forum for discussing research findings, strategies, policies, and technologies in the field of e-Governance. ODF Alliance is a broad cross-section of associations, academia and industry. The massive participation in the Inter-School ODF Competition in Delhi showed the tremendous ODF adoption that has occurred in the society. ODF is surely moving from a de-jure standard to a de-facto standard.
The Inter-School ODF Competition had participation from over 50 government and public schools from Class III to Class XII. The topics were "Why should I learn Computers?" for students from class II to class V, "Benefits of Open Source Software to my school" for students in class VI to class VIII, "Open Standards: Freedom from digital Divide" for students in class IX and X and "Why is Open Document Format Important for India" for students of class XI and XII. The children used Open Source software to create exceptional presentations. The depth of the knowledge of the subjects and the acute understanding of the technology exploitation that is happnening in the society because of non-ODF adoption, astounded the panel of judges and the delegates at the 4th International Conference on Electronic Governance.
The Inter-School ODF competition was held by the ODF Alliance. ODFAllaince is dedicated to improving access to electronic government documents, along with India's leading technical institutions, global IT majors and government agencies. ODF, is helping to revolutionise the way we document, store, retrieve and share our data across the globe. The governments and industry across the world understands the importance of adopting ODF for competitive advantage as well as for reducing the massive digital divide that is threatening to further sub-divide our society.
The winners of the competition were presented with the prizes by the IT Secretary of Delhi, Narendra Kumar, during the International Conference on e-Governance which was held in IIT Delhi. The winning schools were presented with ODF Silver Shields. The winning schools were Mother's International School, Tagore International School, and Rukmini Devi Public School. The details of the competition are available at www.ODFAlliancein/school.

Follow and connect with us on Facebook, Twitter, LinkedIn, Elets video