Public administrative discretion refers to the degree of latitude or flexibility exercised by public administrators when making decisions or conducting any agency business.  The use of discretion in public administration is often viewed as a major source of poor governance that breeds arbitrariness, unfairness, corruption or irrational outcomes.
Several literatures view e-Government as a potential tool to hollow out discretionary power from officials using predetermined decision-making rules or advanced algorithms.  However, it is important to understand that taking away discretion from the government does not always bring about good governance, as it ignores citizen individualised circumstances and situations such as economic welfare, political bias, culture diversity.  To bring about good governance, i.e., openness and transparency from discretionary decision-making in e-Government, extensive use of information technologies help reduce whim, caprice, and arbitrariness in decisions caused by an administrative decision maker.
The use of discretion in public administration is generally being regarded as a major obstruction to good governance. Therefore, to bring about good governance from discretionary decision-making in
e-Government, using information technologies help reduce whim, caprice, and arbitrariness in decisions caused by an administrative decision maker

The e-Government Discretionary Framework
From the citizen points of view, citizens expect the good governance to be delivered by the government in handling the discretion issues. To accomplish such expectations, the concept of 'open government' as advocated by W.N. Nelson is the finest approach to promote transparency and openness in the government use of discretionary decision-making where "Participation contributes to open government; open government contributes to the need to justify official actions in terms of morally acceptable principles; and the need to justify contributes to better decisions."
With the goal of eliminating the discretionary decision-making by whim, caprice, chance, or ritual, Galligan coined the concept of consultation as a mode of participation that connotes the presentation of arguments and proof in order to influence the way issues needs to be settled.  The decision-maker has a duty to hear and consider, but may decide for reasons which go beyond the submissions of the parties, and may act according to standards which are defined only broadly or settled only in the course of the decision.
Based on the open government approach and the consultation concept, the citizen consultation process is presented, which comprises of three phase of coordinate activities. This includes Phase 1: disclosure of reasons and factors before decisions; Phase 2: formu-late standards or apply existing standards and make decisions; and Phase 3: issue legal decisions and appealing procedure.
The Citizen Consultation Model (CICO)
To elucidate, our research focus is on the modified adjudication decisions. The rationale that in e-Government service processes, a human intervention is found to interfere with the approval processes before the completion of services.
For example, in the case of business registration services in Thailand, the law states that a business' name must not have any similar meaning or pronunciation or any other wording related to the  Thai monarchy.  During the registration approval process, a registrar can still be called upon to use discretion on the requested business name whether it has any meaning related to the monarchy, which is totally based on personal judgment and experiences.  This causes a sense of arbitrariness in citizens as the results can vary from one registrar to another. A similar problem can also be found in social welfare, immigration, police, deportation, etc. The special requirements of the modified adjudication decision are as follows: an official is a person who is held accountable for decision outcomes; decision-making aims at a citizen-individualised problem in relation to his or her situation, not as a general public issue; citizens and other affected parties have a right to put forward evidence and present their arguments or proof that are relevant to the decision throughout the citizen consultation process; in certain cases, if laws provide no norms or unbound factors or unfettered discretion domains, a decision-maker is required to formulate a new set of standards, which could be flexible and unpredictable; and, the combination of adjudicative (i.e. rules of law) and discretionary element is necessary.
The CICO Prototype
The existing conversational technologies, i.e. e-mail, discussion forums, Internet chat, Weblog, or Wiki can be used as an effective tool to support coordination and collaboration activities, i.e. viewing, discussing, debating, writing, and recording.
Step 1 – Determine Decision Problem, Alternatives, and Goals: The Citizen Consultation Room is intended to provide an easy to use interface similar to public discussions via the chat room.
The Internet web-browser prototype supports a real-time and synchronised communications between two or more participants via computers. In order to avert possible chaos from the citizen consultation process, a semi-formal vocabulary of Decision Representation Language (DRL) was applied as a language for representing discussions and argumentations. The basic elements of decision-making in DRL are decision problem, alternatives, goals, claim, and questions/answer.
Before the starting of Phase II of the citizen consultation process, an official who acts as a decision-maker must designate an instance of promulgation, case identification, groups and names of participants, and start date and due date. Next, an instance for a decision problem, alternatives and goals must be created.
In the consultation room, participants can always use a mouse to point at DRL argumentation element and use the right-mouse button to initiate the corresponded elements, i.e. a new decision problem, sub-alternatives, sub-goals, questions and answers and can enter text statement or upload file down the root node of the hierarchical structure graph. Text statements will appear on the other participant's monitor immediately.
Each element is accompanied by DRL element icon, user name of the participant who put it forward date and time of submission.  The objectives of the citizen consultation room includes participants are able to ascertain the matters that are to be decided, the legal background, facts, evidence upon which the official is acting or proposing to act, and sort out any unclear 'open-texture' language of laws; participants have a change to put before new information, or make inquiries about the cases; and, participants can influence the nature of decision problem, alternative, and goals and decide whether it should include more or cross out any unnecessary alternatives or goals.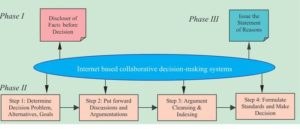 Step 2 – Put forward discussions and argumentations: After the deliberation on the decision problem, alternatives, and goals are settled, an official will activate the access right to the decision matrix room for participants to solicit their arguments. Participants can put forward discussions and argumentations by appraising an alternative with respect to a goal using a mouse to point to an instance of DRL elements and use right-mouse-click to open and choose claim actions and enter text statements. Participants express their claim arguments as 'supports' or 'denies' and can initiate a discussion by posting questions or answers instance. The citizen consulta-tion system also provides the argument polarise feature that allows participants to click on a tap control and view the whole set of arguments in three different views – alternatives, goals, and participant point of views. This feature helps participants gain a full understanding of the case and enhances the openness principal as participants can put before the decision-maker an argument that  may compete or rebut each other in an equal of opportunity mode of participation.
Step 3 – Arguments cleansing and indexing: After participants have fully asserted discussions and argumentations or the allowed time has elapsed, an official has a duty to validate the legitimacy of each argument using his or her discretion. This process is called the arguments cleansing process. The system provides facilities for an official to approve valid arguments by clicking on a check box located at the beginning of each instance of DRL. The arguments cleansing process is very important, as a decision-maker must consider each argument based on past experience and support information. The results from the cleansing process can be viewed by all participants.
There-fore, a decision-maker has a duty to pro- vide reasons and explanations why some arguments are cast aside and why some arguments are valid enough to the case.
On the indexing, the systems will automatically retrieve concept keywords from the knowledge-base and match with DRL instance of each argument. The match index is presented in a green font of the text statement. If the index is not in the knowledge-base, officials can either select an existing index keyword from the knowledge-base or add a new index keyword as they see fit. It should be noted that indexing keywords must be chosen carefully if the most useful cases are to be recalled from the case repository.
To support the exercise of discretion power by certain authorities, an official can input a weigh preference score for each alternative using a combo box that shows the number of preference (e.g. 1-2-3-4 as highest preference to lowest preference), which however, would be used as a preference record, and not as a reasoning mechanism.
Step 4 – Formulate standards and make decisions: In order to make a decision, the citizen consultation system will assist a decision-maker by presenting the most similar cases from past cases from database. Using a simple flat memory and a serial search technique, arguments can be retrieved by applying a matching function sequentially to each argument grids in the file and keeping track of the degree of match of each arguments and returning those that match best.  The final decision can be made by clicking the radio button in front of a selected alternative and pressing save.
Evaluation results
CICO has been tested on real citizens and public servants. The model was tested among nine citizens who are affected by government decisions, three authorities who make decisions, and two experts. All involved with the rule of origin services provided by the Department of Foreign Trade, Thailand. The experiments were conducted during December 2005 to February 2006. The experiment task was to make discretionary decisions on the setting up of the department's policy that effect citizens in three cases. First, when should the government verify the rule of origin certificate? Second, who should be considered as wrongful if there was a circumvention problem of export goods? Third, how to select an exporter for the rule of origin post-exported audit? The experiment was conducted in three weeks  and completed under the direction of the facilitator by the following procedures: after the training, the facilitator made an appointment with each citizen to the experiment site. An officer generated problem statement, goals, and alternatives; in the first session, each citizen took half an hour to review and generate questions or arguments according to goals and alternatives; approximately one week later, a citizen asked to review the whole arguments again and generated more arguments if  he/she wished to; three officers separately reviewed the whole arguments and selected an alternative as a final decision; and, all citizens scrutinised the final decisions and filled-in the questionnaires.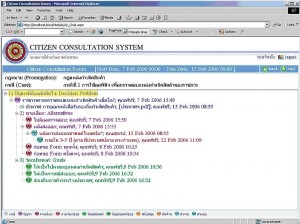 The objective of the questionnaire was to get citizens' assessments about the good governance principle from the discretionary decision-making processes and outcomes. To fill the questionnaire, citizens had to give an answer – strongly agree, agree, neutral, disagree, and   strongly disagree scale. Citizens had to evaluate the level of good governance criteria based on SIGMA, i.e. accounta-bility and openness and transparency. The feedback was certainly encouraging. In all the issues raised in the questionnaires, the percentage of the positive    answers (sum of the strongly agree and agree percentage) was over 70 %. It is clear that by involving citizens in the discretionary decision-making processes, the majority of citizens were convinced that by using CICO they could influence a decision-maker to think thoroughly and make decisions in a reasonable and intelligent manner.
However, the consistency of decisionmaking from the point of view of citizen is not very satisfying, as the experiment cases were limited to three cases within a short period of time.
Conclusions and future works
The citizen consultation model and prototype are proposed with the aim to promote the 'open-government' concept where citizens are encouraged to participate in every step of the government decision-making process. The proposed model contributes to the instrumental rationality of discretionary decision-making and follows the commitment to a democratic government. By providing the participation platform via the Internet, officials, citizens, and affected parties can put forward discussions and argumentations relevant to the cases, which is an effective way to enforce caution on the decision-maker and reflect more on the issue. The experiment and evaluation of the CICO prototype in a real digital government setting is proved that majority of citizens are convinced of the good governance outcomes from an administrative discretionary decision-making.
The future research whenever undertaken needs to focus on a largescale citizen participation in public policy and discretionary decision-making. Designing research on a web forum as simple as web-board or e-mail but containing structured entries as a tool for a government policy maker are also a challenging issue for a future research.
Follow and connect with us on Facebook, Twitter, LinkedIn, Elets video