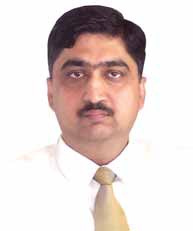 Software Technology Parks of India (STPI) is one of the few Government agencies   providing high end professional services to the software industry. With its stateof- art connectivity infrastructure and proven expertise in consulting services, STPI can play a leading role in IT initiatives of the Government. In an exclusive interview with Sanjay Tyagi, Director STPI Mohali, e-gov finds out the status on development of software industry in Chandigarh, Punjab and Haryana and get his views on possible role of the agency in National e-Governance Plan of India (NeGP).
What has been the role of STPI in promoting an industry-friendly IT environment in Chandigarh and adjoining states of Punjab and Haryana?
The main reason behind the growth of software industry in our country has been the cost-advantage of infrastructure and quality manpower. However, this factor has been gradually shrinking due to rising cost of real estate and human resource in metropolitan cities. That is why, in 1998, Government of India decided that STPI should come to smaller cities and towns like Chandigarh, Mohali and others, where there is virgin infrastructure and enough manpower available at competitive cost. In the first expansion of STPI, we went to three cities – Navi Mumbai, Chandigrah and Jaipur. When we came to Chandigarh in 1998, there was no prominence of IT in this region – neither was infrastructure available nor was the local Government geared to welcome the industry. Thus, our objective was not only to bring the industry out here but also to create awareness among local Government about the potential of IT industry. To begin with, we set up our 'gateway' out here to have good connectivity, thereafter; we started marketing for this place. The model of development that came in our mind is the National Capital Region (NCR) of Delhi, Gurgaon and Noida as a tri-city concept. The same is being replicated out here with Chandigarh, Panchkula and Mohali. Initially, we set up our office in Mohali, as Punjab took the initiative and gave us land and support. We started our operation by helping the local Governments of Punjab, Haryana and Chandigarh to develop their IT policies and made them aware about the kind of infrastructure required by the industry. Today the industry has grown from rupees 5 crores to 300 crores in exports (as in the last financial year). Right now we have 225 companies registered with us. Besides big names like Quark, Infosys and Dell we have a number of small and medium enterprises working out of this region. 
How do you think that coming of IT industry and involvement of STPI has contributed towards the overall development of the region?
From the beginning our focus was to improve the infrastructure and data connectivity of this region. Moreover, we urged the Government to provide more connecting flights to Chandigarh, along with increased number of trains from Delhi. Within two to three years we saw   a considerable increase in number of trains that connect Chandigarh with the rest of the country. Along with this, we also encouraged opening up of more number of engineering and technical colleges in this region that could provide quality manpower for the industry. The first major company that came here was 'Quark'. During that time the ratio
of native to non-native IT professionals was almost 1:4. However, over the past five to six years this ratio has almost reversed and presently we have more number of local employees than outsiders. At present we have around 10,000
people being employed by the IT industry in this region, out of which, about 40% are software developers and the rest are into ITeS.
Is STPI also working towards improving the technical infrastructure of Government departments in this region?
As soon as we came in this region, we extended our connectivity to Government departments of Chandigarh, Punjab and Haryana. We were of the view that mere presence of STPI in this region would not serve any purpose unless Government departments are connected to us. With this view, we provided free connectivity to Government offices from our own infrastructure, which they have been enjoying for the last three years.
In the recently announced NeGP there has been a lot of emphasis on interlinking of Government departments through data and voice services. Since STPI has long been doing this job for industry, what role do you see for STPI to work in this domain, being a Government agency itself?
When STPI started its journey about 15 years ago, its purpose was to facilitate the growth of software industry in India. However, it was simultaneously involved in the process of creating connectivity infrastructure for the entire nation. Over these years we have set up 40 international 'information gateways' throughout the country and provided connectivity to the entire IT industry. This same infrastructure that we developed across the country can now be used by state Governments for their e-Governance projects. All throughout our existence, we have been trying to build-up an interface between the Government and the industry and help both the sectors to improve their capacities. Right now  STPI is in a position to use its infrastructure and capitalize the skill sets that have been developed over these years to help State and Central Governments to improve their IT environment and succeed in their e-Governance initiatives.
STPI is ideally placed to help government agencies in finding private partners and developing IT infrastructure for e-Government initiatives.
Does that mean that the domain of Government-to-Business (G2B) services can be handled by the STPI network?
STPI definitely has the capacity to do so. Moreover, our organisational goal is facilitation and promotion of IT industry and that of IT enabled services of Governments. We are very much sure that all G2B and even G2G services can be handled through STPI networks.
What role do you envisage for STPI to play in terms of developing PPP models and Service Level Agreements (SLAs) for e-Governance projects of different state Governments?
In fact, we are already playing this facilitatory role for a number of state Governments. Various state Government IT Task Force committees are having STPI Directors on the board who are actively working towards developing the Government-Industry relationship. We are providing them end-to-end consultancy and helping them identify vendors for e-Governance projects. In future, our scope of involvement can be enlarged by taking up monitoring, evaluation and benchmarking studies of on-going projects in India. 
Follow and connect with us on Facebook, Twitter, LinkedIn, Elets video