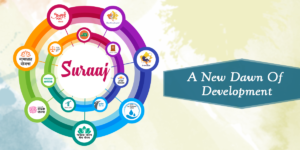 Suraaj Portal is the one-stop online integrated platform initiated by the Government of Rajasthan for the benefit of residents of Rajasthan so as to enable them access wideranging information on a host of topics relevant to them, writes Elets News Network (ENN).
 The official portal of the Government of Rajasthan, in a way, acts as an excellent Government-to-Citizen (G2C) interface, helping citizens access an exhaustive knowledge-bank, making use of which, they can learn all about the useful schemes and projects of the State Government. The portal which has been made extremely easy to understand and navigate, has a host of features and relevant information about the government and its many departments and services offered. Apart from hosting information about history, culture, demographics an Statistics and judicial services, links to Rajasthan Assembly, Rajasthan city guide, colleges and universities, health and social services are also provided. Further, comprehensive information about new initiatives in various sectors across the State is also showcased on the State portal. A host of multimedia resources, videos and images including 3D model videos relating to various government initiatives are also exhibited at the portal.
There is a host of progress information about various schemes of the Rajasthan Government and under it is every scheme, entitlement criteria, etc, for each scheme are also showcased in an easy to understand and well-organised manner. At present, among the important aspects, about which a citizen can find information on the Swaraaj portal, include quick links to an exhaustive web directory (containing information about the State's official bodies), maps for each district of Rajasthan, State symbols, districts, election and voting procedure, utility bill payment providers, application for PAN Card online, and rates of food grains at various mandis (markets) in Rajasthan, among others.
Important links available at Suraaj Portal:
Under this, Resident Data Hub, that offers:
Web Directory
Employment
Government Alerts
Rajasthan Sampark
Emergency Help
Road/travel info
Traffic Mobile Alerts
Weather And Agro related information l Education and Training
Starting a Business
Online Business Services
Running a Business
Special Economic Zones
Colleges and Universities
Educational Resources
Libraries
Rajasthan History For Kids
School Education
Citizen and Community
Just For Youth
Senior Citizens
Moving To Rajasthan
e-bazaar (Online Store)
Arts and Leisure
Certificates and Licenses
Fee and Government Levies
Application Submission of Various Department
Grants, Scholarships and T Entitlements
Get a chance to meet who's who of Smart Cities ecosystem in India including key policymakers from Central and State Governments. Join us at Smart City Conclave, Kochi on 18 August, 2018 to explore business opportunities. Like and connect with us on Facebook, Linkedin and Twitter.