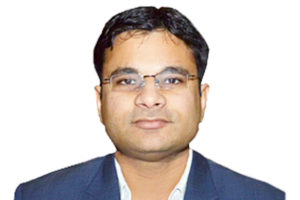 Ajmer Municipal Corporation (AMC) has organised several workshops which allowed the people to convey their ideas and do value additions during the conceptualisation of the Smart City projects. Based upon their needs and expectations, the projects were developed, says Himanshu Gupta, Commissioner, Ajmer Municipal Corporation (AMC), and Additional Chief Executive Officer, Ajmer Smart City Limited (ASCL), in conversation with Kartik Sharma and Harshal Desai of Elets News Network (ENN).
What are your views about the entire concept of Smart Cities Mission?
Smart Cities Mission is undoubtedly one of the most ambitious projects of the Government of India. It has given scope of positive competition among the cities. Not only the ABD (Areabased Development) area but the entire city is competing to have the maximum benefits from the objectives of the mission.
Will you apprise us of the works that have been done in Ajmer so far?
The total cost of Smart City projects in Ajmer is about Rs 1,900 cores. About Rs 942 crores are from Smart Cities Mission, and rest of the amount is to be generated from convergence and PPP (Public Private Partnership) projects. We have already planned projects worth Rs 500 crore and these are going to be started and implemented within one month. Among them, the major project is the elevated road – a much awaited and a long-standing demand of Ajmer. This project is worth about Rs 252 crore. Rajasthan State Road Development & Construction Corporation Limited (RSRDC) has been made executive agency for this project. This road will be developed on the steel structure technology used in the construction of metro lines in the country. Apart from this, about Rs 100 crore project is for water supply rejuvenation – another ambitious project being done by Public Health Engineering Department (PHED). Will you please update us on the work in and around Ana Sagar Lake? There is provision for escape channel project for Ana Sagar Lake – a Rs 250 crore project. We have taken a module on pilot basis and assigned a project worth Rs 20 crores. The work has already started on the site. We are developing promenades along the Ana Sagar Lake which is situated at the centre of the city. This project is being executed under both the schemes – Smart Cities Mission and HRIDAY. Ajmer is one of the 12 HRIDAY cities in the county. Further, to clean and purify the water, we have ordered deweeding machine.
How do Ajmer Development Authority (ADA) and Ajmer Smart City Ltd (ASCL) collaborate with each other to achieve one common goal of development of Ajmer city?
In Ajmer, Shri Gaurav Goyal, CEO of ASCL is also holding the charge of Commissioner, ADA. So, the coordination issues, which probably occur in other cities, are not here in Ajmer. Besides, he is also the Collector and District Magistrate of the city and has other departments and resources at his disposal which make the overall coordination among various departments and institutions very smooth.
How is Command and Control Centre working in Ajmer?
The Command and Control Centre that was developed by Department of Information Technology (DoIT) is already in place. We are proud to say that Ajmer is the first city where the Command and Control Centre was used during elections as well. We had used the video wall for webcasting during the election. It was highly appreciated by the election commissioner and both State and the Central Governments.
What about the parking management within the cities?
Under the convergence project, a major parking is coming up in Naya Bazar – just behind the municipal corporation. It is heart of the city and very congested area. This parking will be able to accommodate about 800 vehicles. Further, railway department is developing a parking in Topdara area. So, these are two big ticket projects. Besides, Municipal Corporation has marked several places within the city which will be developed as parking areas.
How have you involved citizens of Ajmer in Smart Cities Mission?
Citizens are involved since the beginning. The plans under Smart Cities Mission were developed with conscious participation of the people of Ajmer. We had organised several workshops which allowed the people to convey their ideas and do value additions during the conceptualisation. Based upon their requirements and expectations, the projects were developed. The elevated project is the outcome of active participation of people. Rajasthan is pioneer in implementing LED lighting projects, what are your views on this? Yes. It is true. In Ajmer also we have replaced all the lights with advanced LED lights which have helped us save amount to the tune of 40 per cent.
Would you give any message to the citizens of Ajmer?
Citizen Engagement is very crucial for the success of Smart Cities Mission across the country. I hope, Ajmer Smart City Limited will continue to receive the support from Ajmarians. I appreciate the support given to us by the people during our journey so far.
Get a chance to meet who's who of Smart Cities ecosystem in India including key policymakers from Central and State Governments. Join us at Smart City Conclave, Kochi on 18 August, 2018 to explore business opportunities. Like and connect with us on Facebook, Linkedin and Twitter.