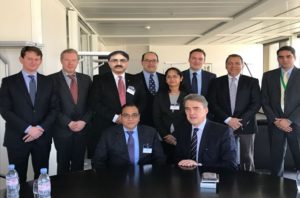 Airports Authority of India (AAI) and International Air Transport Association (IATA) has signed a Memorandum of Understanding (MoU) for capacity building initiative targeting its cutting edge technology SkyRev360, a Make in India initiative in strategic collaboration with IATA.
The MoU was signed by  S Suresh, Board Member (Finance), AAI and  Alexandre de Juniac, Director General and CEO, IATA in the presence of senior officials of AAI and IATA at Geneva, Switzerland recently.
AAI under International Civil Aviation Organisations' theme of 'No Country Left Behind' is targeting Air Navigation Service Providers and Airport Operators worldwide by sharing its comprehensive e-data gathering, invoicing and collection solution ie. SkyRev360.
Many countries have shown keen interest in SkyRev360. Very recently AAI, has won a global bid at Laos and implementation of SkyRev360 is under process S Suresh, Board Member(Finance), AAI reiterated AAI's vision of going global by providing the world aviation fraternity AAI's cutting edge technologies such as SkyRev360, GAGAN, NOCAS, Airport Consultancy, Development and Designing.
He also said the capacity building initiative will help AAI in developing professional workforce to address the problems faced by world aviation fraternity relating to e-data gathering, Invoicing and collection of Aeronautical and non-aeronautical charges.
During the event, Alexandre de Juniac, Director General and CEO, IATA appreciated AAI's role in helping various countries facing problems for invoicing and collection of aeronautical and non-aeronautical charges. He praised AAI's and India's role in propagating ICAO's theme of 'No Countries Left Behind.'
Get a chance to meet who's who of Smart Cities ecosystem in India including key policymakers from Central and State Governments. Join us at Smart City Conclave, Kochi on 18 August, 2018 to explore business opportunities. Like and connect with us on Facebook, Linkedin and Twitter.