Transforming itself from a paper company into a strategic player, Rajasthan State Gas Limited is at the forefront promoting clean energy in the state to achieve sustainable growth, says Ravi Agarwal, Managing Director, RSGL, in an interview with Harshal Desai of Elets News Network (ENN).
Please apprise us of your operations and activities in Rajasthan?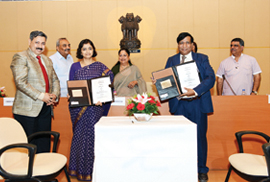 A Joint Venture Company was incorporated on 20th September 2013 by GAIL Gas Limited (A subsidiary of Maharatna Company GAIL (India) Ltd.)& Rajasthan State Petroleum Corporation Limited (A subsidiary of Rajasthan State Mines & Minerals Limited) to setup retail gas infrastructure in the state of Rajasthan as a Nodal player to cater the requirement of cleaner fuel for Domestic, Automotive, Commercial and Industrial applications.
Our business activities gained momentum on 22nd April 2014 when, for the first time, Rajasthan government discussed the prospects of retail gas infrastructure in Rajasthan with top management of GAIL (India) Limited led by B C Tripathi, CMD of the company. It was realised that retail gas infrastructure is the backbone for developing any state.
You are also planning to set up LNG Hub in Udaipur. Will you please comment on this?
Yes. In order to cater the demand of clean fuel for existing and proposed industries, we are planning to set up LNG hub at Udaipur. RSGL has commissioned Mega CNG stations at Neemrana and Daughter Booster Station at Kukas near Jaipur in June 2016 for opening CNG highway between Delhi to Jaipur along NH – 8 as per chief minister government of Rajasthan budget mandate.
Government of Rajasthan has also chalked out grand plan to develop various industrial clusters around Neemrana, Ghilot, Bikaner, Bhilwara, etc.
What are your views on promoting clean energy?
Promoting clean energy is indeed our long term goal and we are determined to improve the same in the state. We are already exploring technologies to convert municipal waste to biogas. Further, we have tied up with GAIL to source natural gas. RSGL has also executed MoU with Rajasthan State Industrial Development and Investment Corporation (RIICO) to promote clean energy in the state of Rajasthan in the presence of honourable Chief Minister of Rajasthan Smt Vasundhara Raje.
RSGL gained tremendous speed in a short span of time. Please elaborate.
Government was very keen to transform Rajasthan State Gas Limited, which was a paper company of Rs 5 lacs, into a strategic player. We are fortunate to receive remarkable support from government which helped us grow at a rapid speed.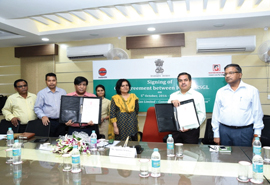 Usually, setting up CNG stations takes 3 to 4 years as there are several aspects pertaining to it which involves establishing techno-commercial feasibility report, identification and acquisition of plot at strategic location, enhancement of authorized capital share of the company for fund flow, placement of Project Management Consultancy besides seeking clearances from statutory authorities like PNGRB, CCOE, etc. Despite all these facts, RSGL, with limited resources, could grow exponentially within shortest possible time.
How do you evaluate the Retail Gas Infrastructure in Rajasthan? How Rajasthan State Gas Limited is strengthening this infrastructure?
Availability of gas is of immense importance for developing industry clusters. After successfully commissioning CNG stations at Neemrana and Kukas, and further receiving tremendous interest from industries enroute between Delhi to Jaipur, RSGL has entered into an agreement with IOCL for setting up CNG facilities at IOCL retail outlet. Two number of compression facilities at IOCL outlets along NH-8 between Delhi and Jaipur are in advanced state of completion and project work for identified IOCL outlets along Kota – Jaipur & Kota – Jhalawar – Baran – are to commence shortly.
Rajasthan has facilitated RSGL which provides technical solutions for selection of equipment for gas for development of Ceramic industries. Further, innovative models have adopted to ensure timely availability of gas.
CGD rights and assets of Kota GA presently authorised to GAIL Gas Limited is getting transferred to RSGL shortly. RSGL has drawn a blueprint to cater the requirement of clean fuel in adjoining areas of Kota and to set up inter-state CNG highway between Kota-Jaipur and Kota – Jhalawar – Devas – Mumbai.
How RSGL is creating an affordable business environment for Ceramic industries in Rajasthan?
Despite of all enabling policies by government of Rajasthan and market available for Ceramic industries, natural gas was a concern for developing state-of-art ceramic zone at Ghiloth. Government of Rajasthan has facilitated RSGL which provides technical solutions for selection of equipment for gas for development of Ceramic industries. Further, innovative models have adopted to ensure timely availability of gas. With the collaboration with RIICO, RSGL has also planned to set up similar zone near Bhilwara.
How RSGL is able to receive interest from the new investors and for the industries using other competitive fuel?
As per the Resurgent Rajasthan Summit for adopting collaborative approach to create ease of business for Make in India – Make in Rajasthan, Government has facilitated interaction with prospective customers/new investors – right from the project conceptualisation by adopting natural gas technology & in selecting energy efficient equipment for better quality with lesser cost and in winning confidence for working together with the existing customer for better productivity in switching competitive fuel like HSD and LPG to gas.
Can you please share with us the suggestion which can ease the way of doing business in the gas industry? 
A systematic development of all forms of energy with the necessary hedging on the policy framework , changed business scenario, fluctuation in currency, political scenario etc is a need of an hour besides providing proactive enabling environment to support the fast pace development of Natural gas infrastructure.
An enabling environment includes providing desired policy support and the correct pricing signals for an investment in the sector, reforming the present set of regulations to adopt the changing needs and making them more robust in addressing the distortions in the fiscal regime applicable for Natural gas.
Get a chance to meet who's who of Smart Cities ecosystem in India including key policymakers from Central and State Governments. Join us at Smart City Conclave, Kochi on 18 August, 2018 to explore business opportunities. Like and connect with us on Facebook, Linkedin and Twitter.