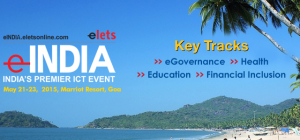 eINDIA Summit, the one-of-its-kind summit on application of IT in various spheres of human activity, like governance, healthcare, education and banking & financial services, is here again!
Elets Technomedia Pvt Ltd is going to organise the 11th eINDIA Summit, Awards & Exhibition on May 21-23, 2015 in association with the Department of Information Technology, Government of Goa.
The Summit will bring decision makers from the government and the industry on one platform to deliberate, ideate and envision the roadmap for more efficient Information and Communications Technology (ICT) implementation in the above domains.
The three-day summit will be held at Hotel Marriot in Goa.
Key Tracks
e-Governance is all about streamlining processes and improving delivery of services. A large number of initiatives have been undertaken by the Central and State Governments to usher in an era of e-Governance that brings public services closer to citizens. The 11th eINDIA Summit is an ideal platform for all stakeholders to share their experiences, best practices and current trends for a better future.
From enhancing patient communication to improving clinical outcomes, ICT is playing a critical role in improving healthcare in many ways. The 11th eINDIA Summit is presenting uniquely collaborative discussions on present-day challenges, best practices and the latest technology that will improve the healthcare industry.
Technology is reshaping the education sector. It is playing an increasingly crucial role in the classroom by opening new opportunities for both the teachers and the taught. The 11th eINDIA Summit will chalk out the future of education where content and technology come together to make learning more effective.
Banking & financial services
A robust and strong financial system is an essential pillar of sustainable development, economic growth and progress of an economy. The 11th eINDIA Summit will highlight the various models and best practices to achieve financial inclusion.
Whom to Expect?
Senior officials from Central and State Ministries
Officials from the Department of Electronics & Information Technology, Ministry of Communications and Information Technology
Officials from the Ministry of Education, Ministry of Healthcare and other Ministries at the Centre
Officials from National Informatics Centre (NIC)
CMDs, CIOs and other officials concerned from India's Public Sector Enterprises and state-run enterprises
CMDs, CIOs and other officials concerned from Public and Private sector banks
IT Secretaries, Education Secretaries, Healthcare Secretaries and many other other Secretaries from various State Governments.
Leaders of Private IT companies that are playing an active role in the ICT space
eINDIA Exhibition
The Exhibition will be an Ideal platform to showcase projects and solutions to the key stakeholders and gain exposure.
eINDIA Awards
Awards will be recognise the exemplary work done in the field of e-Governance and IT implementation across India. The awards will felicitate the innovative Tech products and services in India and abroad.
For details, pls visit http://eindia.eletsonline.com