Posted by:
Elets News Network (ENN)
Posted on: October 22, 2013
Posted in:
Magazine
Read more on:
Andhra Pradesh
|
Arvind Mehrotra
|
Bipul Pathak
|
BSE Sensex
|
CFMS
|
Dr P V Ramesh
|
NIIT Technologies
|
Rajesh Aggarwal
The CFMS is an integrated, robust, scalable, secure and user-friendly system designed on Service Oriented Architecture (SOA)
NIIT Tech hosted a special session on 'Comprehensive Financial management System' (CFMS) at eINDIA Summit held in Hyderabad on 23-24 July 2013. The panel discussion, chaired Dr P V Ramesh, Principal Secretary Finance, R&E, Government of Andhra Pradesh, had the participation of the following key speakers, Rajesh Aggarwal, Secretary, DIT, Government of Maharashtra; Bipul Pathak, Commissioner/Secretary, Science & Technology and Information Technology Department, Government of Jammu & Kashmi;, Arvind Mehrotra, President, Asia Pacific, NIIT Technologies; R Shekhar, Director Pre Sales, SAP; S Prabhu, SAP Practice Head for NIIT Technologies. In the session panelists spoke about the challenges faced by financial department of different states and the benefits and outcomes of 'Comprehensive Financial Management System'
Project Objective

With the implementation of new CFMS solution in Finance Department,
the Government of Andhra Pradesh expects overall improvement in all
processes of the Financial Department. There will be lot of improvement in transparency and efficiency
(CFMS) CFMS initiative of Andhra Pradesh
Through this project, Financial Department of Government of Andhra Pradesh wants to move from the existing legacy systems to the proposed integrated system that will be robust, scalable, secure and user friendly. The system is designed on SOA (Service Oriented Architecture) based services. The new system has been christened as Comprehensive Financial Management System (CFMS). With this initiative, NIIT Technologies is working as an IT partner with Andhra Pradesh
Project Outcomes Many beneficial desired outcomes are expected
to be achieved through implementation of Comprehensive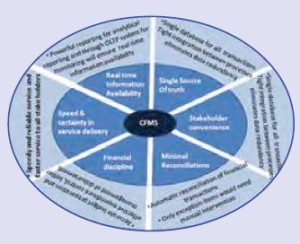 Financial Management System. A brief description of the desired outcomes is given in the adjacent graph
government to transform from its current public finance systems to a Futuristic World Class Enterprise Solution. As a part of the project a Commercial Off the Shelf (COTS) based solution has been introduced to provide seamless interface and an efficient electronic information sharing mechanism which will enable all the internal departments to work cohesively with the Finance Department.