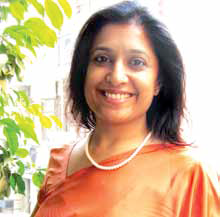 Rita Soni
CEO, NASSCOM Foundation
"The NASSCOM Foundation is of the view that sustainability and inclusion are the core ingredients for development in a diverse country like India," says Rita Soni
What is your view of the IT scenario in India? How do you look at the journey of NASSCOM Foundation so far?
During the year 2000, we started having major breakthroughs in using IT technology for public benefit. There was an increased interest within IT companies to walk that extra mile and catalyse the nation's development. In response to the direct need and the industry's will to participate in the agenda for inclusive development, the NASSCOM Foundation was established in 2001. Being an offshoot of the industry body, NASSCOM, the NASSCOM Foundation has taken up the role of consolidating the industry's efforts in the area of social development. The NASSCOM Foundation is also responsible for lot of research that is being done in the area of Information and Communication Technologies for Development (ICT4D). With its objective to create an overall transformational impact in the country, the IT industry in India continues to re-invent itself with new business models. The Foundation, through its various programmes continues to serve as a facilitator of ICT4D and helping the industry achieve its goal of using newer technologies for public benefit.
Please tell us about the initiatives that NASSCOM Foundation has undertaken to achieve its core objectives.
The NASSCOM Foundation is of the view that sustainability and inclusion are the core ingredients for development in a diverse country like India. To achieve this noble objective of promoting social inclusion, the Foundation has come up with various programmes. These include the disability Initiative for sensitizing and assisting the IT industry to provide employment to persons with disabilities and creating accessible workplaces. We have a Business Responsibility Forum to help the industry understand the need to move beyond traditional CSR to mainstream business responsibility through dialogues and knowledge sharing. Then there is the MyKartavya initiative through which companies and its employees can empower NGOs through training or direct involvement. BigBridge is a hardware donation program via which the companies can serve the underserved communities by donating redundant computers and peripherals at the same time making sure responsible disposal of the e-waste generated by them. We also have Big- Tech, which is a software donation programme through which the software companies can meet the technology needs of NGOs .
e-Governance has now emerged as a potent tool for improving the lives of the people. What kind of work is NASSCOM doing in this area? We are looking e-Governance in a much more focused manner. We have created a knowledge network, which by itself is a clear demonstration of a model that supports development by helping all sections of society to access cutting edge technology. It functions across various means like bringing awareness about healthcare and education. It offers a platform that encourages and celebrates exceptional use of ICT for social development.
Please give us an insight into the work that is being done through the NASSCOM Knowledge Network?
NASSCOM Knowledge Network is motivated by the idea of creating opportunities for all, irrespective of their caste, community, gender and social status. The NKN operates telecentres that provide access to technology to underserved communities and thus help bridge the digital divide thereby promoting digital inclusion. The NKN is designed to engage the industry, civil societies and communities in partnership to create an enabling environment that supports development of grassroots communities.
Do you think that PPP mode will change the dynamics of technology in India?
Public Private Partnership plays a very important role in the area of business. When the government departments and private enterprises come together they can execute projects much more efficiently and thereby create better infrastructure and solutions for the people. Especially the IT companies can play a major role in this area.

Get a chance to meet who's who of Smart Cities ecosystem in India including key policymakers from Central and State Governments. Join us at Smart City Conclave, Kochi on 18 August, 2018 to explore business opportunities. Like and connect with us on Facebook, Linkedin and Twitter.