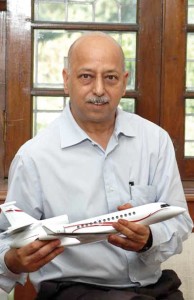 Arun Mishra,
Director General of Civil Aviation (DGCA),
provides an overview of the steps that DGCA is taking to ensure that the Indian Civil Aviation industry continues to function in a safe, transparent and efficient manner
What steps are being taken for enhancing the security of the national skies? In your view what else can be done to make it even safer to fly in the country?
DGCA is a regulatory body that is mandated to govern the safety aspects of civil aviation in the country. In DGCA we are totally committed to ensure safe sky for civil aviation. Safety is our first and foremost priority. We are always constantly engaged to promote safe and efficient Air Transportation through regulation and proactive safety oversight system. We understand very well that ensuring safety in the sky is not an one-time exercise. One has to constantly upgrade the systems and make continuous efforts to ensure that we have the infrastructure and the systems in place for safe air transportation in the country. New challenges keep emerging all the time, so we have to keep innovating. We are now planning to induct more technical officers in the DGCA. Some of the airlines are not doing that well.
Is that having any impact on the security and safety?
We have a very robust supervision system in place. We also have an annual surveillance programme through which we conduct regular safety audits of all the airlines. Our regional offices oversee the operations of various airlines in their sector and keep track of air safety and air worthiness related issues. We don't think safety is being compromised in any way.
Tell us about your State Safety Programme and Safety Management System. International Civil Aviation Organization (ICAO) places responsibility on Contracting States to formulate a State Safety Programme (SSP). The Programme is an integrated set of regulations and activities aimed at improving safety. The SSP is based on comprehensive analysis of the State's aviation system, safety policies and risk management, safety assurance and promotion. Safety oversight of DGCA is now focused on areas of significant safety concerns or higher safety risks. At DGCA, we have adopted the systems as recommended by ICAO. The Safety Management System is a well laid out procedure that every organization connected to civil aviation has to follow. We are ensuring that the officers at every level are adequately trained and the Safety Management System is implemented in every area of operation. We also encourage different  lines to disclose each and every incident, even if it is of minor nature. Voluntary disclosure does not lead to retribution or punishment. We will like airlines and other operators to come voluntarily and disclose their problem, so that we can find the right solutions. The problems of one airline can also serve as a learning experience for other airlines. So if the problems are shared, it will act as a learning experience for everyone. Mostly the Indian skies have been relatively free of air accidents. But recently, report on airline safety by the UN body ICAO reportedly clubbed India with some of the African countries. The air navigation system that we have in the country is one of the best in the world. In fact, we have recently received two international awards for efficiency in air navigation and communication systems. As I said earlier, safety in civil aviation is an ongoing process. We have to keep developing and implementing new technologies and systems as they become available. But it is also true that the expertise and systems that we have now is being valued all over.
On your website, you have a feature through which the passengers can know the details and reliability of the aircraft that they plan to fly on for their own safety and the safety of people they care for. How popular is this service?
Well, this service is for those who are interested. We have not got much response on this yet. But still, it is on good information for everyone who is flying. I would also like to add that  here is nothing called the best aircraft. Every aircraft that is being allowed to fly in the Indian skies is safe, even though different aircrafts have their own features and advantages.
One critical area that DGCA is looking after is the training and evaluation of pilots for different airlines. Now you have started an online system for pilot application and examination. Is this leading to more transparency?
The online system for pilot examination that we have started is working very well. As there is great deal of transparency in the online system of examination, there is no scope for complaints at a later stage. Another advantage of the online mode is that the results become available almost immediately. It has made the task of evaluating pilots much simpler. Now we are trying to graduate to a system for on-demand online examination. Anybody who wants to give the examination, he has to just give date and time.
There is a prescribed fee for this service.

What are the steps are you adopting to ensure that there is improvement in the quality of flying training?
Flying training comprises of two things, the ground training and the actual flying. Although
we have some very good flying training schools, we also have some average flying training
schools. An example of a good training institute is the Indira Gandhi Rashtriya Uran Akademi. We are working with the idea of bringing up the standards of the training that is being imparted in all the institutions for flying. We are constantly doing audit programmes; the institution sare being accessed on a regular basis to access the quality of flying training that they are providing. The list of DGCA approved flying training institutions is available on our website.