Budget 2006: Mixed package for IT industry, Telecom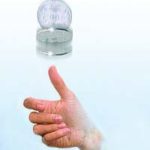 P Chidambaram, Union Minister of Finance, while presenting the Budget for 2006 said that  India need to make its presence felt on the IT World map more aggressively. The Ministry of  Information Technology would formulate a policy in this regard soon. Mr Chidambaram, however, announced a mixed package for the IT industry and telecom sector. "There would be  a full exemption from excise duty for computers, DVD Drives, Flash Drives and Combo  Drives," the Minister said, and added, "The packaged software would be costlier with an 8%  excise duty on packaged software sold over the counter, while the customised software and  software packages downloaded from the Internet would be exempt from this levy." According  to Mr Chidambaram, India would be promoted as a "preferred destination" for the  manufacture of flat LCD/OLED/Plasma panel displays and storage devices.
Regarding the implementation of e- Governance, Mr Chidambaram disclosed, "The National  e-Governance Plan will be approved shortly, and 25 projects, in mission mode, will be  launched in 2006- 07. Among them is Project MCA-21 to enable companies to file returns electronically and a project for setting upcommon service centres and assigning unique ID to  BPL families. It is Government's intention to bring a number of services online, in a web-based mode, including applications under the Right to Information Act, applications for house sites,  ration cards, transfers of teachers, inclusion in the electoral roll, filing of police complaint,  and issue of birth/death certificates and copies of land records."
"The telecommunication sector in India is recording one of the fastest growth rates in the  world. Tele-density stood at 11.75 per hundred at end-January 2006. The target is to reach  250 million connections by December 2007. To bridge the digital divide more than 50 million rural connections will be rolled out in three years and, thereafter, a connection will be  available on demand. This measure is intended to support infrastructure for cellular  telephony in rural areas," the Finance Minister said.
Meanwhile, the Budget had its immediate fallout. The proposal to include ATM operations  under the service tax net has impacted some 24,000 employees of the Kolkata Municipal  Corporation (KMC) since the KMC is switching over to etransfer of salaries. Till now, KMC was paying over 13,000 labourers working for it, in their respective accounts. It recently, however, took steps to introduce the etransfer system by deciding to pay 24,000 employees  directly into their bank accounts. The announcement that there would be a 12% service tax  on the ATM operations has made the KMC employees do a rethink.
Duplicate voters on the block for eWeeding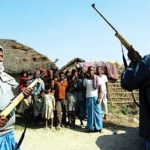 The Election Commission of India (ECI) has finally decided to remove dead and shifted voters,  known as "duplicate voters", from the electoral rolls of five States due for legislative elections  in May this year. This would be done through the deployment of an 'E-roll cleaning' package,  which was successfully implemented in the recently concluded Bihar Assembly polls on an  experimental basis. The four States and one Union Territory slated to go for elections include Kerala, West Bengal, Tamil Nadu, Assam, and Pondicherry.
BB Tandon, Chief Election Commissioner, said that the ECI received numerous complaints  from political parties from West Bengal about stuffing of duplicate voters. Following  complaints, some one million names from West Bengal and over three lakh names from Tamil  Nadu electoral rolls have been removed. Tandon said, "The Commission had already filed 470  cases against those who had filed wrong claims for stuffing of names in the rolls in Tamil  Nadu. The poll officials have been asked to re-verify the rolls wherever there was four percent  increase in the rolls in the 13 constituencies in Pondicherry. Strict instructions have been  issued to Electoral Registration Officers (EROs) to follow EC guidelines. The poll panel would  also address the issue of booth jamming."

62,000 old files in Gujarat to set afire
Some 62,000 old files gathering dust in the Gujarat secretariat would be set on fire in a bid to  give more teeth to e- Governance there. The Gujarat government is according top priority to
this. However, the remaining 22,000 more files would be scanned and stored in a state-of-the art 90,000-file facility.
President dedicates AWAN to the nation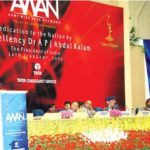 President Dr APJ Abdul Kalam dedicated the Army Wide Area Network (AWAN) at the  Rashtrapati Bhawan on 24th February 2006, which was organised by the Indian Army's  Corps of Signals. In his inaugural address highlighting the subject 'Transforming AWAN into  e- Governance Grid', President Kalam said, "I am very happy to dedicate the Army Wide Area  Network to the nation on behalf of the Indian Army. Successful fielding of AWAN covering all  the hundred and seventy-four signal centres with state-of-the-art system design, system integration and system implementation is definitely a commendable effort towards  self-reliance in establishing a complex communication and IT infrastructure in the Indian  Army. I am happy to see the integrated services framework built on top of the secured virtual  private network over the AWAN data centre."
It may be noted that the AWAN data centre provides messaging services, directory services and security services along with VoIP and Internet access amongst its signal centers under the umbrella of public key infrastructure with digital signature.
At Stake

Coal e-auction process faces mafia threat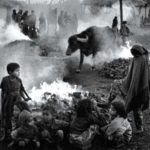 An e-Governance project going in for tumbles! This is what lie in store for at least some of the  e-Governance projects that are either being implemented or await implementation. The  Bharat Coking Coal Limited (BCCL) and other subsidiaries are facing repeated threats from  the coal mafia to abolish their eauction process. Even different trade union leaders are up in  arms against the BCCL and other subsidiaries' moves. However, the Coal India Limited (CIL) has decided not to be cowed down by these threats, and is seeking services of the IIM for its  expert opinion on how to improve the existing state of e-auction and go ahead with its plans.
It may be noted that the newly-adopted e-auction has significantly helped CIL to tide over  financial losses while making BCCL earn INR50 crore (US$) more profit till January 2006 as  compared to the earning made in the same period in 2005. Further, through e-auction the BCCL was also able to tackle coal mafia effectively since they continued to eat into its profits.
The Telegraph quoted a senior BCCL official as saying: "Why should we abolish e-auction,  which has been giving us more profit and will definitely help us earn more in coming years  once the suggestions made by the IIM is implemented."

Comments
comments