South African taxpayers take to e-Filing
Some 2.7 million taxpayers earning a basic salary of ZAR60,000 (US$8,080.68) and above per annum would now be filing their tax returns online for the first time in South Africa. This became possible after the launch of e- Filing system by the South Africa Revenue Service (SARS) recently. According to SARS, ever since the launch the e-Filing service has been accessed by a total of 1,520 users. Till date, SARS has received 1,401 applications from individuals to register as users, 68 submissions of tax returns and 119 tax practitioners   registering as intermediaries. The taxpayers would be filing their returns until July 14th this year.
e-Voters' Register in Nigeria
Nigeria is to come up with the e-Voters'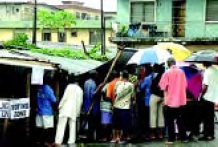 Register soon.  Nigeria's Federal Executive Council (FEC) recently  approved NGN233mn (US$1.89mn) for the pilot scheme of the e-Voters' Register. The Nigerian government and the Independent National Electoral Commission (INEC) are jointly working towards this.
According to Frank Nweke Jnr, Nigeria's Minister for Information and National Orientation, the e-Voters' Register is not slated for use in the 2007 elections but is aimed at checking the challenges Nigeria faces in managing elections. The pilot scheme is to be handled by four companies.
Slovenia revamps e-Administration Portal
Slovenia recently launched its revamped e- Administration portal while simultaneously introducing a central information system. The portal now includes all public administration  services in one place. One of the most popular online services is the extension of vehicle registration in addition to all the existing services. However, the central information system would be for receiving online applications as well as electronic authentication purposes.
e-Voting comes under fire in US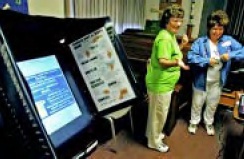 With the primary election season heating up in the US,   the issue of deployment of electronic voting machines has come under fire, and legally challenged. The issue has been raked up in the aftermath of the disputed Florida ballot count in the 2000 Presidential election amidst allegations of intentional manipulation of electronic vote data. Lawsuits have been filed to block the purchase or use of computerised machines.
A non-partisan advocacy group — Voter Action — recently filed a lawsuit against the State of Colorado and nine counties arguing that the electronic voting machines are vulnerable to software tampering, fails to keep easily recountable printed record, and may miscount, switch or not record votes and even add phantom votes. Similar lawsuits were filed in California and Arizona this spring and New Mexico in 2005.
According to Electronic Data Services, a consulting group, about one-third of the USA's 3,114 counties use some electronic systems. Among these, half of the counties use optical scanners that read dots or marks that voters pencil in on ballots. The rest vote using hand-counted paper ballots and lever-type machines.
EU e-Government annual spending reaching EUR11.9bn
The economic impact of e-Government across the European Union (EU) is huge, according to the e-Government Economics Project (eGEP). In 2004, as per eGEP claim, the ICT expenditure  of public administration alone for EU25 amounted to EUR36.5bn (US$45.84bn),  with the UK, Germany, France, Italy and Spain being the largest markets. In terms of  measured per capita and/or as a percentage of GDP, the ICT expenditure is highest in the  Nordic countries such as Denmark, Finland and Sweden, with the UK catching up. While, the  second group that includes France, Germany, Netherlands, Austria and Belgium is lagging  behind. Notably, Italy and Spain have the smallest budgets for e-Government. The  e-Government expenditure in 2004 totalled EUR11.9bn (US$14.94bn).
According to eGEP forecast, the future e-Government research and pilot programmes could  boost EU25 GDP up to 1.54% or about EUR166bn (US$208.48bn) by 2010. A EU-initiative,  the European Commission Modinis programme funded the eGEP project.