Agro info can help farmers save Rs 600 cr
Getting information quickly on best prices and cultivation practises, with  special focus on areas like plant protection from diseases and weather-related  damage, can help farmers take fast decisions, saving them about Rs 600 crore by 2015.
According to the recent report 'Mobile Broadband—Outlook 2015 by  Pricewaterhouse Coopers (PwC), the lack of information on effective practises is leading to huge losses in the agriculture sector.
Reports suggest that between 1991 and 2009, the share of agriculture in India's  GDP declined by around 14 percent, whereas that of services rose by over 20 percent.
The PwC report also pointed out that mobile telephony would be a more    convenient means of communication, as penetration of wireline infrastructure remains low in rural India.

PwC said that better rollout economics of mobile broadband can enable the  government to reach out to many more  villages with common service centres  (CSC) It further indicated that the roll-out of 3G cellular services and  Broadband Wireless Access (BWA) technologies, with better rollout economics,  can enable the government to reach all 600,000 villages with CSCs.
Finance Management
TCS bags MP e-Government contract
Tata Consultancy Services (TCS), the country's largest IT services company, has bagged a Rs 150-crore e-Governance contract from the Madhya Pradesh government.
The Madhya Pradesh government is introducing an 'Integrated Financial  Management Information System' to monitor the state's financial transactions  on a real time basis.
The software platform to be implemented by TCS will help the state revenue  department develop an integrated solution to automate Public Provident Fund management, human resources and payroll management, and pension  management.
Education
Canon, netspider join hands for Rajasthan's sarva shiksha rollout
Canon India, along with its channel partner Netspider India, will be working in  partnership with the Government of Rajasthan, Education Council in the rollout of the Sarva Shiksha Abhiyan CTS 2010.
The initiative aims to create a database of the demographic attributes, education status, out-ofschool children status and many such minute details on every child in Rajasthan.
Canon India will be providing the automated document feeder scanners for the    Rajasthan Sarva Shikhsa Abhiyan CTS- 2010 project.
Netspider will utilise   Canon's high-speed document scanning solution integrated with Netspider's DIMS and forms processing solution to transform paper documents into database for effective information sharing and report  generation of various types as required by the government.
This project involves scanning around 3 crore forms in just a month's time. Netspider India will be the end-to-end solution provider for Sarva Siksha Abhiyaan implemented by Government of Rajasthan.
Cloud computing
Red Hat submits Deltacloud platform to standards group
Open source solutions provider Red Hat has submitted the API specification for  Apache Deltacloud to the Distributed Management Task Force (DMTF) as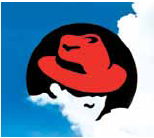 part of its participation in the DMTF Cloud Management Work Group. Red
Hat's submission to DMTF is a step forward in the company's effort to offer users  of Infrastructure as a Service (IaaS) clouds the benefits of portability  across cloud computing deployments.
The Apache Deltacloud project is an open source implementation of a RESTful  web service API abstracting common proprietary IaaS cloud management  APIs. Innovation in the Deltacloud project has been instrumental in the  progress of Red Hat Cloud Foundations, announced in June 2010.
"As cloud computing continues to expand into today's enterprises, interoperability and portability become increasingly important," said Scott  Crenshaw, vice president and general manager, Cloud Business at Red Hat.  "We're excited to submit the Deltacloud API to DMTF to help bring this level of  interoperability to all clouds. Red Hat is continuing to help enterprises build  real cloud today."
IBM announces PoWeR7 systems for data-intensive applications
IBM has announced its new POWER7 servers designed to manage the most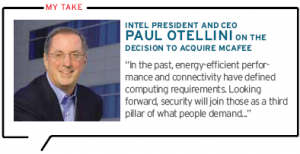 demanding workloads and emerging applications, including a high-end system  that offers markedly better energy efficiency.
The new 256-core IBM Power 795 offers better energy efficiency. It uses IBM's  leading-edge Energy Scale technology that varies frequencies depending upon  workloads. This new system supports up to eight terabytes of memory and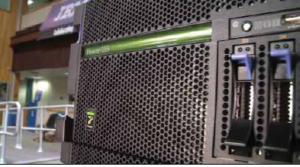 provides over four times the performance in the same energy envelope as the  fastest Power 595 IBM POWER6 processor based high-end system.
The new POWER7 technology supports four times as many processor cores as  prior systems and uses the latest PowerVM virtualisation software to allow  customers to run over 1,000 virtual servers on a single physical system. For  the customers nearing capacity limits for energy, space and cooling in data centres, consolidating older systems to the new highend Power 795 could  result in more headroom – with energy reductions of up to 75 percent for  equivalent performance capacity.
IBM also announced Power Flex, a new environment composed of two or more  Power 795 systems, PowerVM Live Partition Mobility and a Flex Capacity  Upgrade on Demand option. This solution enables clients to shift running  applications from one system to another to perform system maintenance  without downtime, helping to balance workloads and more easily handle peaks  in  demand.
Flash Memory
Intel, Micron sample 3bpc NAND flash on 25 nm silicon
Intel Corp. and Micron Technology Inc. have announced the delivery of 3-bit-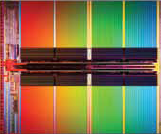 per-cell (3bpc) NAND flash memory on 25-nanometer (nm) process   technology, producing the industry's highest capacity, smallest  AND device.    The companies have sent initial product samples to select customers. Intel and   Micron expect to be in full production by the end of the year.
This 25nm lithography stores three bits of information per cell, rather than the traditional one bit or two bits. The device is more than 20 percent smaller than  the same capacity of Intel and Micron's 25nm multi-level cell. Small   form-factor flash memory is especially important for consumer end-product  flash cards given their intrinsic compact design.
The new 64-gigabit 3bpc on 25nm memory device offers improved cost  efficiencies and higher storage capacity for the competitive USB, SD flash card  markets. Flash memory is primarily used to store data, photos and other  multimedia for capturing and transferring data between computing and digital  devices such as digital cameras, portable media players, digital camcorders and all personal computers. These markets are under constant pressure to provide  higher capacities at low prices.
Micro Finance
SBI signs up Oxigen for kiosk banking
Oxigen Services and Sahyog Microfinance Foundation have announced a tie-up  with State Bank of India to offer banking services by connecting directly to SBI's  core banking system through Oxigen Web retailers.
According to the company, its existing web-enabled retailers will be appointed  as Customer Service Points(CSPs) of Sahyog Micro Finance Foundation, to  arry  out banking transactions on behalf of the bank.
Talking about the initiative, Sunil Pant, CGM Delhi, State Bank of India, said,  "The Web-enabled retailers will have SBI Kiosk Banking Customer Service  Centre signs enabling them to do banking services for masses." He further said  that in the first phase, the activity will be rolled out in Delhi-NCR and Mumbai.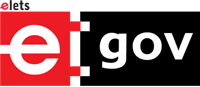 Recommended from all portals