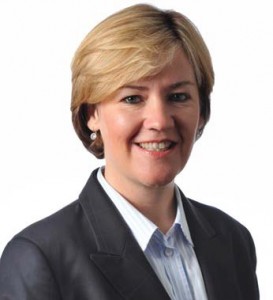 As Vice President of the Public Services group for SAP's Asia Pacific Division, Adaire Fox-Martin oversees the strategic direction and activities in the area of public services in the health, education and defence sectors across the region and executive relationships with customers and partners. Ms. Fox-Martin is a key member of the SAP leadership team and plays a lead role in delivering SAP's offering to public secto­r customers. A respected thought leader, Ms. Fox-Martin continues to be invited at seminars and conferences by the media and analysts to address public services issues ranging from e-Government transformation and reengineering of Government processes to public service policies. She is regularly featured and quoted in numerous publications throughout Asia and Australia. Ms. Fox-Martin has over 20 years of experience in the field of information technology and management.
Effective e-Governance can take Information Technology (IT) to the common man, while helping governments to regulate their services in line with the changing needs of both citizens and stakeholders, as well as develop the economy. Recognising the growing importance of e-Governance we have been bringing you a much needed, regular, interactive platform, where questions on a pre-defined theme are answered by Adaire Fox-Martin, Vice President, Public Services, SAP Asia Pacifi c and Japan.
Health sector reforms have been marked with several initiatives. Such reforms have focused on all aspects that impact health – nutrition, hygiene, drinking water and healthcare itself. Government of India has  placed special emphasis on healthcare programmes with National Rural Health Mission (NRHM) as one of  its fl agship programmes. Government owns the majority stake in the health infrastructure and is, therefore, one of its key responsibilities. Integrated eHealth is a necessity for the various governments –  both Central and States to strengthen the effectiveness and effi ciency of their health programmes.,

Why are eHealth initiatives signifi cant?
The importance of quality healthcare cannot be understated. However, more and more  citizens and governments around the world are deeply concerned about the sustainability of  their healthcare systems. Even in a country like Austria, which many consider to be an  exemplar of a welfare state, 82% of the population is concerned with the potential collapse of  their health system. In several countries, healthcare expenditure will grow at a faster pace  than their economic growth (20% of GDP by 2014 in US). With public health spending set to  rise in the coming years and new initiatives taken as a result of the reforms, the Departments  of Health, Medical and Family Welfare will face challenges. This requires a robust Health  Information System to provide decision support (operational, managerial and strategic), enhance evidence based policy making and undertake effective monitoring leading to  improved accountability and effectiveness at all levels of the health system.

What are the characteristics of healthcare industry and what should eHealth address?
Healthcare systems involve a complex web of stakeholders including hospitals, primary care  organisations, the pharmaceutical industry, research and medical technology companies,  health insurers, medical professionals, the government and, of course, patients. The players  are acutely aware that healthcare can only be effectively addressed with the cooperation of all  participants. Also, studies carried out for the White House have found that as much as $300 billion is spent each year on healthcare that does not improve patient outcomes –  treatment that is unnecessary, inappropriate, ineffi cient, or ineffective. This necessitates  that integrated eHealth addresses the
Effectiveness of Health Governance to improve the administration of human, fi nancial and other resources directly or indirectly, involved in the delivery of healthcare services
Delivery of healthcare through Preventive, Curative and Epidemic management

Does integrated eHealth have examples globally?
There are many inspiring examples of changes happening. However, a much more  collaborative and integrated approach is required to accelerate healthcare transformation.  Usage of passive RFID Tags for medication tracking; Portal as single point of access for  integrated scheduling throughout 150 clinics (Sacre'Coeur Hospital of Montreal);  Collaboration of hospitals, primary care doctors and other providers (HMO in US); sharing of  resources and patient information (The Hamburg hospitals Mariahilf and AK Harburg) are  only few examples amongst increased participation by all stakeholders.

What are the basic tenets of an effi cient and effective eHealth system?
By combining best practices in healthcare with an open, scalable technology platform and the  collaborative power of the internet, providers of eHealth systems (such as SAP) aim to  improve the effi ciency of healthcare delivery and increase the quality of patient care. Some of the ways this can be achieved are:
Superior patient value: Enabling delivery of eHealth solutions for inpatients and outpatients as well as services to elders at home, for superior therapeutic outcomes, at a lower cost
Product and service leadership: Delivering a standards compliant clinical operations management solution to enable better patient care and lower cost and time-to-market
Demand to supply management: Implementing responsive supply networks to enable producers, distributors, retailers and providers to plan, collaborate and deliver
A common collaboration platform: Connecting providers, producers and payers on a single,  open healthcare IT platform