Company Profile

BroadVision, Inc. (Nasdaq: BVSN) develops and delivers an integrated suite of applications for conducting e-Commerce interactions and transactions. Global enterprises and government entities use these applications to sell, buy and exchange information over the Web and on wireless devices. The BroadVision e-Commerce application suite enables a corporation to become more competitive and profitable by establishing and sustaining high-yield relationships with customers, suppliers and employees.
Driving innovation since 1993, BroadVision is a global provider of e-business solutions. Our modular applications and agile tool sets, built on a robust framework for personalisation and self-service, power mission-critical web initiatives that deliver unparalleled value to diverse customers worldwide. Hundreds of organisations, serving over 75 million registered users – including Audible.com, Baker Hughes, Cardinal Health, Citibank, Hilti, Japan Airlines, Renault, Sears, Sony, Vodafone, U.S. Air Force, and Xerox – rely on BroadVision as their platform of choice for e-Business. BroadVision is a global provider of personalised web applications.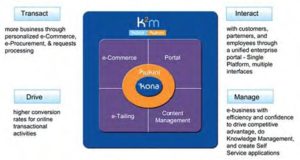 SOLUTION DETAILS
e-Procurement
e-Tendering
e-Bill payment
e-Ticketing
e-Commerce
Workfl ow Management
Content Management
Extranets
Intranets
Knowledge Management
Campaign Management
Loyalty Programmes
Portal
Document Management
Create a secure, robust, easy-to-use, and most importantly, FREE – Employee Social Network (ESN) solution on the "cloud." To be used by your organization and your employees. Bring   your employees together into a forum where they can share their experiences, collaborate  with each other, and form online communities. Your enterprise social network will strengthen team bonding and build a more collaborative workforce. Visit us on www.clearvale.com to create your organisation's network.
ASIA PACIFIC CUSTOMERS
India:
Indian Railway Catering and Tourism Corporation
CGDA – The Department of Defence, India
CRIS
Kotak Mahindra Bank
Godrej
HCL
Honeywell
Malayala Manorama
Tractor and Farm Equipments
Thomas Cook

Thailand:
 Aeon Insurance Services
Aeon Car Lease
 Bank of Ayudhya
Thai Military Bank
Malaysia:
Kuwait Financial House
Malayan Banking Berhad
Standard Chartered Bank
Taylor's University College
CONTACT DETAILS
BroadVision Inc.
APJ Offi ce:
#10, 3rd Floor, 1st Main Road,
Thimmaiah Garden, R T Nagar,
Bangalore – 560032
Karnataka
Tel: 080 32477357
Head Quarters:
1600 Seaport Blvd, Suite 550, North
Building, Redwood City, CA 94063,
USA.
Tel: +1 650-331-1000
Website: www.broadvision.com