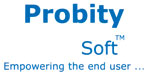 Company Profile

Probity Soft Pvt. Ltd. is a Pune based company involved in the conception, development, customisation and deployment of state-of-the-art GIS based e-Governance software applications for municipal corporations built over the Free Open Source Software platforms.
Founded in August 2006 by Kumar Majethia and Jitendra Joshi both technocrats with over 30 years of combined global software industry experience, Probity Soft was accepted in the incubation programme at the Growth Labs in Science and Technology Park, University of Pune.
Probity Soft is now the Product and Technology Partner appointed by Science and Technology Park for the ongoing development of Geographical Information Systems for Dynamic Administration (GISDA) and openGRP as well as managing its rollout to Urban Local Bodies throughout the country with the help of local partners. Probity Soft's head office and state-of-the-art Technology Development Center is in Pune. It has several implementation and support sites across the country.
Probity Soft's innovative portal www.voiceofcitizen.com brings together municipal corporations and their citizens. It is currently being tested at Pimpri Chinchwad Municipal Corporation. The portal is scheduled for nationwide launch in 2010.
Product details

Science and Technology Park, University of Pune, embarked on building an integrated industrial strength GIS-enabled ERP for Urban Local Bodies in 2006. The first pilot project was implemented in the Pimpri Chinchwad Municipal Corporation. In the first phase, five major modules were taken up for development and implementation. The functionality was then reviewed in the light of the JNNURM (Jawaharlal Nehru National Urban Renewal Mission) requirements.
GISDA is built on open standards using proven industrial strength open source software giving value for money. GISDA is architected to scale from a small 15 sq. km area implementation to mega cities of tomorrow. Its software applications are scalable in terms of databases and application services. GISDA can be run from a centrally located server farm of a few hundred servers with the help of database and application server clustering to provide meaningful agglomerated national level data. GISDA applications are PKI and Payment Gateway enabled, wherever required.
Achievements/usp

Built over Free Open Source Software platforms, Probity Soft applications address the day-to-day information, transaction processing and decision support requirements of administrators, legislators and citizens together. All GISDA applications have standardised access (API) to a Common Foundation, comprising the following services:
Single Sign-on

Role based Access Control and Security

Audit Trail and Logging

GIS Integration and GPS based Locational Services

Field Terminal Integration Services

SMS and Mobile Phone Integration

Online Payment Integration

Digital Signatures and PKI

Business Process and Workflow Management

Electronic File/Photo/Document Upload, Signing and Management

Service Level Monitoring and Reporting Services

UID and Smart Card / Biometric Integration Services

XML and ReST Gateway Services
Probity Soft has managed to work successfully with users at all levels of IT awareness. It is the winner of the Best Software Implementer Award, August 2009 (PCMC).
Contact Details
Probity Soft
Science & Technology Park
University of Pune
Pune – 411 007
Maharashtra
Tel: 020-25693449 / 25601198
Website: www.scitechpark.org.in