Nirmal Kishor Prasad
PSA & DIO, NIC District Unit, Samastipur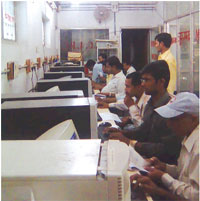 Introduction
The 15th Lok Sabha (LS) General Election 2009 notification for phase 2B and 3A was announced on 28th March 2009 and 2nd April 2009. The last date for making nominations was 4th April 2009 and scrutiny of nominations was on 6th April 2009. Likewise, the last date of withdrawal of candidates was 8th April 2009. Finally the poll date for phase 2B and 3A was 23rd April 2009 and 30th April 2009 respectively. As usual, counting of votes was uniformly fixed on 16th May 2009 for all Parliamentary Constituencies (PCs) in India. Seeing the above Poll events and anticipating all emergent situations much before (i.e. from 2nd March 2009) the District Samastipur geared up to take up the incoming challenges for conducting of the LS General Election 2009 for two Parliamentary Constituencies i.e. 022-Ujiyarpur PC and 023-Samastipur (SC) PC and one 140-Hasanpur Assembly Constituency falling under 25-Khagaria PC.
Samastipur District
Samastipur is a district in Bihar which is spread over an area of 2904 sq. kms. Samastipur is bounded on the north by the Bagmati River which separates it from Darbhanga district. On the west it is bordered by Vaishali and some part of Muzaffarpur district, on the south by the Ganges, while on its east it has Begusarai and some part of Khagaria district. The district headquarters is located at Samastipur.

The people of Samastipur mainly speak Hindi. According to the 2001 census, Population Density in the District was 1169 per sq. km. and the total population was 3.40 million. The District is lacking in educational infrastructure and the Literacy rate is only 45.13 % (male 57.59%, female 31.67%). The district comprises of 4 sub-divisions, and 20 Community Development Blocks. It has 5 towns and 1248 villages. Infrastructure wise Samastipur is very strong. It is the Divisional Headquarters of the North Eastern railway. Samastipur district has two Parliamentary Constituencies i.e. Ujiyarpur and Samastipur (SC).
Complexities and Challenges
Besides all other complexities that are natural in the conduct of free and fair elections, there were two big challenges in this district. They were managing two PCs where the number of contesting candidates exceeded 16; as a result there was addition of one more Ballot Units at all polling stations except 23-Samastipur PC. Since LS General Election 2009 was already declared as 'Digital Chunaw' in all respect, hence the role of ICT tools and Electronic gadgets are to play a prominent role. Thus, it is obvious that NIC District Unit's role and responsibility will be of prime importance and District Informatics Officers (DIOs) have to exhibit their supreme ICT competence to provide ICT support as and when needed. Keeping in mind, the guidelines and order of ECI in these matters, strategies are being framed to accommodate the emergent requirements in the ICT solution developed by the NIC Bihar State Centre.

ICT Solution for the LS General Election 2009
To cope up with all eventualities as per the ECI's orders, compendium of hand books and guidelines at every steps of Election process with complete analysis of the Election Process were done along with the work-flow vis-